Eucalyptus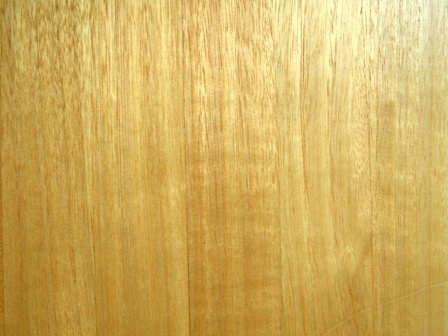 Eucalypt timber is highly regarded for its decorative appearance, excellent strength, hardness and natural durability.
Eucalypt timber has an open, moderately coarse textured grain with reasonably distinct growth rings.
Not all eucalypts share the same product qualities, and properties such as colour, hardness and durability are highly variable between species. It is important to make sure that trees from which timber was cut were identified properly.
Well seasoned timber remains stable throughout its service life. Being a hardwood it is important to specify delivered moisture content according to use and conditions.
Red eucalypt timbers (Mahoganies)
Eucalyptus saligna and E. botryoides are red-coloured eucalypt timber species commonly grown in New Zealand. The heart timber is red to red-brown, high density, hard, strong, stiff and moderately durable. The grain can be interlocked and wavy, especially in E. botryoides.
Blonde eucalypt timbers
A large range of eucalypt species produce blonde timbers with properties ranging from non-durable and soft to durable and hard. It is important to specify timber appropriate for end-use.
Durable blonde species
E. pilularis (blackbutt), E. globoidea (white stringybark), E. muelleriana (yellow stringybark) and E. microcorys (tallowwood) all produce high density timber which is hard, strong, stiff and naturally durable. These species all share similar timber properties and colour is pale brown to honey. The grain can be interlocked and wavy.
Moderately durable blonde species
E. obliqua (Messmate) produces heartwood which is moderately durable and suitable for some external uses. This species has medium density, has reasonable surface hardness and is strong and stiff. Colour is pale straw.
Non-durable blonde species (Ash eucalypts)
E. regnans (mountain ash), E. fastigata (brownbarrel), E. fraxinoides (white ash) and E. delegatensis (alpine ash) produce pale blonde timber which is suitable for internal end-uses. These timbers are strong, stiff, and of moderate density. Colour is very pale brown to pale straw, sometimes almost white to light pink and with conspicuous growth-rings. E. fastigata and E. fraxinoides are slightly harder and denser than E. regnans and E. delegatensis. E. nitens (shining gum) is slightly harder and denser again.
Furniture, joinery, sliced veneer, benchtops, flooring, laminated beams, decking.
Stable once dry (12% m.c.). Kiln-dried material should be specified for most uses. Kiln drying should take place immediately prior to installation. If this is not possible timber should be wrapped in clear film such as pallet wrap and stored in a dry shaded area. If stored for long periods of time the timber can be kiln-dried again after checking the moisture with a meter.
Long term dimensional stability is similar to radiata pine.
An open, moderately coarse textured grain.
Eucalypt timber is strong and stiff. Higher density species (E. saligna, E. botryoides, E. pilularis, E. globoidea, E. muelleriana and E. microcorys) have improved strength properties and hardness.
Sawing, machining, sanding and finishing properties are all good. Higher density species have a greater tendency for blunting of tools. Because of a tendency for chip-out when planing, a cutter angle of 22.5-25º and a slow to moderate feed speed will give the best results. Defects can cause some chipping when moulding.
Steam bending properties for ash eucalypts is good, for higher density species fair.
Nailing is satisfactory but requires care to avoid splitting. Screws well.
Eucalypt glues well but freshly prepared surfaces are necessary.
Staining gives uniform and attractive results.
Normally available in the marketplace
For external use only heartwood should be used.
Durable species include E. saligna, E. botryoides, E. pilularis, E. muelleriana, E. globoidea, E. microcorys.
E. obliqua is considered to be moderately durable. Other ash eucalypts are not durable and should not be used for exterior applications.
Sapwood is non-durable but is resistant to household borers and suitable for internal uses.
---

Disclaimer: While every effort is made to ensure the accuracy of the information provided on this site, Farm Forestry Timbers Society do not accept liability for any consequences arising from reliance on the information published. If readers have any doubts about acting on any articles they should seek confirming, professional advice.