Events
Free Workshops - Opportunities from Trees
If you're interested in trees, come and hear about the opportunities in growing trees for timber, for protecting your land and for storing carbon
Learn about the benefits of planting different species and how they help fight climate change, provide shade and shelter, reduce erosion and improve water quality.
Free 3-hour workshops are being held in 18 locations across the country, generally 3-6 pm, on the following dates.
Amberley Tuesday 9 May 2023
Greymouth Wednesday 10 May 2023
Richmond Thursday 11 May 2023
Invercargill Monday 22 May 2023
Balclutha Tuesday 23 May 2023
Oamaru Wednesday 24 May 2023
Dunedin Thursday 25 May 2023
Stratford Monday 29 May 2023
Bulls Tuesday 30 May 2023
Havelock North Wednesday 31 May 2023
GisbomeThursday 1 June 2023
Huntly Tuesday 6 June 2023
Te Awamutu Wednesday 7 June 2023
Whangarei Thursday 8 June 2023
Kerikeri Friday 9 June 2023
Levin Monday 12 June 2023
Virtual Workshop Tuesday 20 June 2023
Martinborough Wednesday 21 June 2023
Taupo Thursday 22 June 2023
The workshops are being presented by the New Zealand Farm Forestry Association with support from Te Uru Rākau – New Zealand Forest Service.
If you would like to come to one of these free workshops, or want to know more about them Register here
Everyone is welcome.
Scion - Resilient Forests Conference 2023
13-14 June 2023 Rotorua
The Resilient Forests Research Programme Conference will be held on 13th June 2023 at Scion, Rotorua and the Field Day on 14th June 2023 at Kinleith Forest.
The purpose of the conference is to inform an industry audience of our science highlights, both in terms of our discoveries but also what these will mean in the future for the industry. The two-day event will be of interest to forest managers, government, council representatives, and researchers. Day 1 will feature conference presentations and a networking session with an invited speaker who will address the role of resilient forests for New Zealand's future. On Day 2 we will head out on a field trip to visit research sites in Kinleith Forest.
Please register here (note spaces are limited)
Key themes that will feature in the conference include:
Uncovering the radiata pine microbiome
Quantifying the impact of needle diseases on growth
Understanding pathogen epidemiology to support disease forecasting
Classical and novel disease control options
Autonomous forest health monitoring
Investment Portfolio diversification to reduce uncertain risks
The emergence of environmental and social governance in determining industry social license to operate
Industry impact and uptake of research from the Resilient Forests Programme
Accelerating productivity on a range of sites
The Resilient Forests Research Programme started in October 2019, filling the gap left when the Growing Confidence in Forestry's Future (GCFF) and Healthy Trees, Healthy Future (HTHF) research programmes ended. At the outset, the programme set ambitious targets to address 3 key research questions of how to sustainably (1) increase productivity, (2) enhance resilience, and (3) manage risk and uncertainty associated with planted forests. The aim of the programme is to enhance the long-term productivity, socio-economic benefits, and resilience of production forests, ultimately supporting New Zealand's transition to a low-carbon bioeconomy and meeting our agreed carbon reduction goals.
TUR Webinar - Preparing and submitting an emissions return using Tupu-ake.
Invitation to webinar - Preparing and submitting an emissions return using Tupu-ake.
Foresters with smaller areas of registered forest who are intending on submitting their returns without the support of a consultant, or who are wanting some assistance - are invited to a webinar taking you through the preparation and submission of your emissions return using the new online ETS system, Tupu-ake.
In this session we will highlight the information you will need to do an emissions return, and how to submit your return. And you will be able to ask questions of our forestry ETS team. This webinar is tailored for ETS participants with less than 100 ha of registered forest land.

These one-hour webinars are live (not recorded). The content is repeated in each session - so you can choose a date to suit you.
Thursday 1 June, midday
Wednesday 7 June, midday
Wednesday 14 June, midday
Monday 19 June, midday
Reserve your place in a webinar session - (Zoom booking page)
Ballance Farm Environment Awards Open Day
Thursday 22 June 2023
Join the Ballance Farm Environment Awards Open Day at the Canterbury Regional Supreme Winner, 'Glenmark Springs'. Learn how Ian Knowles' data-driven strategy guided by research and on-farm trials has enabled a balance between profitability and lifestyle. Topics include: genetics; farm development; best use of natural resources; technology at work; turning green.
775 Glenmark Drive, 1pm start, with BBQ at 4.30pm to conclude the day. 4wd with car pooling. Clean footwear and vehicles please.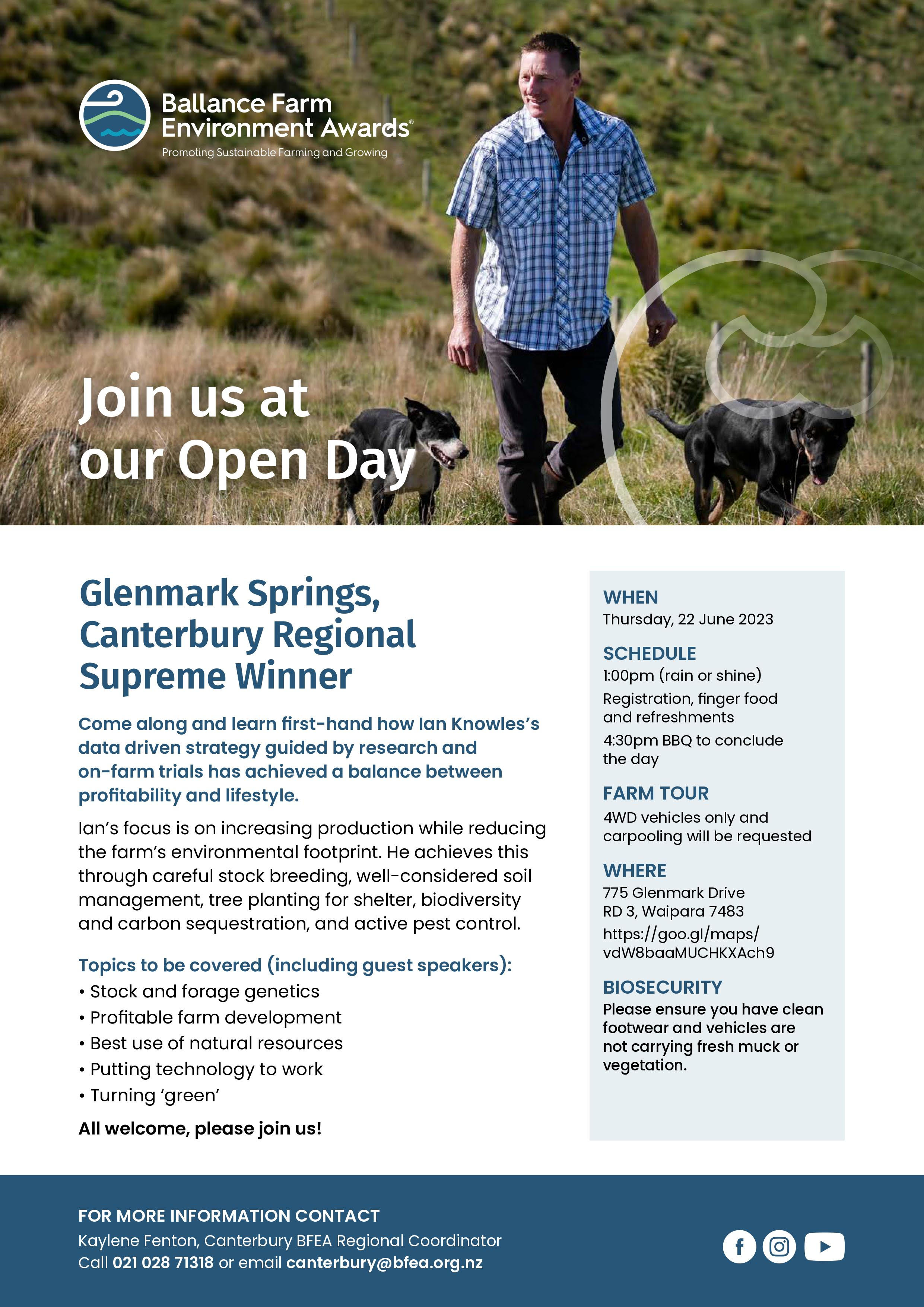 North Canterbury Branch mid winter dinner
Friday 28 July 2023
The North Canterbury branch annual dinner will be held at the Amberley Bowls Club rooms (same venue as last year).
Drinks from 6pm, dinner at 7 pm.
Same caterer and menu as last year.
Price $32 per head.
We have a great speaker who is still tuning his topic, so what this space.
You must pre-book, with Laurie Bennett. Call or preferably text Ph. 0272047026, or email l.cbennett@xtra.co.nz
Further details to follow.