Glue Laminated Timber (Glulam)
Glue laminating of sold timber is used for structural elements such as beams, or laminated panels used for benchtops and joinery.
Glulam is a strong, engineered, structural timber product. Glulam has superior strength, stability and stiffness to dimensional timber and can be produced in uniform or varying depths to give strength where it is required. Lengths, dimensions and shapes can be produced almost without limit, making Glulam unsurpassed in its versatility.
Appearance and aesthetics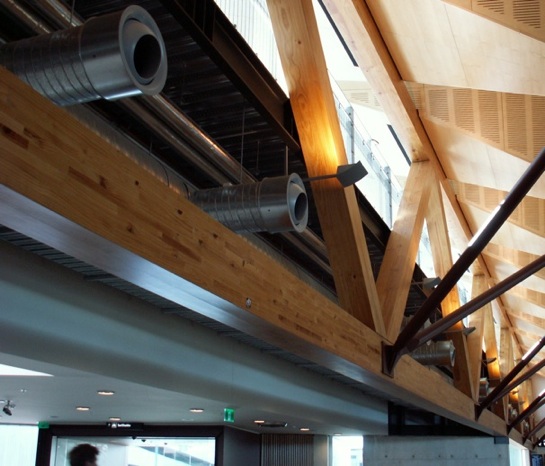 Glue-laminated structural timber products provide beauty as well as strength. Structural elements of a building can be exposed using specialty timbers for architectural effect. The natural warmth and timeless appeal of exposed timber make Glulam ideal for any application requiring a unique, appealing and architecturally interesting structure.
Lightweight
Weight for strength, a Glulam beam is stronger than both steel and concrete. This means that Glulam beams can span very long distances with minimal intermediate support required. Dependent upon specific loading conditions a steel beam may be 20% heavier and a reinforced concrete beam 600% heavier than an equivalent Glulam beam for carrying the same load. The resulting lighter structure can lead to significant economies in foundation construction.
Consistency of Performance
The process of glue laminating timber eliminates the natural performance variations that characterise solid sawn timber. As Glulam beams are engineered wood products that are manufactured to meet specific performance criteria, the specifier and user can be assured that Glulam products will consistently perform as expected.
Ease of installation
Builders who are confident in working with timber can easily handle Glulam products. Erection times are significantly reduced in Glulam structures.
Environmental performance
For their load carrying capability, Glulam beams are very efficient to produce. The energy required to produce a glue-laminated beam from the log is only a fraction of the energy required to produce steel from ore or concrete from limestone.

Structural Glulam must meet the requirements of the building code. Timber used for glulam is required to have defined strength properties and adequate durability.
Different timber species and grades have varying characteristic strengths. Farm Forestry Timbers are working on determining characteristic strengths for a range of specialty timbers and grades. This will allow you to match species with the following grades.
Almost any timber species that can be kiln dried can be used in Glulam. Our laminating grades are here so you can specify locally produced specialty timbers.
Structural Grades
There are a range of structural grades for glue laminated timber beams produced in New Zealand in accordance with Standard AS/NZS 1328.1 – 1998. These grades were developed by the Australian and New Zealand industries to assist designers and specifiers in the selection of Glulam members and their associated design properties. The GL grades are "strength classes" to be used by designers. GL grades of glue laminated timber are verified for strength as set out in AS/NZS 1328.2 1998.*
Characteristic Strengths (MPa)
Elastic Moduli (MPa)
GL grade
Bending
Tension parallel
to grain
Shear in Beam
Compression
parallel to grain
Short modulus of elasticity
parallel to the end grain
Short duration modulus
of rigidity for beams
GL 12
25
12.5
3.7
29
11500
770
GL 10
22
11
3.7
26
10000
670
GL 8
19
10
3.7
24
8000
530
Notes:
Higher grades (i.e. GL12) will give greater span and load carrying capability than lower grades (GL8 and GL10) for the same section size. Strong timbers such as eucalypt can achieve grades as high as GL 18.
Manufacturers do not need to use the GL grades but can instead use properties greater or lesser than the GL grade values. However, span tables (pdf 6.4 MB) *

(Published by the NZ Pine Manufacturers Association)

are available for GL grades. These span tables are primarily for domestic applications (roof beams, rafters, ridges, lintels and floor beams) in accordance with NZS 3603 and AS/NZS 1328:1998.
Please note we are working on providing information on strength values for a range of specialty timbers to meet these grades.
Hazard classes
H1.1
Timber used in situations protected from the
weather, dry in service and where resistance
to borer only is required.
H1.2
Timber used in situations protected from the
weather but where there is a risk of moisture
exposure conducive to decay.
H3.1
Timber used outdoors above ground,
exposed to the weather – generally in
non-structural applications; i.e. fascia
boards, weatherboards.
H3.2
Timber used outdoors above ground,
exposed to weather or protected from the
weather but with a risk of water entrapment;
i.e. decking, fencing and pergolas.
Durability In Service
NZS 3602:2003 Timber and Wood-based Products for Use in Building sets requirements for compliance with the durability provisions of Clause B2 of the New Zealand building code. Generally different wood-based building components are required to be preservative treated to meet Hazard Classes but some naturally durable species may not require treatment.
AS/NZS 1604.5 Specification for preservative treatment. Part 5: Glued laminated timber products requires glue-laminated products to be treated to the preservative retentions for H1.1, H1.2, H3.1 or H3.2 as set out in NZS 3640. NZS 3640:2003 Chemical Preservation of Round and Sawn Timber specifies that the requirements for hazard class H 1.1 and H1.2 apply to all species for which hazard class H1.1 and H1.2 is specified in NZS 3602. However, NZS 3602 specifies that if glue laminated timber members are installed in an interior position in the building fully protected from the weather the member may be protected with a surface coating as defined in 104.5.
NZS 3640 also specifies that hazard classes H3.1, H3.2, H4, H5 and H6 apply only to Pinus species (NZS 3640 lists 6 "Hazard Classes" - a series of biological hazards for different end-use situations).
See Building legislation and regulations (NZ Wood)
Appearance grade
Description
A
This grade is intended for use in applications where appearance of the member is important and clear or painted
finishes are used. All surface voids are filled or repaired. Unless it is specified otherwise, the surfaces shall be
sanded to a minimum of 60-grit finish.
B
The grade is intended for use in painted applications where appearance is important but a planed finish is
acceptable. The machining shall conform to No. 2 dressed surfaces grade as defined in AS 2796. Occasional
skips in the surface are permissible and minor blemishes, voids and machining want shall be acceptable. The
outer-most laminations shall be free of loose knots and voids.
C
This grade is intended for use in applications where appearance is not important. All blemishes and voids are
acceptable.
Appearance grades for finished structural Glulam products
Appearance grades * are given in AS/NZS 1328.1:1998 Glue laminated structural timber. These grades relate to the aesthetic appearance of the visible surfaces of the finished Glulam members. Meeting these appearance grades is not dependent on surface feature of the grade of structural timber used for laminating, but on how the laminated product's surface is finished (e.g. voids and knot holes can be filled with resin). However, different structural timber grades used for laminating will provide a range of appearances to the visible surface of the finished products, for example finger-joined clears, No. 1 framing etc.
Our laminating grades are here so you can specify locally produced specialty timbers.
Usually available in the marketplace.
---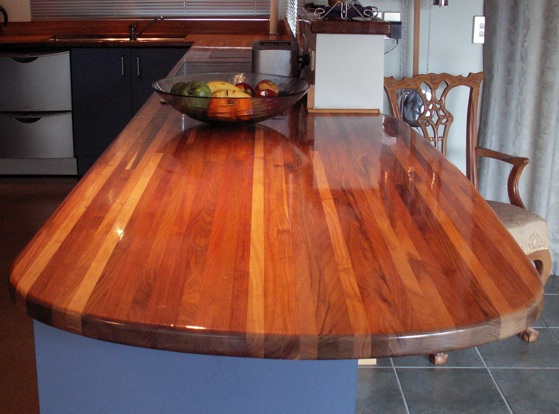 Edge-glued laminated panels made from solid timber are used for a variety of purposes including benchtops, scaffolding, solid timber doors and joinery. Laminated panels are often available as "blanks" from which the desired shape is cut to size.
Laminated blanks are often put together from 50mm x 50mm or 25mm x 50mm into 50 mm panels which may be dressed both surfaced to 45mm. Thinner laminates provide greater dimensional stability.
Laminated panels are usually finished to 45mm or 19mm thickness. Width varies but may be specified for panels made to order.
Finger-jointed laminates are used for longer length panels and may be a less expensive option where clear timber is desired.
Usually available in the marketplace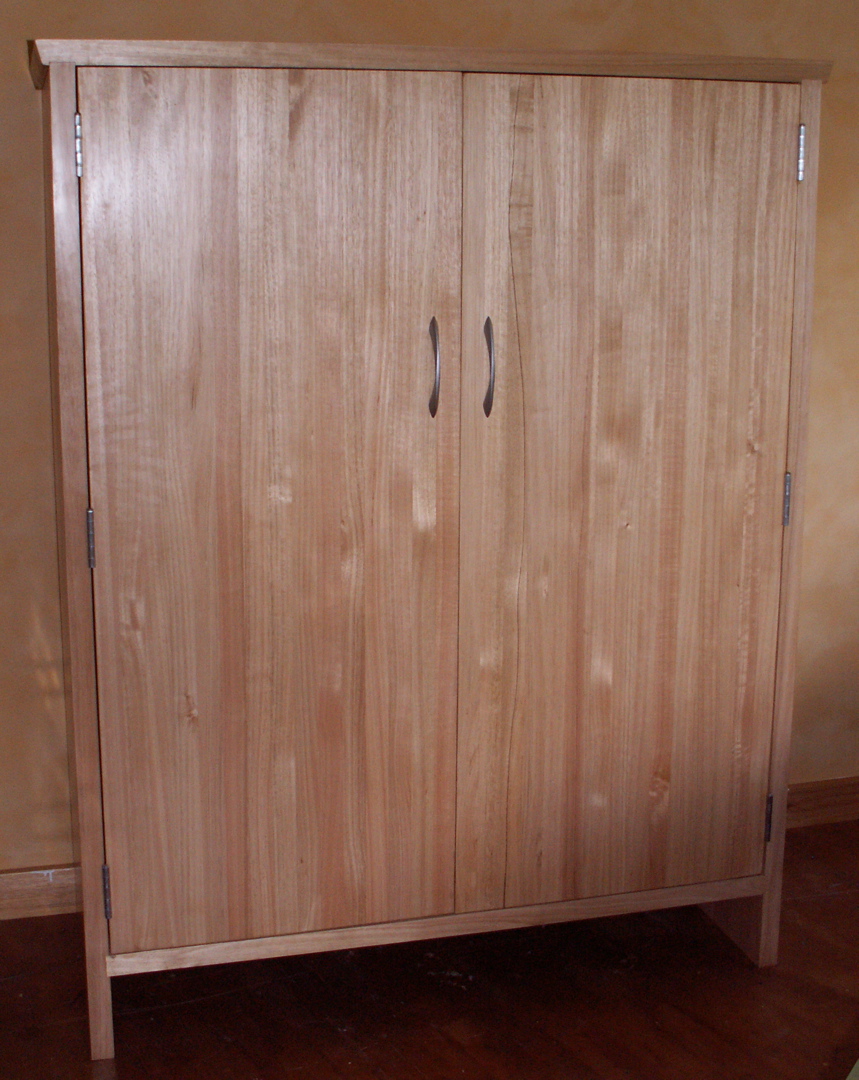 ---

Disclaimer: While every effort is made to ensure the accuracy of the information provided on this site, Farm Forestry Timbers Society do not accept liability for any consequences arising from reliance on the information published. If readers have any doubts about acting on any articles they should seek confirming, professional advice.