Furniture Master Seal
Farm Forestry Timbers supports the Furniture Master Seal quality programmeThe Master Seal is owned and administered by Competenz - Seal holders must also be members of the Furniture and Cabinetmaking Association..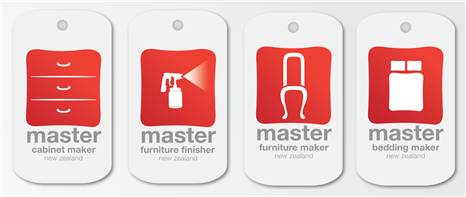 To highlight what consumers should look for when purchasing a piece of furniture, a quality seal has been introduced to educate and encourage consumers to buy local.
Use of the Master Seal is conditional on at least 50% of a company's staff having a recognised trade qualification, or who are currently in training. Company employees are measured against NZQA standards and holders of this Seal guarantee that their employees are trained to these standards.
Our commitment is to New Zealand craftspeople who are producing quality furniture from our local timbers. Ask for furniture from local timbers from a Furniture Master Seal holder.
---

Disclaimer: While every effort is made to ensure the accuracy of the information provided on this site, Farm Forestry Timbers Society do not accept liability for any consequences arising from reliance on the information published. If readers have any doubts about acting on any articles they should seek confirming, professional advice.