NZFFA Member Blogs
---
Recent blogs:
Wink Sutton's Blog
Saturday, August 30, 2014
When it comes to forestry and the wood supply few appear to understand the concept of sustainability. Brian Allison, the now deceased NZ Forest Products economist in the 1960's to 1980's, used an analogy to explain the concept of sustainability. As some lizards are capable of regenerating their tail in the event of it being broken off, a lizard could eat their tail providing they ate them at a rate no greater than one which the tail could regrow. The results of consuming at a rate greater than the new regrowth would be disastrous. Similarly, for a sustainable normal forest the annual wood harvest should be no more than the annual increment.
The problem in forestry is that the determination of wood growth is not easy. I liken a sustainable mature managed forest to money in a bank deposit − the capital. Providing that the harvest is no more than additional growth − the interest − then the capital remains intact. Unlike money in a bank the problem is determining what the forest capital is and what additional growth is.
A few days ago I had a phone call from an undergraduate from my old college at Oxford, in part because the college wanted confirmation I was still alive. In our discussion the young lady expressed surprise that forestry was once offered at Oxford. It no longer is. She seemed even more surprised that I had gained a doctorate in the subject. She questioned why forestry should be offered by a university. My response was that to be productive forests had to be managed.
Few comprehend that with almost no new planting this century, with plantations being converted to dairy farms and the likelihood that most of the plantations established in the 1990's will not be replanted, the wood harvest cannot be sustained and seems certain to eventually decline. Forestry concerns appear to have disappeared below the horizon and are now rarely discussed publicly. The profession, forest owners and the wood industry must do much more to promote discussion of forest and forestry problems by the wider public and especially by the politicians.
---
---
John Purey-Cust Ponders
Wednesday, August 13, 2014
A little while ago I went on a field trip to look at a logging operation at Bare Hill, a high and miserable pine plantation on the top of the Hokonuis. Bare Hill itself peaks at 750m altitude, a fog-bound waterlogged landscape whose upper slopes are a mixture of dense broom and sporadic radiata and muricata pine, falling down to the north into the upper Otamita catch-ment.
The lower planting level on the north face is about 500m, so the whole stand is, to me, above the upper altitude for sensible radiata planting in Southland, and Bare Hill shows it. But that is another story.
I hadn't seen a hauler logging operation for some time as with the advent of log skidders and then various kinds of digger they largely went out of fashion in these parts, as had horses before them.
Early haulers, huge unwieldy machines on a sledge and capable of handling large heavy native logs, liked to be perched on a ridge top with a downhill view in as many di-rections as possible. The endless dragging of large tree-length logs broke up the slash and made an ideal seed bed for regenera-tion, a mixed blessing and a tree breeder's curse..
Skidders, higher production ground hauling machines with a high mud and mess-making capacity are slowly evolving towards cleaner and more nimble diggers.
The Bare Hill hauler had evolved too, to a small compact and maneuverable machine pulling tree lengths, in this case small, short and mostly malformed, off the cutover. Log making was done on the hauler landing. There was some discussion on the state of the cutover, which, from a distance, looked as if replanting (with Douglas fir) should be possible without much further attention.
Hauler logging is more expensive than ground hauling, conventionally by a third if I remember right, and that argument was raised here, that cost ruled over site disturbance and that ground hauling machinery (which would have been predominantly skidders) should have been used.
The argument didn't get very far because the two sites in question were in no way comparable, but another issue raises its head – regulation. The Regional Council is proposing new standards for high country development, which seem to have been well received. That can't be for farming alone and it isn't very bright to think that logging will be ignored.
Expect more small haulers and deduct any extra cost from the stumpage, as it should be anyway.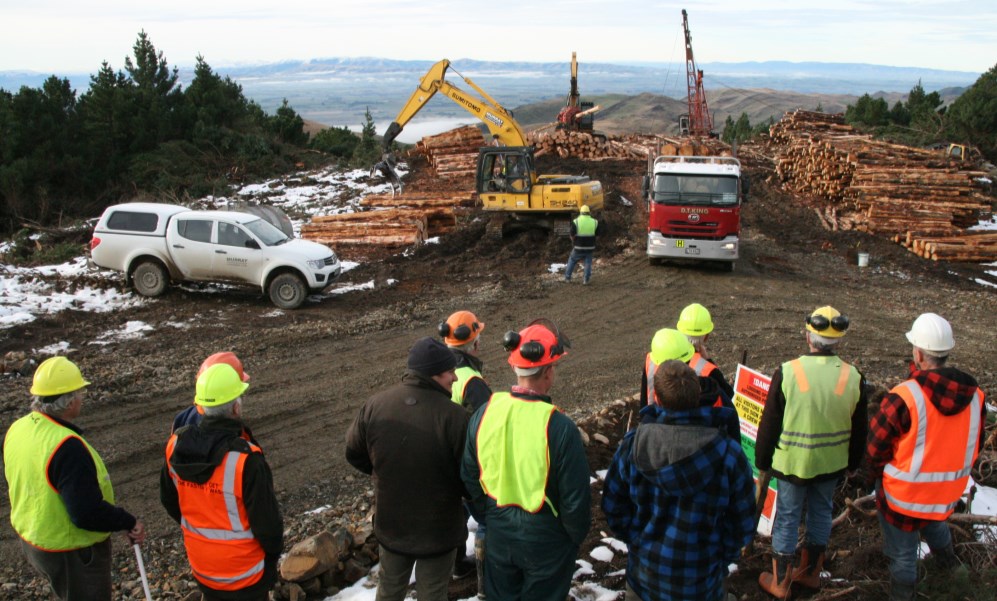 ---
---
Disclaimer: Personal views expressed in this blog are those of the writers and do not necessarily represent those of the NZ Farm Forestry Association.