NZFFA Member Blogs
---
Recent blogs:
Denis Hocking's blog
Friday, June 20, 2014
Radiata pine may be an easy and productive timber species for us to grow, but it has long been recognised that the timber does have a number of quality problems. These have been compounded by genetic improvement programmes that focused almost entirely on growth rate and tree form, (hence GF, Growth & Form). There was a reason for this - it allowed growers to be rewarded with bigger volumes and better, visually assessed log grades. However it has left us with a forest estate with questionable, and perhaps even more important, very variable, wood quality.
The Wood Quality Initiative was launched to tackle these problems in 2003, and the work continues under the alternative monicker of Solid Wood Innovation. Recently a Scion workshop was held in both Christchurch and Rotorua to discuss progress and continuing problems. The basic wood characteristics of radiata pine have been understood for over 50 years, particularly the problems of the juvenile core where the first 10-12m growth rings are lower wood density, less stiff and potentially unstable because of spiral grain.
To date most work has been done on sonic testing for stiffness in structural timber, which allows segregation of timber at any stage from the plantation through to the back of the saw mill. The tech- nology is now being used quite widely, but I have yet to see it on any skid site near here. We also need to think about the implications of further log segregation for smaller, farm forestry scale, harvest volumes. Stiffness correlates with both wood density and the microfibrillar angle of the cellulose in the cell wall. What the scientists are still struggling with is technology to predict timber stability after drying.
If you want to grow structural timber you really need a lower fertility, warmer site, (Northland not Southland) with higher stocking rates and longer rotations. But even at best our radiata pine is not a particularly good structural timber, both the Aussies and the Chileans produce better, stiffer radiata pine and European pine is making increasing inroads into the Australian market with better stiffness and stability. So many experts still favour clear wood and appearance grades as our best value adding option. Our radiata pine generally does have good machining, finishing and appearance characteristics.
With clear wood density and stiffness are not major issues, though apparently some customers do specify particularly densi- ties. Tenon, our biggest clear wood processor presented an excellent paper, identifying their wood quality problems. There are two biggies for them – resin pockets and intra-ring checking. Resin is strongly affected by environment with various factors being blamed, such as drought stress, wind and boron deficien- cy. Problems can be predicted from checking the ends of logs and if it is a problem in your forests don't expect the clear wood processors to come calling. Intra-ring checking can also be assessed by looking for "green" checks in log ends, though they often resort to wood samples or trial loads from suspect sources.
Age is one factor here, they do not take logs younger than 25 years, but there is some confidence that this problem will reduce or even disappear in the future after the culling of some suscepti- ble genetic material.
The lesser problems for Tenon and their clear wood include stability, resinous heartwood and some other appearance issues such as needle fleck and conspicuous resin canals.
One interesting message was that effectively we are currently exporting much of our wood quality problem by sending the majority of the problematic logs to China for processing. Long time forestry consultant and commentator Dennis Neilson gave a mind boggling insight into the Chinese scene. China has made a huge, (though huge is a serious understatement), investment in soft- wood milling, and indeed is still investing. It is not the latest, most automated technology but rather multiple, modern saw-sets under a single roof. With markets for everything that comes out of even the roughest of logs, they can make much better use of these poorer quality logs than our domestic sawmillers. One local sawmiller gave the flip-side of this situation when he described China as the market of last resort for sawn timber. Not all proces- sors were quite as negative, but point was made. Interestingly though, Chinese efforts to move radiata pine "up-market" have had mixed results with some notable failures.
So where to with radiata pine? I am not sure, but the only clear message at the end of the workshop was the need for more research. Now where have I heard that before?
---
John Purey-Cust Ponders
Thursday, June 12, 2014
My last effort was on the vexed question of whether or not to prune and thin radiata pine. There I think I concluded helpfully that in the end its over to you – if farmers can't accurately forecast the price of milk from year to year, what hope for farm foresters dealing in decades?
Nick Ledgard summed it up for the small grower very well at the recent Trees on Farms day at Winton when he commented that if his stand was pruned and looking good it would sell better than one which wasn't. As for economics, well, the small grower had probably done most of the work himself so the cost is long forgotten.
On to other species and leaving aesthetics aside, the argument becomes clearer cut. In some cases they are firewood if you don't prune and probably you should thin too. Cypresses must be pruned – dead knots in the end product are anathema - and they must be thinned in order to concentrate growth on the pruned stems. How high to prune and what stocking to thin to is the ide- al rural philosophers argument – how many angels on the point of a pin? - mostly indulged in by those who have no intention of reaching a conclusion.
The cypresses are not a high volume group. They are high value and have an established market, so as early as you can select the best formed dominant trees, prune little and often(as high as you dare), thin to keep the best of those selected trees free from competition. Your view will change with time, accidents happen along the way. This is the ACT party in action. Only the elect must reach the end of the race. All lesser beings lose out.
Other matters – canker. Susceptibility to canker is another of those philosophers questions – a hundred different hindsight arguments and no very helpful conclusions. Much effort has gone into selection to find less sensitive strains (mostly macrocarpa) and species. A genetic problem, or site, or climate (the bugs move south) – or what ?
My own view, based on limited experience, is that, if we want good timber, we over judge the group's hardiness – the cypresses here aren't pioneers to push site boundaries and if they are pushed, stressed by site conditions, competition (not enough thinning), over enthusiastic pruning etc, so they become more open to disease. I have heard it remarked (and I have found it to be so) that the incidence of canker fades with the teenage years.
One of the cures for canker in macrocarpa has been the pushing of other cypresses and their hybrids claimed to be less susceptible. That may be so but so far I have seen no evidence down here that this compensates for other deficiencies in vigour or tolerance of rough conditions. There are some with comely form but very slow growth, others which may have a place as hedges. Lusitanica, once seen as too sensitive to frost down here but resistant to canker further north seems to have a horror of exposure to strong winds of any sort.
So we come back to Macrocarpa. I'd stick with that. Get the up to date info from the Farm Forestry cypress special interest group. It has an excellent newsletter, the pick of the bunch, and Dean Satchell is the editor. The latest one is just out.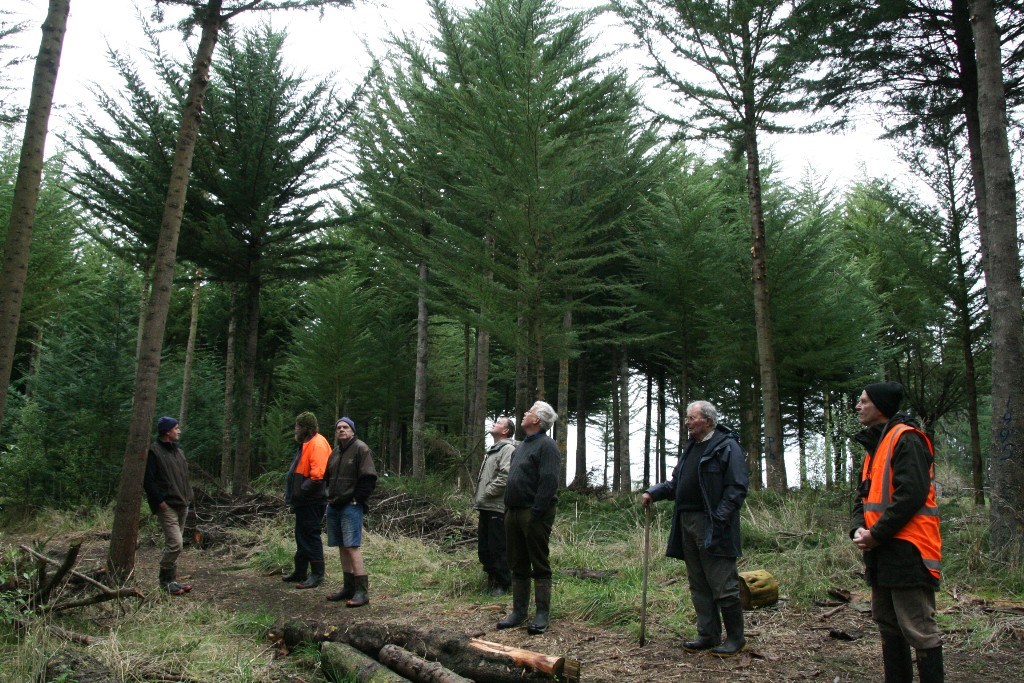 ---
---
Disclaimer: Personal views expressed in this blog are those of the writers and do not necessarily represent those of the NZ Farm Forestry Association.