NZFFA Member Blogs
---
Recent blogs:
Dean Satchell's blog
Friday, December 23, 2022
I'm often been questioned about spray releasing diverse species when helping landowners with the early stages of forest establishment. Spray releasing methods for radiata pine are well established and you can spray right over the top of them with the right herbicide. But what about "alternative" exotics and native species? The issue is that the efficacy of each herbicide tends to be species dependent, so it's risky to use herbicide around young trees unless there is good knowledge on its safety. The stakes are high and failure can be catastrophic.
Because there are so many tree species and so many herbicides, spray releasing can get complicated. It is also perhaps the most critically important part to get right with growing trees. Because I like to keep things simple but effective, I use glyphosate. Of course glyphosate kills just about any plant it comes into contact with, but there is a simple method for its safe application to release young trees from their weed competition. The advantage with a broad spectrum herbicide such as glyphosate is that its simple to get right and kill all the weeds surrounding your trees. Of course, if there is a herbicide that you know is safe to spray around your trees and kills all your problem weeds, then just go with that one and ignore my advice.
Firstly, the spray mix needs to be right. For every ten litres of spray mix I use 100ml glyphosate 360. The "360" bit is the concentration of glyphosate, meaning that there is 360g/litre of the active ingrediant (i.e. glyphosate). If the label says the concentration is different then adjust the mix accordingly.
Next, 20mls of penetrant should be added per ten litres of spray mix. This is important to kill legumes such as clover and gorse and other hard-to-kill weeds.
Lastly, spray dye is essential. I just use a splash for every ten litres, enough to see where you've applied the spray. This is not only because it's important to know where you've already sprayed, but also to alert you where you accidently get spray on your trees.
Then, the most important kit to prepare before you start is the "spray guard". This is to stop spray drifting onto your trees. This is essentail and I've demonstrated what I use in the video below.
Spraying a one metre circle around your trees seems to be standard practice. Best in late spring or early summer. Too late and your trees get lost or just don't grow because of root competition.
A simple but essential piece of equipment is a small spray bottle of water. Keep it on you at all times in case of accidental contact between glyphosate and tree. The glyphosate must be washed off immediately, because the penetrant quickly draws it into the plant.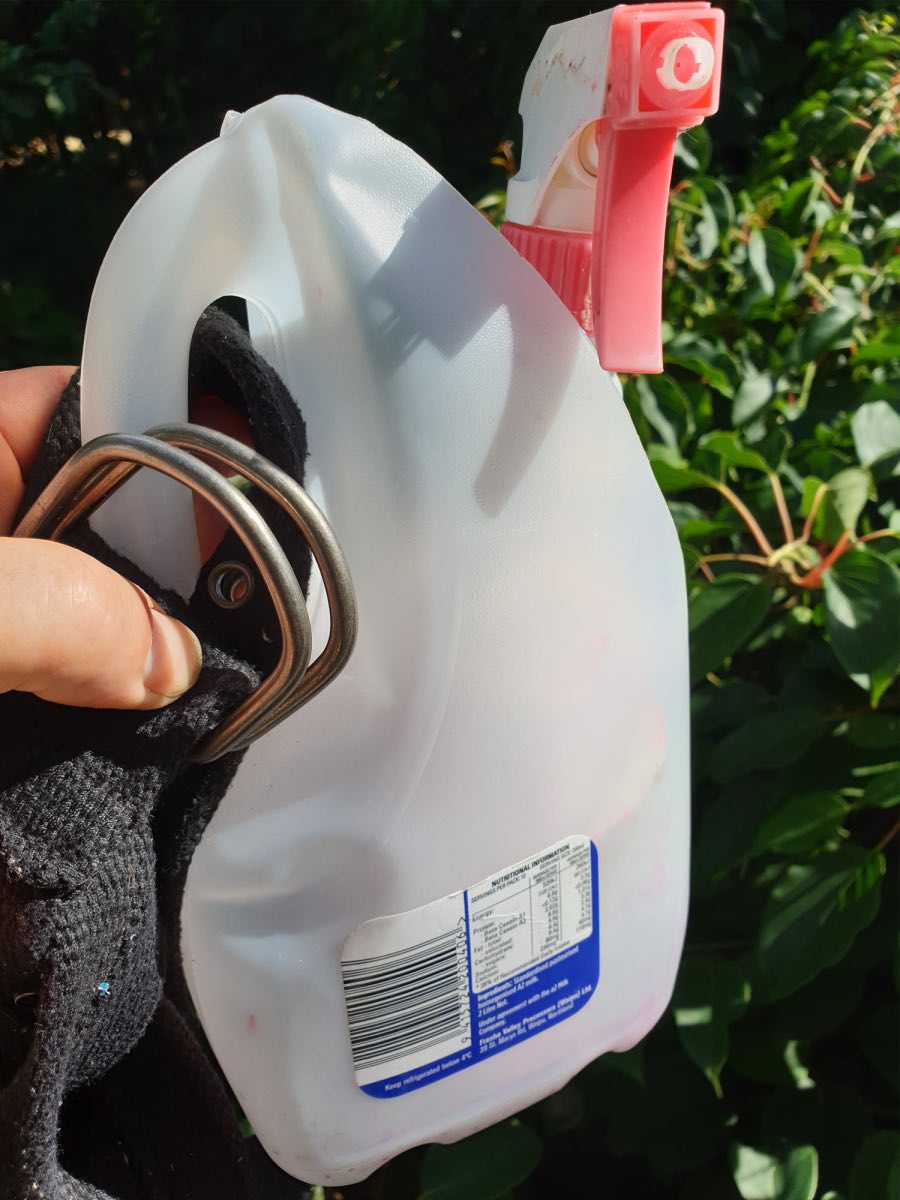 Never spray if there is rain or too much wind. Keep the pressure low, don't pump the backpack up too much because you'll get more spray drift which is risky for both yourself and the plant. Apparently glyphosate isn't good for humans so I like to use leather gloves over disposable latex gloves and good trousers and gumboots to ensure spray doesn't get to the skin.
I take no responsibility for the advice I give here, it works for me but if you're careless then things won't go well. Because glyphosate is a systemic herbicide, it can translocate through the plant from one point of contact and kill it. You don't want to get it on your tree. That said, it only seems to soak into green leaves, so doesn't appear to cause issues from soil or stem contact at the base of the tree.
---
Vaughan Kearns blog
Wednesday, November 02, 2022
The recent press release from the president of the New Zealand Farm Forestry Association is a breath of fresh air in response to the drivel that continues to emanate from Beef and Lamb New Zealand, Federated Farmers and Fish and Game NZ.
Frankly I'm surprised at Graham West's restraint when responding to the outright lies that were released on Rural News on Friday October 28th.
I will start by addressing the Curia report and putting a name to the person responsible. David Farrar is Curia's principal. On their website home page it is clearly stated that Mr Farrar personally oversees the question design and analysis. So it is here that we can lay the blame or the credit for the skewed results that the survey has come up with. Mr Farrar is described by Wikipedia as "right wing political activist, blogger and pollster who has worked for four National Party Prime Ministers". Enough said on this puppet.
It is stated that the Climate Change Commission has suggested a necessary planting rate of 25,000 hectares annually to meet New Zealand's Climate Change objectives. More recently that figure has been revised to 35,000 hectares of exotics or 250,000 hectares of natives as an equal preferred alternative. Despite the actual recorded 2021 planting of exotics reaching 49,000 ha of both production forestry and climate change mitigation forestry, there is absolutely no evidence that the New Zealand forest estate has returned to the 2003 level, so great was the deforestation that has occurred over the last 20 years in favour, mainly, of Dairy.
Beef +LNZ's Sam McIvor stated there will be significant economic damage to New Zealand's red meat sector and rural communities as a result of "productive land" changing land use to carbon farms. Yet the Perrin Ag report released on October 6 2020, commissioned by MPI, showed the opposite to be true and that integrating livestock farming with forestry was a more profitable and sustainable land use than livestock alone. Further, in this very same publication, Rural News in May this year headlined a new study where "actively managed carbon forestry created 25% more jobs that livestock farming". The NZFFA's own case studies show in every case that locking up the least productive 10-20% of grazing land had an immediate positive effect on the business' bottom line. I repeat, every case. But Sam later in the article agrees with all this, so his argument is all about the rate of change, suggesting sequestration is far in excess of requirements. In these very early days of recloaking the whenua, this is, I believe, immaterial.
Now President of Federated Farmers, Andrew Hoggard, gets in on the act with, "B+LNZ and FF want to explore the introduction of changes to the Overseas Investment Office, limits on whole farms being converted into exotics then going into the permanent category of the ETS". Well, this is utter shit. Despite being informed numerous times that it is completely impossible for overseas land purchasers to enter the ETS in the permanent carbon category he continues to trot it out. It can't happen because it is illegal. The penalty for doing so could be as severe as land being confiscated if this activity was ever uncovered.
Finally, a moronic contribution from the boss of Fish and Game NZ Corina Jordan. She states her organisation "is increasingly concerned by the impact the mass monoculture of forest planting could have on the environment". Yet up to date science reports state that biodiversity in exotic forests allows more volumes of birds to exist in exotics than in native forest, including twice as many kiwi.
Further, she states "pines take up a huge amount of water thereby leading to less flowing into streams, rivers and wetlands". But a one million dollar science project undertaken by Scion called "Forest Flows" has released interim results on five huge catchment studies comparing forestry to pasture taken over years. The results are forestry ahead on one, farming ahead on one, and the remaining three no discernible difference.
Then the statement that takes the cake, she says "Couple this with the acidic leachate that comes off the land under exotic conifers, and the increase in some pollutants and you've got catastrophic impacts on instream biology and the health of our freshwater". This is so offensively inaccurate that it cannot go unchallenged. Not a shred of evidence was produced to back these outrageous assertions and yet the Rural News just prints it.
It beggars belief that people in these public positions don't understand that they have an important responsibility to inform themselves accurately by rigorously questioning what they have seen written on the back of cereal packets.
Seriously, I'd like to see them held to account for issuing such falsehoods in the way that Guy Fawkes and his Catholic conspirators were, when they objected to the way that the government of 1604 was running things.
---
---
Disclaimer: Personal views expressed in this blog are those of the writers and do not necessarily represent those of the NZ Farm Forestry Association.