Teia anartoides, painted apple moth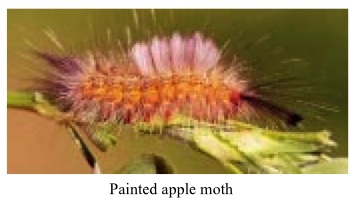 Following advice from the Technical Advisory Group, painted apple moth (Teia anartoides), was formally declared eradicated from New Zealand on 20 March 2006. A surveillance trapping programme continued around sites at which males were trapped during 2005 and 2006 (found to be likely Australian 'hitchhikers') has continued during the 2006 and in the first part of 2007. No further moths have been trapped.
The painted apple moth surveillance programme has been closed by the end of April 2007 with all moth breeding colonies, used to produce virgin females for surveillance purposes) or sterile male moths, destroyed. These activities practically denoted the end of the programme that started with PAM detection in parts of Auckland in 1999.