PAM's days are numbered
Scion is the leading provider of forest-related knowledge in New Zealand
Formerly known as the Forest Research Institute, Scion has been a leader in research relating to forest health for over 50 years. The Rotorua-based Crown Research Institute continues to provide science that will protect all forests from damage caused by insect pests, pathogens and weeds. The information presented below arises from these research activities.
From Forest Health News 139, April 2004.
In 2002, the Ministry of Agriculture and Forestry (MAF) launched a comprehensive programme targeting the population of painted apple moth (Teia anartoides ) which had taken hold in western Auckland (FHNews 128:1-2). This pest is considered to be a major threat to our urban treescapes and gardens, and our native and plantation forests. There is also a health risk, since the moth is covered in urticating hairs that can cause an adverse reaction in some people. Whereas MAF trapped 1784 moths in January 2002, only 48 moths were caught in January 2003. A single male moth was found in Mount Eden in January 2004, but follow-up surveys failed to disclose further signs of the moth.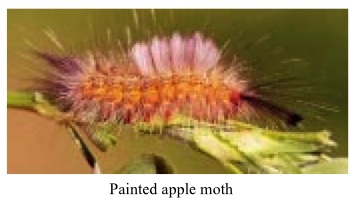 In February 2004 the Science and Technical Advisory Group recommended that MAF could begin reducing aerial treatments. As a result the aerial phase of the operation has been systematically wound down over the last few months. A Fokker Friendship aircraft was employed in the early phase of the aerial treatments, but an air tractor and a helicopter are now being used to finish off the programme. The last aerial operation is scheduled for 11 May 2004, in the Ranui-Swanson area, weather permitting.
The mathematical model being used by a scientist advising MAF provides the painted apple moth team with a high level of confidence that the battle against the moth is well on the way to being won. However, MAF is taking no chances. If any remnant moth colonies are discovered, targeted aerial treatment and ground operations may be carried out to ensure they are wiped out. Nor does the end of the aerial treatments mean that the eradication programme is over. The vegetation control zone will remain in place for 2 years (FHNews 128:1-2). MAF is grateful that the public takes this aspect of the programme seriously. Ground treatments, host removal, and the release of sterile males to overwhelm any remnant populations, will continue as they provide valuable backup tools for the aerial operation. The trapping programme, which is the main surveillance tool, will be maintained until at least January 2006. The traps are our eyes in the field and the best indicator of the existence of any remnant moth colonies. Eradication will be declared only after the area has remained free of painted apple moth for 2 years after the last find. The team is confident that the job is well on the way to completion.
Ian Gear, MAF
This information is intended for general interest only. It is not intended to be a substitute for specific specialist advice on any matter and should not be relied on for that purpose. Scion will not be liable for any direct, indirect, incidental, special, consequential or exemplary damages, loss of profits, or any other intangible losses that result from using the information provided on this site.
(Scion is the trading name of the New Zealand Forest Research Institute Limited.)