Red needle cast appearing
Scion is the leading provider of forest-related knowledge in New Zealand
Formerly known as the Forest Research Institute, Scion has been a leader in research relating to forest health for over 50 years. The Rotorua-based Crown Research Institute continues to provide science that will protect all forests from damage caused by insect pests, pathogens and weeds. The information presented below arises from these research activities.
From Forest Health News 256, May 2015.
The first sample of red needle cast for this season was received in the Forest Health Reference Laboratory on 5 May from a forest near Palmerston North. We are keen to collect information on the development of the disease in New Zealand this year. If you see any red needle cast symptoms, please send an email with the details of the disease symptoms (preferably with a photo) together with the locality and age of the stand to: judy.gardner@scionresearch.com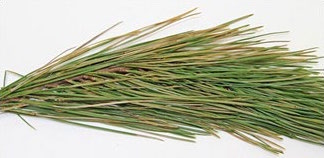 Symptoms of red needle cast were observed for the first time in the Gisborne region in autumn 2008. The needles had dark/resinous bands and sometimes khaki patches (see picture below), which had not been seen before by Scion forest pathologists. An unknown Phytophthora species was often isolated from the symptomatic needles. Later this was found to be Phytophthora pluvialis, a species described in 2013 from Oregon streams, soil and canopy drip in the mixed tan oak and Douglas fir forest.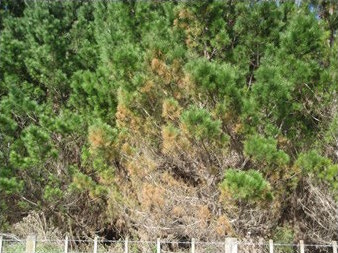 The disease is found in every region in the North Island and the Marlborough Sounds, Marlborough, Nelson and Buller regions in the South Island. Symptoms are seen in the field from March to November but are most common in autumn and winter. First occurrence and severity varies from year to year.
Diagnostic features for red needle cast (and other needle diseases) are reported on the New Zealand Farm Forestry Association website: http://www.nzffa.org.nz/farm-forestry-model/the-essentials/forest-health-pests-and-diseases/diseases/Needle-diseases/red-needle-cast/.
Reference: Dick, M.A., Williams, N M., Bader, M.K., Gardner, J.F., & Bulman, L.S. 2014. Pathogenicity of Phytophthora pluvialis to Pinus radiata and its relation with red needle cast disease in New Zealand. New Zealand Journal of Forestry Science, 44: 6.
Judy Gardner
This information is intended for general interest only. It is not intended to be a substitute for specific specialist advice on any matter and should not be relied on for that purpose. Scion will not be liable for any direct, indirect, incidental, special, consequential or exemplary damages, loss of profits, or any other intangible losses that result from using the information provided on this site.
(Scion is the trading name of the New Zealand Forest Research Institute Limited.)