Swiss needle-cast of Douglas fir
Scion is the leading provider of forest-related knowledge in New Zealand
Formerly known as the Forest Research Institute, Scion has been a leader in research relating to forest health for over 50 years. The Rotorua-based Crown Research Institute continues to provide science that will protect all forests from damage caused by insect pests, pathogens and weeds. The information presented below arises from these research activities.
Forest Pathology in New Zealand No. 2.

Based on I.A. Hood (1983)

Causal agent
Phaeocryptopus gaeumannii (T. Rohde) Petr.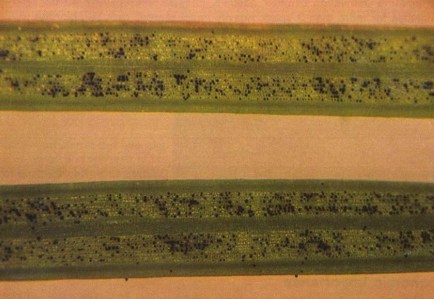 Fig. 1 - Douglas fir needles infected by Phaeocryptopus gaeumannii .
Fungal fruiting bodies are emergent from stomata on lower needle surfaces.

Type of injury
Associated with premature defoliation and subsequent reduction in tree growth.

Diagnostic features
Two parallel bands of tiny (about 0.4 mm), black, spherical fruiting bodies, coincident with the stomata, on the lower surfaces of living needles (Fig. 1). Mature fruiting bodies are more densely distributed on older needles where they are therefore more easily seen.
Premature defoliation of older needles. Infected trees usually do not retain needles for more than 3 years. Heavily infected trees may be chlorotic.
Caution : Other fungi which occur on Douglas fir needles and may be confused with P. gaeumannii are:
(i) Rhizosphaera kalkhoffii, recognised by its brown fruiting bodies on dead portions of needles. See Forest Pathology in New Zealand, No. 13.
(ii) Clypeolum sp. and Clypeolinopsis sp., distinguished by their flattened, shield-shaped fruiting bodies which are not associated with stomata.

Hosts
The main host is the widely planted Douglas fir (Pseudotsuga menziesii). Pseudotsuga macrocarpa , a tree not used for afforestation in New Zealand, is also susceptible to infection.

Distribution
Phaeocryptopus gaeumannii was first found on Douglas fir in New Zealand in 1959. Its distribution at that time was limited to a radius of about 100 km around Taupo. In the South Island it was first found near Nelson in 1969, and reached Southland in 1977. There are now few areas where P. gaeumannii cannot be found.

Economic importance
Infection severity is high in many Douglas fir plantations in New Zealand, especially where winters are warmer (ie. where the long term average June temperature is above 5.0oC). During the late 1960s, trees in many 50- to 60-year-old stands in Kaingaroa appeared thin-crowned and unthrifty, and permanent sample plot data showed that a decline in the growth of these stands had set in at about the same time. Subsequent examination of growth data from permanent sample plots revealed that a distinct reduction in site basal area growth potential occurred in different forests following the appearance of P. gaeumannii as it expanded its distribution. This reduction averaged 20% overall, but varied between regions.

Disease development
Spores are released between September and January, with peak production occurring in October and November, coincident with the flushing period of the host. Maximum infection occurs within the first 4-6 weeks of flush. Fruiting body initials first appear in April, and the fructifications mature the following spring. New fruiting bodies are produced annually and so are more densely distributed on older needles. The fungus continues to grow within infected needles until they are shed prematurely (Fig. 2). Older foliage can also become infected, but at much reduced levels. Infection is favoured by the comparatively wet spring/ early summer period found in most of New Zealand but tends to be less severe where the average winter temperature is cooler.
In one North Island forest, newly planted stands became fully infected within 3-6 years.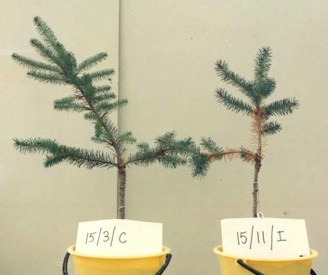 Fig. 2 - Grafted cuttings of Douglas fir from 22-year-old trees.
The plant on the right is infected by P. gaeumannii and is prematurely casting 2-year-old foliage.
The plant on the left is uninfected.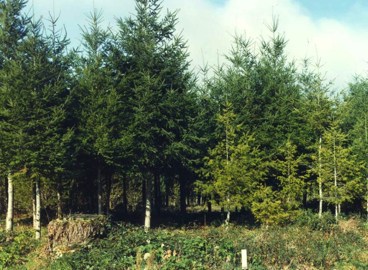 Fig. 3 - Variation in tree size and degree of chlorosis in 12-year-old trees heavily infected by P. gaeumannii .
Smaller, yellower trees to the right of the white peg are grown from an inland Californian seedlot, those to the left from an Oregon seedlot.

Control
Genetic selection: No trees or seedlots resistant to infection by P. gaeumannii have yet been found under New Zealand conditions. However, trees originating from different sources in the native Douglas fir range exhibit a varying degree of chlorosis and needle cast symptoms when heavily infected (Fig. 3). Variation in needle retention is also noticeable among infected trees of the same seedlot.
Trials are currently in progress to develop superior Douglas fir planting stock for commercial use. Selection criteria include enhanced needle retention and acceptable growth despite the presence of infection. Research is also underway to identify the regions less prone to the disease which are therefore more suitable for growing improved Douglas fir.
Fungicides: Phaeocryptopus gaeumannii has been controlled in seedlings and very young trees by protectant spraying with triforine (Cela W524, 20 EC, 1 ml/litre), benomyl (Benlate 50W, 0.5 g/litre), or cuprous oxide or copper oxychloride (50W, 0.25 g/litre). A surfactant such as Multifilm X-77 should be used with the benomyl and the copper fungicides. Two applications should be made, the first about 3 weeks after bud burst and the second approximately 6 weeks later. It is important to spray foliage thoroughly to run-off point to achieve satisfactory control.
Copper fungicides need to be used carefully as they can cause foliage burning, and they are best avoided if one of the other fungicides is available. Overseas, the disease has been controlled by two aerial applications of chlorothalonil. However, because it may be necessary to treat biennially to maintain a low level of infection, aerial spraying is probably uneconomic except for short-term, higher-value crops such as nursery stock or Christmas trees.
Silviculture: It has been found that thinning in heavily diseased, central North Island plantations does not reduce infection or increase stand growth. Nevertheless, current advice is to thin early, in order to reduce competition and increase the crown depth so as to maintain vigour and piece size on residual trees . However, excessive thinning may lead to large knots, so a balance is needed. It is not yet known if thinning less severely diseased stands may still reduce infection incidence.
Bibliography
Hood, I.A. 1983: Swiss needle-cast of Douglas fir. New Zealand Forest Service, Forest Pathology in New Zealand No. 2.

Hood, I.A.; Kimberley, M.O. (2005): Douglas fir provenance susceptibility to Swiss needle cast in New Zealand. Australasian Plant Pathology 34 (1): 57-62.

Hood, I.A.; Sandberg, C.J.; Barr, C.W.; Holloway, W.A.; Bradbury, P.M. (1990): Changes in needle retention associated with the spread and establishment of Phaeocryptopus gaeumannii in planted Douglas fir. European Journal of Forest Pathology 20: 418-429.

Knowles, R.L.; Kimberley, M.O.; Hood, I.A. (2001): Swiss needle cast of Douglas fir – impact on growth. Forest Health News 114: 1-2.

Stone, J.K.; Hood, I.A.; Watt, M.S.; Kerrigan, J.L. (2007): Distribution of Swiss needle cast in New Zealand in relation to winter temperature. Australasian Plant Pathology 36: 445-454.
Compiled: 1983; revised I.A. Hood 2009.
This information is intended for general interest only. It is not intended to be a substitute for specific specialist advice on any matter and should not be relied on for that purpose. Scion will not be liable for any direct, indirect, incidental, special, consequential or exemplary damages, loss of profits, or any other intangible losses that result from using the information provided on this site.
(Scion is the trading name of the New Zealand Forest Research Institute Limited.)