Armillaria and Gastrodia...
Scion is the leading provider of forest-related knowledge in New Zealand
Formerly known as the Forest Research Institute, Scion has been a leader in research relating to forest health for over 50 years. The Rotorua-based Crown Research Institute continues to provide science that will protect all forests from damage caused by insect pests, pathogens and weeds. The information presented below arises from these research activities.
From Forest Health News 146, November 2004.
Visitors to pine plantations during summer may sometimes recognise the flowering stalks of the native orchid Gastrodia cunninghamii, or huperei, scattered generally across the forest floor. Although common and standing anywhere from 50 cm to 1m tall, they lack green leaves and tend to be rather unobtrusive.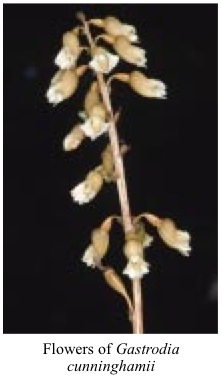 During our studies on Armillaria root disease in some forests we regularly encounter the tuber-like rhizomes of this orchid among the root systems of young radiata pine trees infected by Armillaria novae-zelandiae. For instance, unexpectedly large numbers were unearthed when we carefully excavated the root system of one infected tree in a large central North Island pine forest. The tubers were vertically orientated and had grown upwards one from another, rising in a series of layers or tiers from horizontal tubers at least 40 cm below the soil surface.
Such a rhizome system was described four decades ago by the late Ella Campbell for G.cunninghamii in beech forest (Nothofagus species) in parts of Fiordland [Campbell, E.O. (1962). Transactions of the Royal Society of New Zealand. Botany 1 (24): 289-296.]. She found that some of the basal tubers were infected with Armillaria by means of rhizomorphs connected to the root of a nearby beech tree, and recognised a symbiotic relationship analogous to that for G. elata in Japan. The Japanese worker certain introduced basidiomycete fungi such as the fly agaric toadstool, Amanita muscaria, or the underground species Rhizopogon rubescens. In the case of the orchid, the tuber in some way keeps the pathogen at bay while making use of the relationship to its own advantage. Armillaria apparently gains nothing for itself by infecting the orchid tuber, although a recent Chinese study has suggested that carbohydrate is able to move back into the fungus.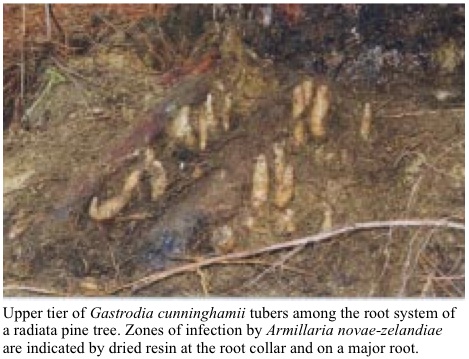 Tubers of G. elata are valued for their medicinal and S.Kusano concluded nearly 100 years ago that only tubers of G. elata invaded by Armillaria are able to produce flower heads, presumably by means of nourishment derived ultimately from the tree host which is directly parasitised by the fungus [Kusano, S. (1911). Journal of the College of Agriculture, Imperial University of Tokyo 4: 1-65.].
Five species of Armillaria have now been identified that are able to infect G. elata naturally. The association is, in fact, mycorrhizal, but very different in nature to that found in the small roots of tree hosts such as radiata pine, which are beneficially infected by pharmacological properties in parts of Asia, and in Korea they are grown commercially by inoculating with Armillaria cultivated on segments of wood. They also appear nutritious, and in our studies tubers left exposed overnight were partly eaten, presumably by introduced possums ( Trichosurus vulpecula ).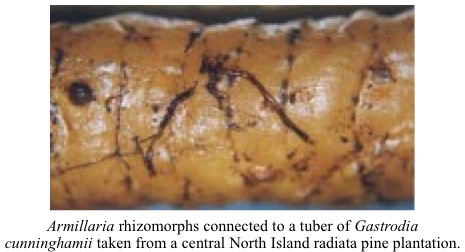 So far there has been little evidence of infection by Armillaria of the G. cunninghamii tubers taken from under radiata pine. Attempts at isolating it were unsuccessful, and characteristic fungal hyphae were not seen during microscopic examination of some tuber cells. However, in Nothofagus forest sustained infection was reported only in the basal tubers, few of which were examined from beneath pine trees. We occasionally observed Armillaria rhizomorphs connected to the surface of tubers, which contained hyphae within some cells (see Figure). In the absence of green leaves an association with Armillaria seems the only plausible explanation for the plentiful quantity of orchid tubers encountered under just one tree. This indicates that an indigenous symbiotic relationship between G. cunninghamii and A. novae-zelandiae has become adapted at the expense of an exotic host, radiata pine.
Current research is investigating if and to what extent Armillaria novae-zelandiae may be spreading into pine plantations by means of basidiospores (FHNews 142: 1). This begs the question as to whether the planting of pine plantations may have fostered the spread of the native orchid by creating an environment suitable for the pathogen. Gastrodia cunninghamii is found mainly in forests or scrubland throughout the country, but also occurs in gardens and waste areas. Armillaria can be found in all these habitats, wherever there is wood available to serve as a nutrient substrate. Gastrodia cunninghamii has also been reported beneath willow (Salix), which may be another indirect exotic host. Riparian and shelter-belt willows are known to be particularly susceptible to attack by A. novae-zelandiae.
(Ian Hood and Judy Gardner, Forest Research)
&nbsp
This information is intended for general interest only. It is not intended to be a substitute for specific specialist advice on any matter and should not be relied on for that purpose. Scion will not be liable for any direct, indirect, incidental, special, consequential or exemplary damages, loss of profits, or any other intangible losses that result from using the information provided on this site.
(Scion is the trading name of the New Zealand Forest Research Institute Limited.)