Uraba lugens, Gum Leaf Skeletoniser
Scion is the leading provider of forest-related knowledge in New Zealand
Formerly known as the Forest Research Institute, Scion has been a leader in research relating to forest health for over 50 years. The Rotorua-based Crown Research Institute continues to provide science that will protect all forests from damage caused by insect pests, pathogens and weeds. The information presented below arises from these research activities.
From Forest Health News 150, April 2005.
In September 2004 Forest Research was granted approval by the Environmental Risk Management Authority (ERMA) to import four parasitoids of Uraba lugens from Australia into containment (FH News 143: 2). Several collections were made in Tasmania and South Australia from November 2004 to January 2005. Three of the four solitary parasitoids are now in containment at Forest Research: Cotesia urabae (Braconidae), Euplectrus sp. (Eulophidae), and Eriborus sp. (Ichneumonidae). All three species readily attack U. lugens in containment although breeding cultures are not yet fully established. A high level of hyperparasitism meant that the fourth species, Dolichogenidea eucalypti (Braconidae), did not survive.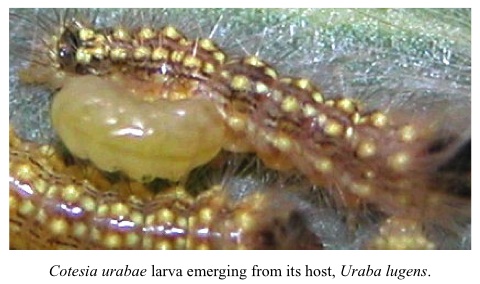 Cotesia urabae attacks first to sixth instar U. lugens larvae and the parasitoid larva emerges before the host caterpillar reaches pupation (see Figure). This species has two generations for every U. lugens generation in Australia. Euplectrus sp. is the smallest of the four species (< 3 mm) and attacks only first instar larvae. This parasitoid develops externally, hidden beneath its host. Although small, the adults can live for up to 120 days. The last species to be imported, Eriborus sp. is also the largest, at approximately 12 mm. Females are thought to attack medium to large larvae; however, the preferred age-size range is not known. The adult wasp emerges after the host has spun its cocoon.
Host specificity tests have begun with C. urabae and Eriborus sp. against the following non-target moth species: Celama parvitis, Metacrias erichrysa, Nyctemera annulata , and Helicoverpa armigera . These species have been chosen because they are related to Uraba sp. Preliminary results show no evidence for attack on these non-target species; however, the testing programme is at a very early stage.
Sarah Mansfield, Forest Research (Now Ensis)
&nbsp
This information is intended for general interest only. It is not intended to be a substitute for specific specialist advice on any matter and should not be relied on for that purpose. Scion will not be liable for any direct, indirect, incidental, special, consequential or exemplary damages, loss of profits, or any other intangible losses that result from using the information provided on this site.
(Scion is the trading name of the New Zealand Forest Research Institute Limited.)