Buddleia biological control agent on the move
Scion is the leading provider of forest-related knowledge in New Zealand
Formerly known as the Forest Research Institute, Scion has been a leader in research relating to forest health for over 50 years. The Rotorua-based Crown Research Institute continues to provide science that will protect all forests from damage caused by insect pests, pathogens and weeds. The information presented below arises from these research activities.
From Forest Health News 204, April 2010.
As reported earlier (FH News 169, January 2007 & FH News 181, February 2008) the buddleia leaf weevil, Cleopus japonicus, was first released in New Zealand by Scion at five sites in North Island plantations between October 2006 and January 2007. These sites were in Whakarewarewa, Kinleith, Lake Taupo, Esk, and Rawhiti Forests. The sites have since been monitored closely for weevil establishment, dispersal, and feeding damage to buddleia.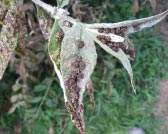 Feeding damage increased rapidly from mid-February onwards and peaked in April and May. As observed in summer 2008, there were no larvae during January and early February in 2009 and 2010. No mating adults or eggs were seen during this time. This non-egg laying period, when the weevils are relatively inactive, results in a period with very little additional damage to buddleia.
This autumn, buddleia leaf weevils, larvae and their feeding have been found more than 10 km from the release plants at Kinleith and more than 4 km from the release at Esk Forest. Indications are that spread at Whakarewarewa Forest has also been considerable. The other sites have yet to be checked. It appears the weevil's rate of spread has increased greatly as they fly further away to undamaged buddleia. The feeding damage to buddleia has been impressive, with over 90% defoliation of buddleia plants within at least 500 m of the release sites at Kinleith and Esk. Damage at Whakarewarewa has also been high, but more patchily distributed. It has been observed that some adults remain on heavily defoliated plants, feeding and laying eggs on new growth from the nodes. This has resulted in repeated damage to plants, both within and between seasons, which is needed to reduce the vigorous growth of buddleia. Previous work has shown that to effectively suppress buddleia, defoliation greater than 30% is needed and this must occur for more than one season as buddleia compensates strongly when defoliated.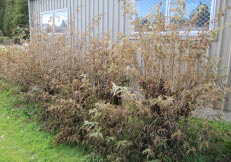 Despite such high defoliation, there has been no damage to other species at release sites with the exception of feeding on the closely related weed species Scrophularia auriculata, which was predicted from pre-release testing.
Scion is currently conducting research which will assist in developing an integrated pest management program for buddleia in forestry. Weed biological control may offer advantages to forestry as there is an increasing emphasis on reducing chemical use, particularly during the early establishment phase. For the buddleia leaf weevil to be successful in a forestry context, it must quickly re-invade newly established stands and reduce the growth of buddleia throughout the area. The rate of spread of the weevil into newly planted areas and subsequent damage is being determined at two sites in Kinleith and Kaingaroa Forests. This information will be combined with other potential management practices such as over-sowing with grasses, spot spraying and alternative chemical rates and timing to develop better ways to manage buddleia in forests.
The buddleia leaf weevil has been released at over thirty sites throughout New Zealand and it has established at all of them.
Michelle Watson
&nbsp
This information is intended for general interest only. It is not intended to be a substitute for specific specialist advice on any matter and should not be relied on for that purpose. Scion will not be liable for any direct, indirect, incidental, special, consequential or exemplary damages, loss of profits, or any other intangible losses that result from using the information provided on this site.
(Scion is the trading name of the New Zealand Forest Research Institute Limited.)