Buddleia leaf weevil update
Scion is the leading provider of forest-related knowledge in New Zealand
Formerly known as the Forest Research Institute, Scion has been a leader in research relating to forest health for over 50 years. The Rotorua-based Crown Research Institute continues to provide science that will protect all forests from damage caused by insect pests, pathogens and weeds. The information presented below arises from these research activities.
From Forest Health News 181, February 2008.
As reported in an earlier FH News (FH News 169, January 2007) the buddleia leaf weevil, Cleopus japonicus, was released by Scion staff at five sites in North Island plantations from October 2006 to January 2007. Release sites were established in Whakarewarewa, Kinleith, Lake Taupo, Esk, and Rawhiti Forests. These forests were selected because they represent a range of different climatic conditions. The sites have since been monitored closely for weevil establishment, dispersal, and feeding damage to buddleia. Despite many years of research in quarantine, how well the weevil would do in New Zealand forests was uncertain.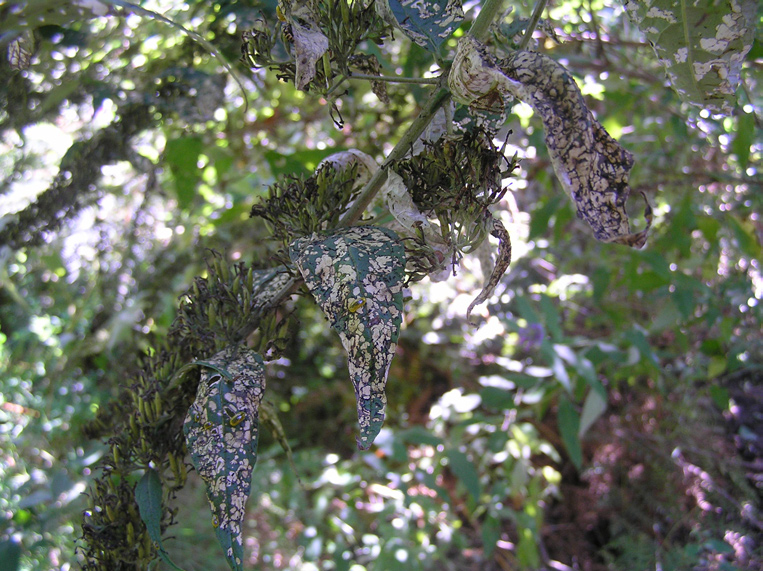 In particular, we were interested to see if cleopus would survive winter as adult weevils and/or pupae, and would larvae be found in the cooler months. Larvae do not tolerate cooler temperatures as well as adults do. Adults were found throughout winter at all sites. They could be found sunning themselves on leaves at the tops of plants on warmer sunny days. No larvae were found at any sites between June and July 2007; the first were found at the warmest site near Ohope (Rawhiti Forest) in mid-August, and they were at all sites by late September. This was earlier than expected and probably was a result of the warm winter.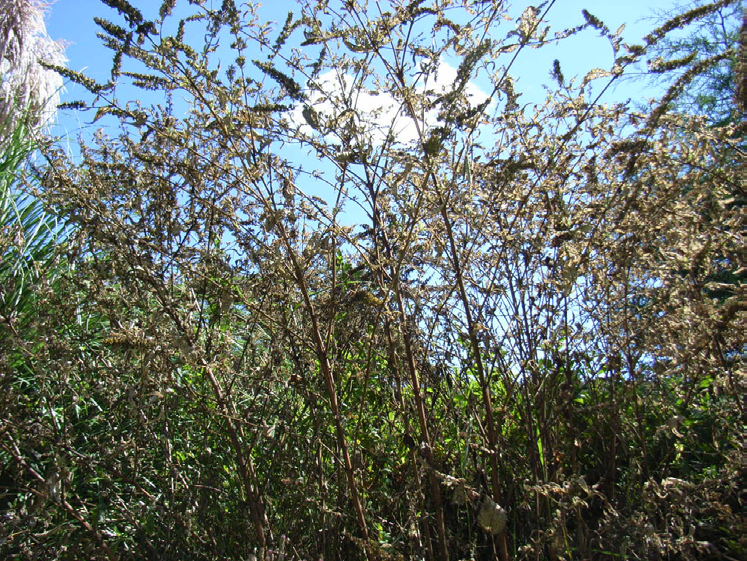 During January 2008, weevils became difficult to find and no larvae were located. This is thought to be due to the sustained, high temperatures experienced during this period, with many days over 30°C at the release sites. In China the buddleia leaf weevil is known to cease laying eggs when it is hot. Our observations also indicate weevils become inactive and hide at high temperatures. However, large numbers of very small larvae and eggs were found in mid-February at all sites.
The weevil can be considered established at all sites as more than two generations have been recorded, weevils were found after winter, and numbers have increased. Buddleia leaf weevil feeding has been found 145 m from the release plants at Kinleith and 200 m from them at Lake Taupo. It is only early days, but feeding damage to some plants is impressive. Very heavy defoliation will be needed, however, to reduce the vigorous growth of buddleia.
Further releases have been made in the Kaikoura area, Whanganui, Masterton, and Bay of Plenty between November 2007 and February 2008.
Michelle Watson
&nbsp
This information is intended for general interest only. It is not intended to be a substitute for specific specialist advice on any matter and should not be relied on for that purpose. Scion will not be liable for any direct, indirect, incidental, special, consequential or exemplary damages, loss of profits, or any other intangible losses that result from using the information provided on this site.
(Scion is the trading name of the New Zealand Forest Research Institute Limited.)