Spore production and release of Phytophthora pluvialis and Phytophthora kernoviae peaks in late winter in New Zealand radiata pine stands
Scion is the leading provider of forest-related knowledge in New Zealand
Formerly known as the Forest Research Institute, Scion has been a leader in research relating to forest health for over 50 years. The Rotorua-based Crown Research Institute continues to provide science that will protect all forests from damage caused by insect pests, pathogens and weeds. The information presented below arises from these research activities.
From Forest Health News 298, March 2020.
Red needle cast (RNC) is a significant disease of radiata pine in New Zealand that results in heavy needle cast and associated growth losses in some years. It is caused by an invasive pathogen, named Phytophthora pluvialis, that was first detected in New Zealand in 2008. Another pathogen, named Phytophthora kernoviae, is also sometimes associated with similar symptoms, suggesting that it may contribute to RNC. Phytophthora kernoviaealso causes another foliar disease, once known as physiological needle blight but now called phytophthora needle blight.
Forest Pathologists at Scion are working to understand the biology of both pathogens, with an aim to develop effective management strategies. One priority is to elucidate the timing, and climatic drivers, of spore production and release. Understanding this will support the development of disease forecasting models and chemical control strategies.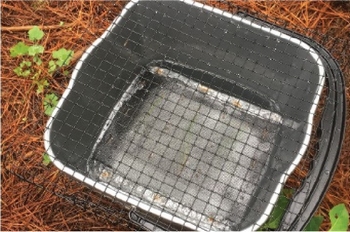 In a recent paper in Forest Pathology we showed that spore release of both species peaked in late-winter at sites in the central and east coast regions of the North Island. This is the same pattern seen for the whole country in detections from pine needle samples submitted to Scion's Diagnostic Laboratory. The concurrent development of symptoms and spore production suggests that these diseases are polycyclic, i.e. there are several cycles of spore production and infection per year that can lead to significant outbreaks under prolonged periods of favourable weather.
Correspondingly, sporulation of P. pluvialis and P. kernoviae was significantly greater during cooler periods. Sporulation of P. pluvialis was also greater during periods of wet weather, suggesting water is important for spore production and release. This is probably also the case for P. kernoviae, for which there was less data available than for P. pluvialis. Support for this comes from analysis of another dataset included in the paper, which showed that infection of Rhododendron ponticum by P. kernoviae was greater during wetter periods in Cornwall, UK.
From Forest Health News 298, March 2020.
Another interesting outcome of the analysis of the Cornwall dataset was the finding that the seasonal pattern of infection by P. kernoviae in Cornwall was the opposite of that seen for sporulation in New Zealand. In Cornwall, infection peaked towards the end of the summer. In New Zealand, P. kernoviae was likely limited by warmer and drier summers, compared to limitation by colder winter weather in the UK.
Data from New Zealand also indicated that prior weather conditions were also important. A nationwide drought in the 2012-2013 summer preceded a long period without detections of P. pluvialis and P. kernoviae at the sporulation monitoring sites and in samples submitted to the Diagnostics Laboratory, while wet summers preceded years with P. kernoviae outbreaks.
Based on the results from New Zealand, copper fungicides, shown to be effective against P. pluvialis and P. kernoviae in previous laboratory assays (Forest Health News 288, May 2019), may be most effective if applied in late summer or autumn. Operational scale copper control field trials are underway to test optimal spray timing.
The rapid build-up of severity within a year will make the development of a targeted spraying regime challenging. Trees may be green and appear healthy in autumn, but severely affected by RNC by spring. Long term disease monitoring has been undertaken at 50 sites to further investigate the role of preceding and contemporary weather conditions in RNC epidemiology, with an aim to forecast epidemics.
In conclusion, this study shows that within stands of radiata pine in New Zealand, frequency of rain and temperature are the two most important weather variables driving RNC, with greater spore production observed as rain days increase at cooler temperatures. The observed seasonality of spore release, with peaks in winter, indicates that copper treatments in late summer or autumn may be optimal for control. However, observations of spatial and seasonal variability suggest that regional and site specific RNC management may be required.
Stuart Fraser
Scion
Fraser, S, Gomez-Gallego, M, Gardner, J, Bulman, LS, Denman, S, Williams, NM, 2020. Impact of weather variables and season on sporulation of Phytophthora pluvialis and Phytophthora kernoviae. Forest Pathology e12588.
This information is intended for general interest only. It is not intended to be a substitute for specific specialist advice on any matter and should not be relied on for that purpose. Scion will not be liable for any direct, indirect, incidental, special, consequential or exemplary damages, loss of profits, or any other intangible losses that result from using the information provided on this site.
(Scion is the trading name of the New Zealand Forest Research Institute Limited.)