Red needle cast update
Scion is the leading provider of forest-related knowledge in New Zealand
Formerly known as the Forest Research Institute, Scion has been a leader in research relating to forest health for over 50 years. The Rotorua-based Crown Research Institute continues to provide science that will protect all forests from damage caused by insect pests, pathogens and weeds. The information presented below arises from these research activities.
From Forest Health News 261, October 2014.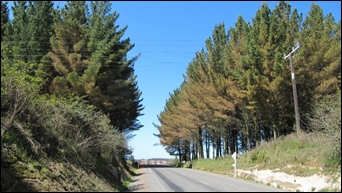 In Forest Health News 256 (May 2015) we reported that the first red needle cast sample of the year was confirmed from a forest near Palmerston North. Since then we have received positive samples from Nelson and the central North Island and have noted hot spots of disease in the Taranaki area. Records of significant disease have not been received this year from the East Cape or Northland, instead there have been reports of the occasional tree showing symptoms from a few areas in those regions. In the central North Island the disease appeared later than usual with a number of reports being made from early September onwards. This is in keeping with previous observations where timing, location and severity of disease has varied considerably from year to year.
In September we started a new study in which sites were selected for long term disease monitoring. In the central North Island a total of 40 sites, along with 11 sites on the East Cape, have been selected for annual assessment of disease severity. By doing so we are hoping to determine the specific set of conditions (i.e. weather and microsite) that contribute to outbreaks of red needle cast. This knowledge will help growers make decisions on control when an operational chemical control solution becomes available or on deployment of plants with low disease susceptibility.
Lindsay Bulman and Ian Hood
This information is intended for general interest only. It is not intended to be a substitute for specific specialist advice on any matter and should not be relied on for that purpose. Scion will not be liable for any direct, indirect, incidental, special, consequential or exemplary damages, loss of profits, or any other intangible losses that result from using the information provided on this site.
(Scion is the trading name of the New Zealand Forest Research Institute Limited.)