Western gall rust meets Tod Ramsfield
Scion is the leading provider of forest-related knowledge in New Zealand
Formerly known as the Forest Research Institute, Scion has been a leader in research relating to forest health for over 50 years. The Rotorua-based Crown Research Institute continues to provide science that will protect all forests from damage caused by insect pests, pathogens and weeds. The information presented below arises from these research activities.
Forest Health News 121, August 2002.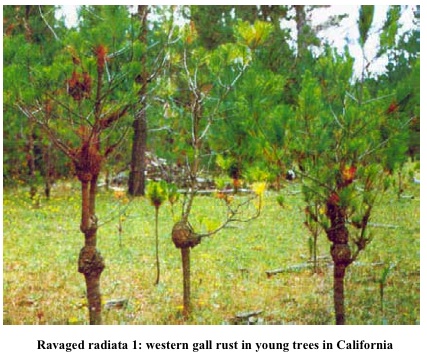 Western gall rust, caused by the rust fungus Endocronartium harknessii, is another disease of Pinus radiata we prefer to keep out of New Zealand. One of several pine stem rusts, this native of western North America induces rounded galls that deform the branches and stems of trees of a number of 2- and 3-needle pine species. Infected trees become malformed and, when young, suffer breakage and death, all of which could have a serious economic impact on forestry in this country, should the fungus ever become established. Western gall rust is a particular threat because, unlike many of the other pine stem rusts, it can spread directly from pine to pine, without the need for an alternate host plant. Early identification of this pathogen is vital for successful eradication, but unhappily E. harknessii cannot be isolated into culture from the host tissues. While it is readily identified from the form and germination pattern of its powdery spores, these are only produced on the galls seasonally, and not until at least two years after infection. This hampers the quick diagnosis of unknown galls, as was demonstrated several years ago when rounded stem swellings in young P. radiata stands caused concern in Tasmania (FHNews 89:1).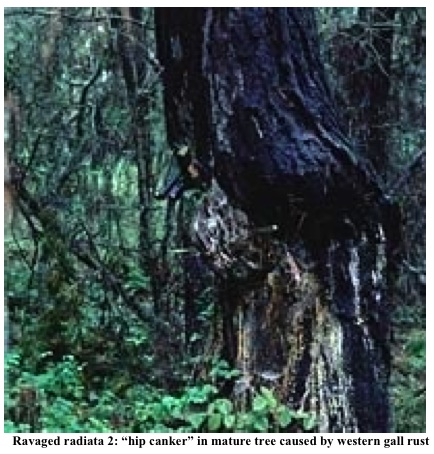 One solution to the diagnosis of the pathogen in non-sporulating galls is to use a molecular method that will identify the rust mycelium within the woody gall tissue. A protocol to do this using a species-specific molecular marker is being developed by Tod Ramsfield, who recently joined the Forest Health team at Forest Research as molecular plant pathologist. The early stages of this project involved the extraction of DNA from rust aeciospores collected in British Columbia. Tod also met Dr Det Vogler of the Institute of Forest Genetics, USDA Forest Service, who has worked on the detection of fungi in woody tissues, including that of E. harknessii in P. radiata in California.
Before joining Forest Research, Tod recently completed his Ph.D. dissertation at the University of British Columbia, its subject being an "Investigation into a biological control strategy for lodgepole pine dwarf mistletoe". His M.Sc. degree was undertaken at Simon Fraser University, with a thesis entitled "Variation in the mitochondrial DNA of Chondrostereum purpureum". Future molecular work at Forest Research will include population studies of pathogenic fungi and the development of further molecular tools to aid in identifying fungi.
(from material supplied by Tod Ramsfield, Forest Research)
&nbsp
This information is intended for general interest only. It is not intended to be a substitute for specific specialist advice on any matter and should not be relied on for that purpose. Scion will not be liable for any direct, indirect, incidental, special, consequential or exemplary damages, loss of profits, or any other intangible losses that result from using the information provided on this site.
(Scion is the trading name of the New Zealand Forest Research Institute Limited.)