"Strasseria" disorder of Pinus radiata
Scion is the leading provider of forest-related knowledge in New Zealand
Formerly known as the Forest Research Institute, Scion has been a leader in research relating to forest health for over 50 years. The Rotorua-based Crown Research Institute continues to provide science that will protect all forests from damage caused by insect pests, pathogens and weeds. The information presented below arises from these research activities.
From Forest Health News No. 123, October 2002.
Episodic defoliation of Pinus radiata has occurred over a number of years in Northland, East Cape, Westland and the central North Island, the most recent major outbreaks being noted in 1998 and 2000 (FHNews 78:2; 79:2; 102: 2).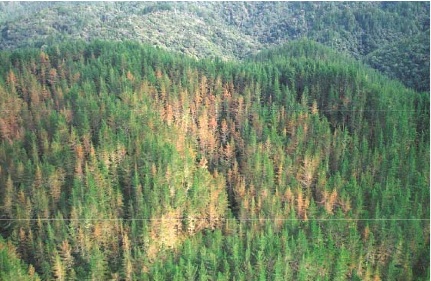 Symptoms appear during late winter and spring when foliage on affected trees becomes red-brown and then turns khaki. The needles droop but remain firmly attached to branches after death and may still be present on the tree in late November or December. Distribution within a stand is usually localised and in some situations symptoms are present on nearly every tree. In contrast, Cyclaneusma needle cast differs in that needles turn firstly yellow and then brown. The needles tend not to droop but detach very readily, most being cast by late October. Distribution of Cyclaneusma needle cast is usually scattered within a stand.
Several fungi are commonly isolated from the discoloured foliage, with Strasseria geniculata often predominating. At present it is not known whether endophytic fungi play a role in needle death or merely take advantage of senescent or dead material as opportunists. The disease has been referred to as "Strasseria" for convenience, even though no causal association has been proved or is implied.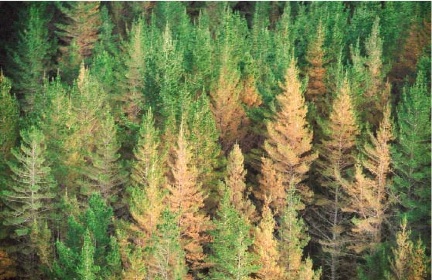 In mid-September 2002, "Strasseria" defoliation was reported from Northland and parts of Coromandel and the Bay of Plenty. An aerial survey revealed that gullies were predominantly affected at altitudes above 300 m asl, and the problem was rarely seen in trees younger than 15 years. For many trees, over 90% of the crown was affected.
Forest Research is undertaking a research programme, funded by the Foundation for Research, Science and Technology (FRST) and the Forest Health Research Collaborative, that aims to determine the cause of the disease. Plots that are assessed monthly to monitor disease progress have been established in Northland and East Cape forests, and glasshouse trials are underway to determine the effect of prolonged wetness on needles in the absence and presence of endophytic fungi. Climatic and environmental factors will be examined to determine if any relationships with disease severity exist.
I would very much appreciate reports of severe defoliation of the type described above, with details of disease incidence and severity, location, topography, crop age, and silvicultural treatment, in order to build up my database of records. Margaret Dick (Forest Research) would be grateful for samples from affected trees from as many locations throughout the country as possible to carry out fungal isolation tests.
(Lindsay Bulman, Forest Research)
&nbsp
This information is intended for general interest only. It is not intended to be a substitute for specific specialist advice on any matter and should not be relied on for that purpose. Scion will not be liable for any direct, indirect, incidental, special, consequential or exemplary damages, loss of profits, or any other intangible losses that result from using the information provided on this site.
(Scion is the trading name of the New Zealand Forest Research Institute Limited.)