Exotic wood decay fungus on pine
Scion is the leading provider of forest-related knowledge in New Zealand
Formerly known as the Forest Research Institute, Scion has been a leader in research relating to forest health for over 50 years. The Rotorua-based Crown Research Institute continues to provide science that will protect all forests from damage caused by insect pests, pathogens and weeds. The information presented below arises from these research activities.
Forest Health News 126, February 2003.
The recent discovery in Auckland of the Northern Hemisphere wood decay fungus, Phaeolus schweinitzii, indicates that this species has a wide distribution within this country. The fungus was first recorded in New Zealand in 1995 when bracket-shaped fruitbodies were collected by Lloyd Esler from decayed wood at the base of mature live Pinus radiata trees in a city park in Invercargill.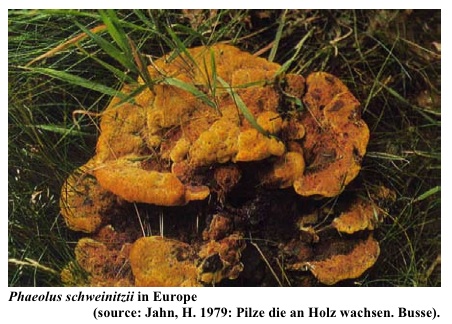 Fruitbodies have since reappeared on these trees annually. Phaeolus schweinitzii was found again in 2002, also on P. radiata, by a forest owner near Lawrence in southern Otago. This month (February, 2003) P. schweinitzii was discovered at a third location on the roots of a mature, healthy-looking P. radiata tree in a park in Auckland.
It is of interest that in the last few years this species has also been found fruiting on roots, stumps, or at the base of mature trees in Australia (P. radiata in Melbourne; Ian Smith, Forest Science Centre, Department of Natural Resources and Environment, Victoria), South America (Pinus)* and South Africa (Mike Wingfield, Forestry and Agricultural Biotechnology Institute, Pretoria University).
It should be noted that the first use of the name P. schweinitzii (synonym, Coltricia schweinitzii ) in New Zealand and Australia was in error, being incorrectly applied to a related native fungus with which it has been confused for many years. The native fungus, which in New Zealand occurs naturally on kauri (Agathis australis), has still to be correctly named.
In the Northern Hemisphere, P. schweinitzii causes a basal butt and stem rot of pines, Douglas fir, spruce and larches. It is most commonly recorded on mature trees, which may become unstable. The possible effects of this fungus on host trees have yet to be assessed in New Zealand.
(Peter Buchanan, Landcare Research)
* Wright, J.E.; Bolontrade, M.F. (1994): Mycologist 8:14-15.

(Editor : it is not understood how P. schweinitzii invades new areas, and the difficulty in recognising affected trees in the absence of fruitbodies frustrates any attempts to survey and delimit its distribution; damage occurs primarily in mature trees, rendering it unlikely to be a serious threat in short-rotation plantation forestry).
&nbsp
This information is intended for general interest only. It is not intended to be a substitute for specific specialist advice on any matter and should not be relied on for that purpose. Scion will not be liable for any direct, indirect, incidental, special, consequential or exemplary damages, loss of profits, or any other intangible losses that result from using the information provided on this site.
(Scion is the trading name of the New Zealand Forest Research Institute Limited.)