Latest on myrtle rust
Scion is the leading provider of forest-related knowledge in New Zealand
Formerly known as the Forest Research Institute, Scion has been a leader in research relating to forest health for over 50 years. The Rotorua-based Crown Research Institute continues to provide science that will protect all forests from damage caused by insect pests, pathogens and weeds. The information presented below arises from these research activities.
From Forest Health News 255, April 2015.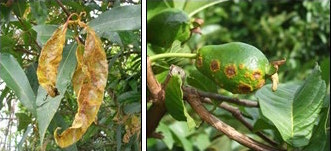 The rapid spread of myrtle rust in Australia and its discovery over the past few years in South Africa and New Caledonia demonstrate the invasiveness of this disease. Myrtle rust, caused by Puccinia psidii, has been recorded on over 440 species, all in the family Myrtaceae. The disease damages foliage and shoots, and in some cases flowers and fruit. Severe disease will cause tip dieback and shoot death. While the disease rarely kills adult plants, extremely susceptible species may be threatened. For instance the Malabar plum, or rose apple, Syzygium jambo, which is exotic in Hawaii, suffered widespread dieback and death there following the introduction of myrtle rust.
The rust may inhibit reproduction and affect regeneration leading to displacement of susceptible hosts in an affected ecosystem. There are fears that may happen in Australia, where about 10% of the native plants are in the Myrtaceae family.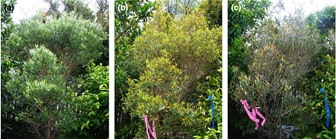 First described in Brazil in 1884, the rust was recorded from Central America, Florida and Mexico by the 1970s. There has been a rapid expansion over the past 10 years, primarily through the live plant trade. Myrtle rust has been recorded from Hawaii (2005), Japan (2007), southern China (2009), Australia (2010) in NSW and then Queensland in the same year, followed by Victoria in 2011 and most recently Tasmania in February 2015. In 2013, it was reported from both South Africa and New Caledonia. In Australia, it was first noted in Eucalyptus plantations in 2011, about 20 months after its discovery in the country. By 2014, myrtle rust was recorded in only a few plantations and only when the plantations bordered native forests that had a large number of susceptible hosts. Disease levels in plantations were low.
The rust is predicted to be able to survive in nearly all of New Zealand although warmer areas are more suitable. It poses a threat to many of our native myrtles such as rata, pohutukawa, manuka, and kanuka, as well as eucalypt growers and the honey industry. The Ministry for Primary Industries has been active in preventing the establishment of the rust in New Zealand. Shortly after its discovery in Australia all imports of whole plants and cuttings from Australia were banned. Cut flowers and foliage of the Myrtaceae family from New South Wales, Queensland and Victoria have been prohibited from importation into New Zealand due to the risk of transmission, and in February this ban was extended to Tasmania in immediate response to the discovery there.
Lindsay Bulman
This information is intended for general interest only. It is not intended to be a substitute for specific specialist advice on any matter and should not be relied on for that purpose. Scion will not be liable for any direct, indirect, incidental, special, consequential or exemplary damages, loss of profits, or any other intangible losses that result from using the information provided on this site.
(Scion is the trading name of the New Zealand Forest Research Institute Limited.)