Dutch elm disease response continues
from Biosecurity Issue 30, September 2001.
Dutch elm disease was detected at eight separate locations in greater Auckland during the 2000/01 season. Only one infection location was in "new" wood, the first since late 1996.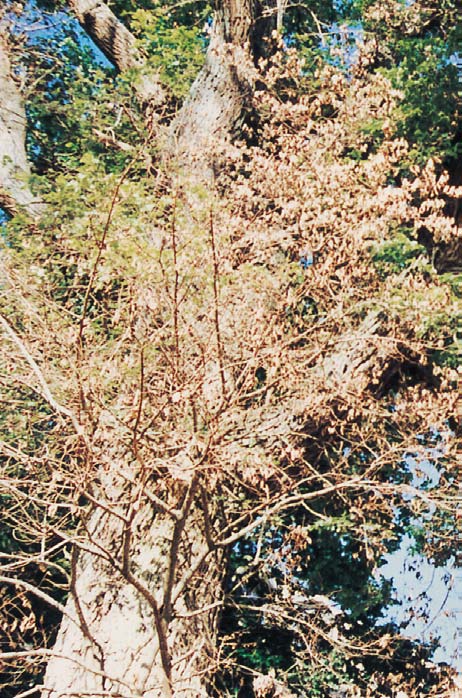 Dutch elm disease, caused by the fungi Ophiostoma ulmi and Ophiostoma novo-ulmi, was first detected in downtown Auckland in December 1989 (Biosecurity 21:4). As the disease and its beetle vector appeared to be confined to a relatively small area, an eradication programme was implemented.
During the 2000/01 season there were three surveys involving 11,300 recorded elm locations, and an intense survey of 2,413 trees for signs of contained infection. MAF, Auckland City, Manukau City, North Shore City and Waitakere City jointly funded the surveys. Auckland City also funded a pheromone trapping system for the vector beetle, Scolytus multistriatus.
As a result of the recent surveys the disease was isolated from eight locations. Six were found in the Howick area, with one each in Papatoetoe and Glen Eden. On confirmation of the disease, the infected trees were removed and destroyed. No beetles were found in association with the infected elm trees.
It is anticipated that the surveys will continue and a meeting of the Dutch Elm Disease Advisory Committee will be held in September to determine the details of the response for the 2001/02 season.
Mark Ross, National Adviser, Forest Pest Surveillance and Response, MAF Forest Biosecurity
&nbsp