Dutch elm disease, 2009 trapping programme
Scion is the leading provider of forest-related knowledge in New Zealand
Formerly known as the Forest Research Institute, Scion has been a leader in research relating to forest health for over 50 years. The Rotorua-based Crown Research Institute continues to provide science that will protect all forests from damage caused by insect pests, pathogens and weeds. The information presented below arises from these research activities.
From Forest Health News 197, August 2009.
Dutch elm disease, caused by Ophiostoma novo-ulmi, was first found in Myers Park, Auckland in December 1989. An eradication programme was immediately started, using a strategy of locating all elms in the known infected area, inspecting those elms at least three times during the flight season of the vector beetle and destroying all infected material immediately after detection. Trapping the vector Scolytus multistriatus adults using an aggregating pheromone and testing them for O. novo-ulmi also formed a part of the strategy after the first season. Eradication has not been achieved but the disease has been contained within the Auckland area.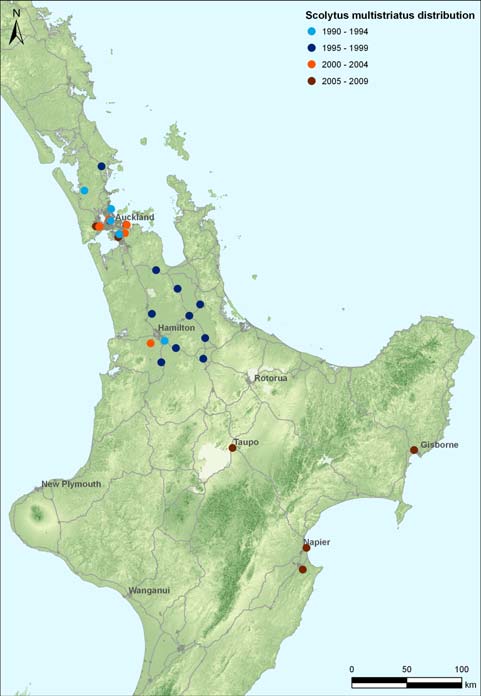 A very successful nineteenth programme was completed in May 2009. The programme was managed by Simon Cook from Auckland City with support and advice from an Advisory Committee comprising members from Scion, SPS Biosecurity, Auckland City, North Shore City, and the Auckland Regional Council. Funding was largely provided by Auckland City and North Shore City, with generous support from various Councils from other parts of New Zealand. MAF Biosecurity New Zealand stopped funding national management of the Dutch Elm Disease Programme in 2008 – see http://www.biosecurity.govt.nz/media/05-06-08/dutch-elm-disease for further details.
The 2008-09 programme consisted of one continuous disease detection survey over the summer plus a trapping programme in high risk areas to determine sources of infection or large amounts of breeding material. The disease detection survey started on 24 November 2008 and was completed on 9 March 2009. All elms recorded in areas considered high risk were surveyed and 5,389 locations were inspected. A total of 25 samples were received by Scion and only one diseased elm was identified, on 22 January 2009. It was from Otara Reserve in south-east Auckland. The nearest diseased elm location in the previous season was more than 5 km away. This elm was inspected as part of the High Risk Site Surveillance programme funded by MAF Biosecurity New Zealand. Typical stain was seen in the current and old wood of the diseased elm. The elm was promptly removed once Dutch elm disease had been confirmed.
A total of 56 traps were deployed in the Greater Auckland region for the entire season. An additional trap was placed in Otara near the site of the diseased elm in early February. Traps were inspected weekly from 27 November 2007 to 2 April 2008, and then on 13 and 27 April, and 18 May 2009. A total of 3,013 beetles were trapped, of which two traps (sited at West Auckland and in Pakuranga to the east of Auckland) caught 11% of the total each. No particular trends in distribution of beetle numbers or timing of catches were apparent. The most significant finding was that O. novo-ulmi was not obtained from any of the beetles trapped.
This is the first time since 1998/99 that we have trapped through an entire season and not obtained an infective beetle. An interesting feature of the trapping programme was the extension of the range of the beetle (see figure). Pheromone traps were also placed in Rotorua, Whakatane, Gisborne, and Christchurch. Beetles were trapped at Gisborne, further extending the range that was considerably widened in early 2008 with the discovery of beetles in Taupo and Napier. There were 438 beetles caught in the Gisborne trap but thankfully none were carrying O. novo-ulmi.
A similar programme is planned for 2009-10 and it is hoped that the success of this season with only one diseased elm found, and no infective beetles trapped, is repeated.
Lindsay Bulman
&nbsp
This information is intended for general interest only. It is not intended to be a substitute for specific specialist advice on any matter and should not be relied on for that purpose. Scion will not be liable for any direct, indirect, incidental, special, consequential or exemplary damages, loss of profits, or any other intangible losses that result from using the information provided on this site.
(Scion is the trading name of the New Zealand Forest Research Institute Limited.)