Dutch Elm Disease, 2008
From MAFBNZ Forest Biosecurity Consultative Committee, 6 March 2008.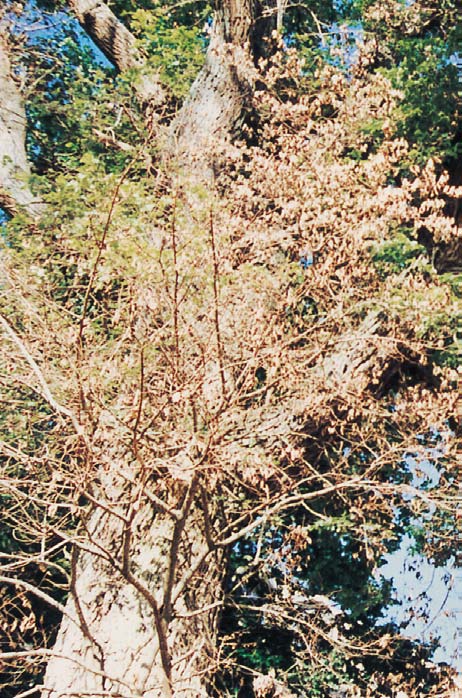 Simon Cook (Auckland Council) raised the issue of Dutch Elm Disease (DED) , advising the Committee that three more infected trees had been found – two golden elms and one corpus. Huge numbers of beetles have been trapped, far more than in previous years. 4 have been confirmed as carrying the disease. The three new trees are all in areas not funding the programme. All the Councils in Auckland are contributing to funding, along with three private organisations.
Dutch Elm Disease, Auckland (Disease Management Programme)
Biosecurity New Zealand and currently affected territorial local authorities (TLAs) have continued an interim Dutch elm disease (DED) management programme in 2006/07. The programme objectives are to prevent or stop the disease spread and to control its impacts in greater Auckland.
During the 2006/07 season one full survey of all elms in the high risk areas has been conducted at the beginning of the season. Approximately 75 % of the highest risk elms have been inspected in the second part of the season. There has been an additional special survey conducted in parts of the Waitakere City.
Beetle trapping programme has been operated in parts of some of the highest risk areas.
There have been three elms detected with the disease throughout the season as well as one beetle positive for carrying spores of the disease.
Biosecurity New Zealand will be contacting TLAs shortly to advise its current position and to provide one final opportunity for them to express effective interest in the DED management programme. Biosecurity New Zealand's level of continued involvement in the programme will be based on the combined financial commitment from TLAs.
Don Hammond (From NZIF newsletter Number 2007/26 – 6 July 2007)