Dutch Elm Disease, 2002 programme
From Biosecurity Issue 39, November 2002.
A recent review of the response to Dutch elm disease (Ophiostoma novo-ulmi) in Auckland showed that with a concerted effort the disease can still be eradicated from New Zealand.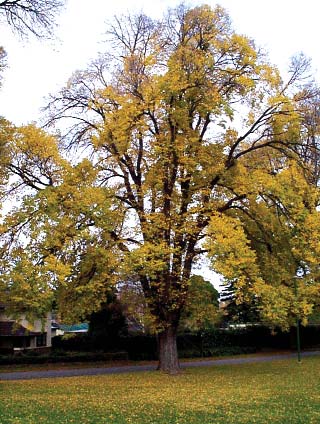 The elm trees' prominent niche in New Zealand is as an amenity component in the landscape scheme, primarily of city streets, residential properties, parks and historic sites. Its value is prominently in shade, aesthetics, screens, windbreaks and tree community diversity. A very small number of farm foresters grow elm trees as a resource for wood turning and furniture making.
Dutch elm disease was first detected in New Zealand in Myers Park, downtown Auckland in December 1989. It is regarded internationally as a significant disease of trees and causes mortality of elm species. Since its detection central and local government has paid for finding and destroying infected elm trees with the aim of eradicating the disease.
The programme has resulted in a decrease in the number of infected trees identified each year, particularly those with infection in new wood. It is believed that complete eradication has been prevented because small sources of infection escaped detection each year.
If eradication in Auckland is not achieved it is obvious that the disease will spread to other parts of New Zealand. It has been estimated that if the eradication programme is abandoned, almost the entire elm population in Auckland will be killed within a period of five years. The cost of removal, disposal and replacement of dead elm trees in New Zealand would be very high as it is estimated that the cost of removing dead elms in the Auckland area alone would be between $30 and $50 million.
Response review
At MAF's request, two independent experts, Professor Michael Wingfield, University of Pretoria, South Africa and Professor Jay Stipes, Virginia Tech University, United States, reviewed the programme in February 2002.
The review showed there was strong support from all respondents for the continuance of the eradication programme. It was strongly believed that Dutch elm disease in New Zealand could be eradicated provided an extra effort is made.
It was thought that with concerted effort eradication could be achieved within three to five years.
It was clearly felt that cessation of the programme at this stage would result in the rapid development of a Dutch elm disease epidemic, which would spread throughout New Zealand, placing a high cost on regional authorities and private residents.
2002/03 programme
Over the summer months, when the vector beetle (Scolytus multistratus) that spreads the Dutch elm disease fungus is in flight, three field surveys will be undertaken of all elm trees in the greater Auckland area. If the tree is suspected of being diseased, then tests will be made to confirm that the disease fungus is present. If this is confirmed the tree will be destroyed, and all debris and bark will be removed to the stump.
To support the field surveys, pheromone traps will be placed at designated high-risk sites to monitor for the Dutch elm disease fungus on the beetles. Pheromone trapping is beneficial in that it assists in finding contaminated beetles in Auckland before any disease trees are found in the same locality. It also indicates the presence of infected firewood and provides a greater probability of determining fungus distribution. Other programme components for 2002/03 include increased publicity and the enforcement of elm tree planting restrictions.
If New Zealand succeeds in eradicating the disease, which is highly possible, it will have achieved a world first.
Mark Ross, National Adviser Pest Surveillance and Response, Forest Biosecurity
&nbsp