Seasonal development of Dothistroma pini
Scion is the leading provider of forest-related knowledge in New Zealand
Formerly known as the Forest Research Institute, Scion has been a leader in research relating to forest health for over 50 years. The Rotorua-based Crown Research Institute continues to provide science that will protect all forests from damage caused by insect pests, pathogens and weeds. The information presented below arises from these research activities.
From Forest Health News 143, August 2004.
In October 2003, a 2-year study was initiated to determine the main Dothistroma infection period by monitoring the development of lesions on pine needles. The aim is to pinpoint the beginning of the infection period so that fungicide can be applied just before it starts, thereby ensuring the most effective control. Plots were established at three sites, one at Tauhara near Taupo, one near Kinleith, and one at Te Matai on the Mamaku Plateau. Assessments of overall disease were done at monthly intervals, along with
counts on individual needles of initial lesions (small pale yellow chlorotic spots that do not have typical red banding or black fruit bodies), fully developed lesions (those with necrotic red areas), and fruit bodies (small black raised spots within the red region).
At each site, rainfall and temperature data loggers were installed. There was little change in the average numbers of lesions per needle on the 2002 foliage between October and late December but fruit bodies were seen by November (see diagrams). By early
February, all needles had fallen with the exception of those on four branches at Te Matai. New branches holding 2003 foliage were then selected to continue the study and between early February and early May the number of lesions and fruit bodies increased significantly. Numbers remained static or decreased from early May to mid July.
As can be seen from the temperature and rainfall figures for Te Matai (below), it was particularly wet from late January to early March and was then dry until mid-May.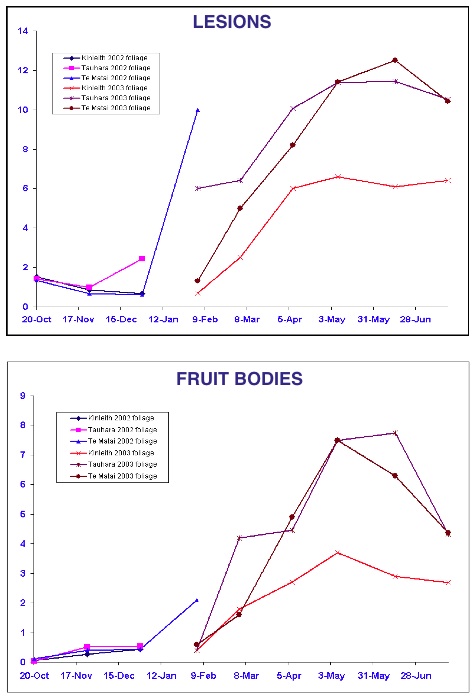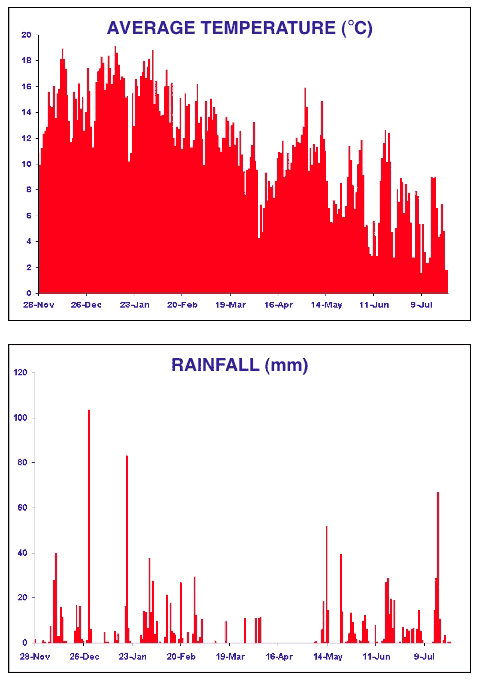 The previous summer (2002/03) had been very dry and the numbers of lesions and fruit bodies appearing on needles during that season were low. However, spores produced from fruit bodies on this foliage resulted in visible infection on the 2003 foliage by early February. High and regular rainfall during late January and February led to a rapid increase in lesions and fruit bodies, and spores produced during that period resulted in the lesion development seen from March to early May. Temperature did not appear to be a limiting factor until May after which no lesion or fruiting body development was seen.
More observations are needed but these data suggest that fungicide should be applied in late October to prevent infection that would otherwise produce spores initiating secondary infection in February and another infection cycle in April, if conditions are suitable. Thomas Merriman of Vigil carried out the tedious and often onerous task of counting lesions and fruit bodies on individual needles — his efforts are very much appreciated.
(Lindsay Bulman, Forest Research)
&nbsp
This information is intended for general interest only. It is not intended to be a substitute for specific specialist advice on any matter and should not be relied on for that purpose. Scion will not be liable for any direct, indirect, incidental, special, consequential or exemplary damages, loss of profits, or any other intangible losses that result from using the information provided on this site.
(Scion is the trading name of the New Zealand Forest Research Institute Limited.)