Dothistroma needle blight in British Columbia and an international research alliance
Scion is the leading provider of forest-related knowledge in New Zealand
Formerly known as the Forest Research Institute, Scion has been a leader in research relating to forest health for over 50 years. The Rotorua-based Crown Research Institute continues to provide science that will protect all forests from damage caused by insect pests, pathogens and weeds. The information presented below arises from these research activities.
From Forest health News No. 167, October 2006.
It was with great anticipation that I accepted an invitation to speak at the Western International Forest Disease Work Conference (WIFDWC) held at Smithers, British Columbia, in early October. I had seen photographs and reports (along with various explanations) of the Dothistroma outbreak in BC and was looking forward to seeing it at first hand. We visited a number of sites where effects of Dothistroma needle blight were plainly evident (see below) but, as a result of a dry summer, little current infection was seen. Dothistroma is causing serious disease in many Pinus contorta plantations in BC and at the stand level damage appears very similar to Pinus radiata stands in New Zealand that were not sprayed for a number of years. Close-up inspection of foliage revealed some differences; for instance, the red bands on P.contorta in BC are not as red as those seen on P. radiata or P.nigra var. laricio in New Zealand, and sometimes black fruit bodies (assumed to be Dothistroma stromata) were seen on lodgepole pine needles without the red bands. However, these differences are not unexpected as symptoms commonly vary between hosts.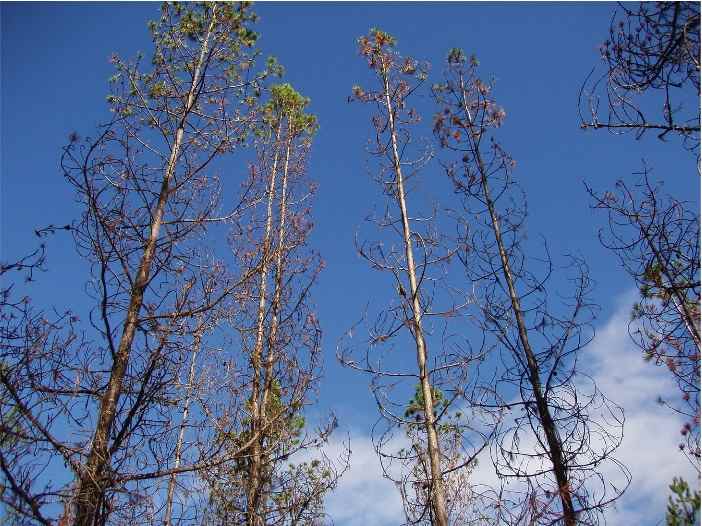 After the WIFDWC, a meeting of Dothistroma researchers was held, with the aim of developing a global collaborative research effort on Dothistroma needle blight. Discussions were held over 2 days and representatives from the UK, USA, Canada, Czech Republic, and NZ attended. Discussion was based on the themes: disease trends, understanding the host and pathogen, disease management, practical research issues, and research direction. A "wish list" of research priorities was developed which included climate and disease trends, host susceptibility in different countries, host tolerance to disease and resistance, variation in pathogenicity and role of dothistromin, genetic variation, metabolite profiling, and relationship of endophytes and disease resistance. The critical factor now is to obtain funding, from potentially a variety of sources, so that the research programme that was mapped out can be undertaken.
Lindsay Bulman
This information is intended for general interest only. It is not intended to be a substitute for specific specialist advice on any matter and should not be relied on for that purpose. Scion will not be liable for any direct, indirect, incidental, special, consequential or exemplary damages, loss of profits, or any other intangible losses that result from using the information provided on this site.
(Scion is the trading name of the New Zealand Forest Research Institute Limited.)