Armillaria root rot - not just a forest disease
Scion is the leading provider of forest-related knowledge in New Zealand
Formerly known as the Forest Research Institute, Scion has been a leader in research relating to forest health for over 50 years. The Rotorua-based Crown Research Institute continues to provide science that will protect all forests from damage caused by insect pests, pathogens and weeds. The information presented below arises from these research activities.
From Forest Health News 88, August 1999.
The root rot pathogen Armillaria novaezealandiae is not commonly encountered on the Canterbury plains. However Hagley Park, located in the heart of Christchurch, does appear to be under somewhat of an attack. Since a systematic search for the fungus was begun in 1991 around sixty different species of tree have been found with infection. Although some of the infected trees exhibit the obvious and sudden decline often associated with the disease in exotic plantations, most undergo a gradual decline with sections of the crown progressively becoming unthrifty and dying. The protracted nature of the decline is illustrated in an area called the Pine Mound where photographs taken in the 1940s show over forty healthy Pinus pinaster . Today only fifteen remain, with the most recent death in 1997. When this eighty year old tree was removed it was found to be heavily infected by Armillaria with rhizomorphs extending several meters beyond the stump.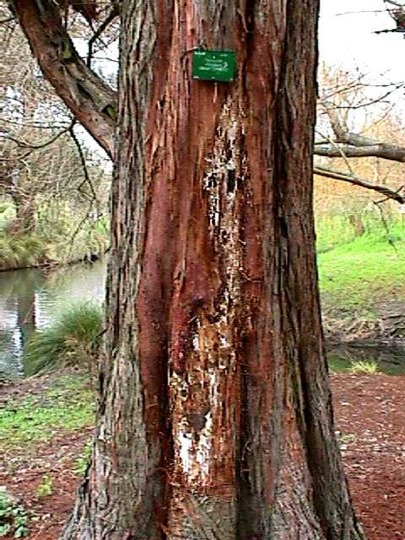 The above photo shows a live Taxodium distichum with extensive Armillaria mycelium to a height of 1.8 meters. Although Armillaria novae-zealandiae has distinctive mushrooms producing copious spores the role of spores in the infection cycle is not clearly understood. Spread and infection appears to be largely via host tree roots coming into contact with infected woody material or rhizomorphs. In Hagley Park rhizomorphs have been found to a depth of 1.6 meters and numerous examples of chronic tree infection can be found throughout the gardens. Mycelial sheets have been found extending under the bark of some of these trees to a height of over five metres.
Cultural practices that go hand in hand with an intensively managed botanical gardens have ensured that conditions for the development of armillaria root rot have been favourable since the initial plantings in 1863. Tree removals often turn up old stumps and woody debris which have associated Armillaria mycelium. In the past the practice of chipping and mulching of infected material and leaving stumps to rot provided an ideal environment for the fungus to spread. Despite some media reports there is as yet no wonder cure or prophylactic treatment for armillaria root rot although the disease can be managed (FHNews 85: 3-4, May 1999). Recognising this, the Christchurch City Council has developed a draft management strategy for the control of armillaria root rot. The plan is a common sense document based around integrated programmes of work and includes:
Reducing stress on the trees

- Poor drainage, no natural mulch or too much applied mulch, compaction and over fertilising are just a few of the factors which may place a tree under stress and predispose it to

Armillaria attack.
Actively monitoring for armillaria root rot and good hygiene

- Regular monitoring for the disease, removal of infected material and potential food sources. An additional benefit of this 'hands on' activity has been to greatly raise the level of awareness amongst the Gardens' staff.

Direct action on the fungus

- There is ongoing work to trial the integration of more direct control methods such as short term soil fumigation and the use of antagonistic organisms. A fungus,

Trichoderma

sp., has been used to inoculate mulch, seedling potting mix and direct injection into infected trees in an attempt at biocontrol.
(Paul Bradbury, Forest Research, Christchurch & Dieter Steinegg, Christchurch City Council)
For more information on the Christchurch City Council's management strategy for the control of Armillaria contact Dieter Steinegg at the Christchurch Botanical Gardens, PO Box 237, Christchurch.
&nbsp
This information is intended for general interest only. It is not intended to be a substitute for specific specialist advice on any matter and should not be relied on for that purpose. Scion will not be liable for any direct, indirect, incidental, special, consequential or exemplary damages, loss of profits, or any other intangible losses that result from using the information provided on this site.
(Scion is the trading name of the New Zealand Forest Research Institute Limited.)