Update on recent biosecurity problems
Peter Berg, New Zealand Tree Grower August 2017.
Eucalyptus variegated beetle and myrtle rust
On 8 March 2016 a eucalyptus foraging beetle new to New Zealand was collected by SPS Biosecurity as part of the forest owner's levy funded surveillance programme. The insect, Paropsisterna variicollis, or eucalyptus variegated beetle (EVB) was found in a forest near Te Pohue, inland from Napier. Subsequently a number of other sites where EVB was present were detected and it soon became evident that it was already quite widespread.
Based upon experience in parts of Australia where the insect is native and the experience with other related species already in New Zealand, it was thought likely it would hibernate over winter – for example, in ground leaf litter or bark fissures. Preparations were made to spray around the trees, stems and foliage in infested areas with a view to attempting eradication as the insects emerged in the spring. However, new identifications in other locations continued to be made and it became apparent that the insect was not completely inactive over the Hawke's Bay winter. By early summer further surveys confirmed the insect was quite widespread.
Not a major pest in Australia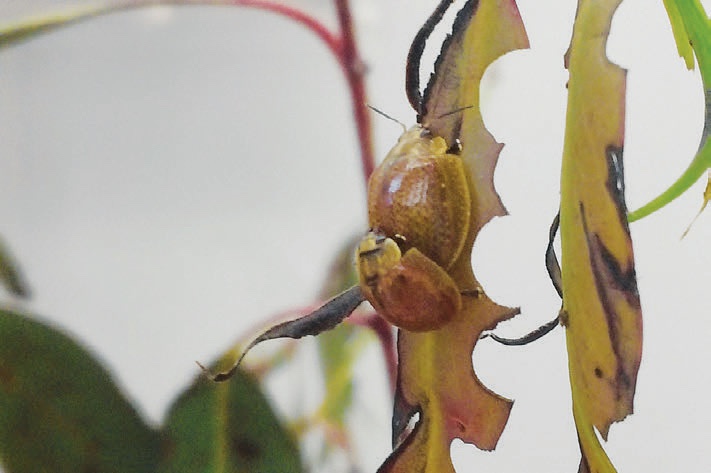 This became the first incursion to be managed under the Government Industry Agreement which the forest growing community had signed up to only a short time earlier. While initial demarcation surveys, monitoring and eradication attempts were directed by the Ministry for Primary Industries, incident governance and technical advisory committees were set up. The Technical Advisory Committee included experts located both within and outside New Zealand.
It was noted that EVB was not generally a major pest in commercial eucalypt plantations in Australia. However, related beetles do cause significant damage to eucalypt species in Australia, and other paropsine beetles such as Paropsis charybdis Eucalyptus tortoise beetle which are minor pests in Australia have become serious pests in New Zealand, at least partly a result of having no natural predators.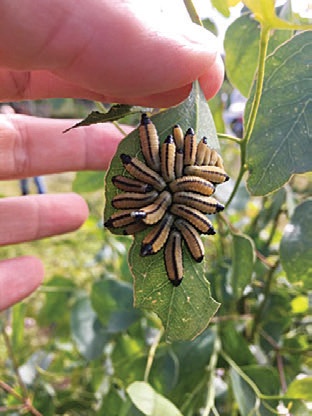 Initially found on Eucalyptus globulus the insect was subsequently found on a number of species such as E. bosistoana, E. nitens and E. quadrangulata which have some commercial interest – particularly the more durable species. While the extent of the damage is not consistent, in a number of cases trees are quite severely defoliated and it appears that repeated attacks could prevent trees developing as well as would otherwise be the case.
Control not eradication
By early 2017 it was evident that EVB was relatively widespread in the Hawke's Bay region and that eradication was no longer an option.Attention switched to the best forms of control and management for this pest. Among a number of proposals being considered are −
Looking at other vectors already introduced to control paropsines such as P. charybdis and determining if they might also be effective with EVB. For example, a parasitic wasp Ennogera nassaui gave good biological control of P. charybdis after it was released in the 1980s, although Ennogera has itself become the victim of another parasitic wasp.
Looking at other bio-control options specific to EVB
Considering spraying in accessible situations or for larger plantations
Improving information about preferred host species and the biology of the insect to try and find better site and species mixes to minimise the likelihood of attack by EVB. However, EVB is found in Tasmania so it is not likely we will find many situations where EVB will not survive in New Zealand.
Not detected early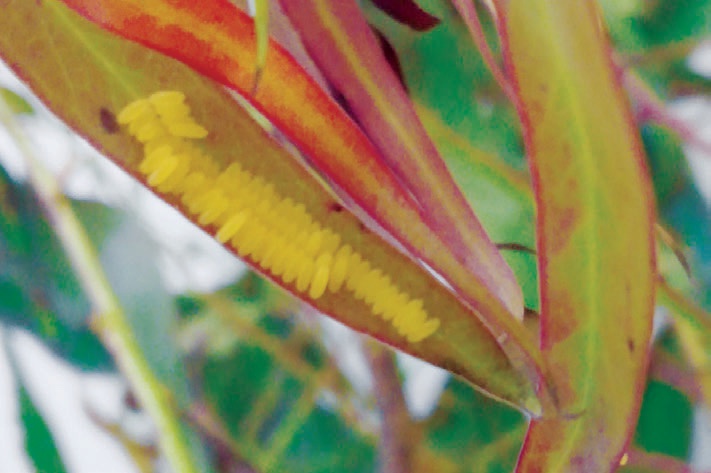 The entry pathway for the insect is unknown but it seems it was a hitch-hiker from Australia because other parts of New Zealand remain free of the insect. It also appears that it was in New Zealand for some time before being identified because early detection included eggs, larvae and adult insects − a breeding population. MPI have also developed an app for mobile phones which enables rapid reporting and identification of any insects found on eucalypt species. The app encourages anyone spotting insects feeding on eucalypt leaves to record them, even if they do not appear to be one of the three species profiled. The app connects to insect experts on NatureWatch NZ to make identification. NatureWatch is an online community for nature watchers, naturalists and biodiversity experts.
The full significance of this new pest to our eucalypt plantations remains unclear, and it is also uncertain what control options might be applied. However, targeted work is now being undertaken and should provide valuable assistance in the long term.
Myrtle rust
Myrtle rust was first identified in New Zealand on 3 May this year in a Kerikeri plant nursery. The rust is a fungus Puccinia psidii, native to tropical South America but now widely spread. As its common name implies it is a pest on many species of the Myrtaceae or myrtle plant family.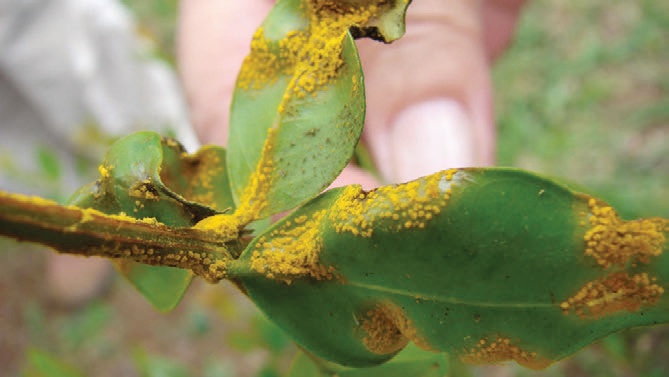 Airborne urediniospores released by the fungus permit rapid, long-distance spread and once established in Australia − first identified there in about 2010 − it was expected that its arrival in New Zealand was simply a matter of time. In the early 1970s poplar rust arrived in very much the same way after a period of prolonged westerly weather, being located over a period of only a few days at several locations along the west coast of the North Island.
Myrtaceae species in New Zealand include native species such as manuka and kanuka, pohutukawa, rata and ramarama. Exotic species of significance here are the eucalypts, feijoa and a range of other ornamentals.
Probably blown to New Zealand
After being first identified at Kerikeri other identification has been made in rapid succession in Taranaki, King Country and Te Puke in the Bay of Plenty. Not surprisingly the greatest incidence is in the west-facing Taranaki region. Investigation has not found obvious links between several of the introductions and this lends weight to the possibility that most and possibly all are the result of a wind-borne infection.
The plant species that myrtle rust has been detected on include Lophomyrtus, Metrosideros, Syzygium, Leptospermum and Eucalyptus, but mainly the first two. Myrtle rust has not been confirmed on feijoa. Symptoms to look out for on infected plants are −
Bright yellow powdery eruptions appearing on the underside of the leaf in a young infection
Bright yellow powdery eruptions on both sides of the leaf in a mature infection
Brown or grey rust pustules − older spores − on older lesions.
In addition, some leaves may become buckled or twisted and die off. It is interesting that mostly younger plants are being infected. In Australia, eucalypts are affected mostly at the juvenile stage and with modest malformation resulting. However, in Brazil, larger plants and some clonal material is now being damaged.
MPI ask that if you have seen the symptoms of myrtle rust, do not touch it −
Call the MPI Exotic Pest and Disease Hotline immediately on 0800 80 99 66
If you have a camera, take clear photographs, including the whole plant, the whole affected leaf and a close-up of the spores and affected area of the plant
Do not touch it or try to collect samples as this may increase the spread of the disease.
Incident control is based in Wellington. MPI is acting as the lead agency for the response with support from other central and local government agencies, industry and tangata whenua. Local coordination is based at the DOC Bay of Islands office in Kerikeri.
In New Plymouth, local coordination has been set up at the Taranaki Emergency Management Centre. Generally, destruction and removal of infected plants and their neighbours has been undertaken and surrounding the plants heavily treated with a fungicide and all areas closed off and monitored for further outbreaks.
When this article was written in late June, the most recent identification at Te Puke was the first for a couple of weeks and while in the areas so this is unlikely to mean that the outbreak has been contained. It does indicate that with with good practice the consequences of this new pest may be able to be lessened.
Peter Berg is the NZFFA representative on the levy funded Biosecurity Committee.