New Zealand's forest survey activities praised
From Biosecurity issue 81, February 2008.
Andrew Liebhold, a United States Department of Agriculture Forest Service research entomologist and Brenda Callan, a Canadian Forest Service research mycologist, say the programme is well-conceived, valuable to the New Zealand forest industry and generally well executed.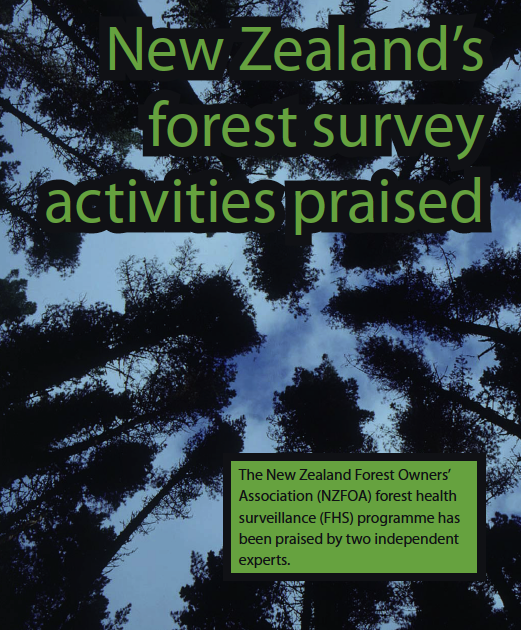 Current Forest Health Surveillance Programme

Objectives
Detection of pest incursion
Monitoring pest spread
Confirmation of pest absence (usually for trade purposes).
Survey activities

Aerial survey
The entire area of the forest estate is surveyed via transects at 1,000-metre intervals. These transects are flown at 300 metres above ground level at 70–75 knots, while observers visually survey on each side of the plane. During these surveys, observers record on a map the location of any mortality, dieback, defoliation, discoloration or other damage.

Drive-through surveys
Forest health providers plan a driving trip that extends through most portions of the forest estate over a distance of at least 15 metres per hectare of the estate. While driving at around 15 km per hour, observers visually survey the forest on both sides, recording on a map the location of any mortality, dieback, defoliation, discoloration or other damage.

Temporary plots
These plots are placed anywhere damage was identified in either aerial or drive through surveys. In situations where fewer than four locations per 1,000 hectares were identified over the estate, additional plots are placed at random to achieve this target density. Plots consist of 0.1 hectare transects where the damage is investigated by visual searches of trees for symptoms and causal organisms. Any symptoms or damage are recorded and a sample collected of any organism or potentially infected plant material considered unusual or unknown. Where a pest species is identified as previously known to be present, samples are occasionally collected to confirm that the identification is correct. All samples are forwarded to the ENSIS diagnosis laboratory for identification.

High-risk plots
Thirty-nine locations have been identified on NZFOA estates. These locations are considered to be at high risk to incursion because of their proximity to human activities (e.g., recreation, container storage) that make accidental movement of pest organisms more likely. These plots are surveyed in the same way as temporary plots.

Other sampling planned
Other sampling on forest estates under the objective of forest health condition monitoring is currently or being planned in forests by NZFOA. This sampling may include permanent view point plots or permanent forest condition plots.
The programme "deserves commendation as part of a progressive approach to forest biosecurity that exceeds the sophistication level attained by forest health surveillance programmes elsewhere in the world," they say in their report.
The extent to which the industry's FHS programme and MAF Biosecurity New Zealand's (MAFBNZ's) biosecurity activities complement each other is also favourably commented on.
Programme evaluated
The NZFOA commissioned the review of their FHS programme to evaluate its effectiveness and make recommendations on how it might be improved to meet FHS objectives. The programme and its general efficiency were evaluated through a series of interviews and site visits. A formal cost-benefit analysis of the programme was beyond the scope of the review.
The report recommends that the surveillance survey, which was initiated 51 years ago, should be continued with few modifications.
"While the programme has not detected incursions by any potentially catastrophic pests, the threat of such invasions remains a significant and increasing threat and the programme is well designed to detect new arrivals in time such that eradication may be feasible," it says.
Suggested modifications which will be considered by an NZFOA working group include an increase in the number of FHS high-risk sampling sites from the current 39. On the other hand, the experts recommended that sampling at randomly located ground plots, presently initiated without prior detection of symptoms from aerial and drive-by sampling, should cease.
"A network of attractant traps for detecting wood-boring insects could be implemented across New Zealand …. Ideally this network would consist of traps deployed in high-risk locations coupled with traps deployed in commercial forests."
NZFOA forest health administrator Bill Dyck says the report has yet to be considered by his committee or the NZFOA executive, but he expects members will be heartened to learn that independent experts have endorsed their involvement in the programme.
Dependence on single species
Liebhold and Callan point out that New Zealand's high dependence on a single plantation species, Pinus radiata, makes it particularly vulnerable.
"Exotic tree plantations can be highly productive when they are grown in regions that are distanced and maintained free from their natural pests. Should incursions and subsequent establishment of pests occur, however, [they] are exposed to major risks of either chronic or catastrophic losses," they observe. "Therefore, detection of pest incursions must continue to be a critical component of New Zealand's overall biosecurity strategy."
Although new pest incursions are more likely in urban high-risk areas where MAFBNZ concentrates its detection efforts, the authors say commercial forests could be the site of establishment of new, invading pest species.
"New pests, particularly those that are limited to P. radiata as hosts, might also establish in urban areas but remain at low, undetectable levels for many years and therefore remain unnoticed until they reached commercial forests."
This risk is heightened in forests used for recreational purposes by the public, who may be responsible for movement of forest pests.
Collaboration recommended to broaden coverage
The report also notes there are currently large portions of New Zealand where little forest surveillance is conducted and recommends MAFBNZ works with the Department of Conservation and with farm foresters to find ways for them to become involved in forest health surveillance.
Liebhold and Callan say the current intensity of drive-by and aerial surveys could not be reduced without severely detracting from their ability to detect pest incursions.
If the industry wants to reduce the costs of surveillance, the team considers the only current option would be to reduce the frequency of sampling from the current once a year schedule to, say, once every two years. The downside of this would be decreased ability to detect an incursion early enough to achieve eradication.
NZFOA chief executive David Rhodes says forest owners, through the FHS programme, make a significant financial contribution toward preventing new pests and diseases from becoming established in New Zealand.
Paul Stevens, Senior Adviser (Plants Surveillance), MAFBNZ Post Border, paul.stevens@maf.govt.nz
&nbsp