Small Forests & Woodlots
A guide to conducting forest health assessments and sampling:
BRANCHES, LEADERS and STEMS
Damage caused by pathogens
Dieback, resin bleed, cankers, discolouration, multileaders distortions or swellings, could all indicate the presence of a pathogen.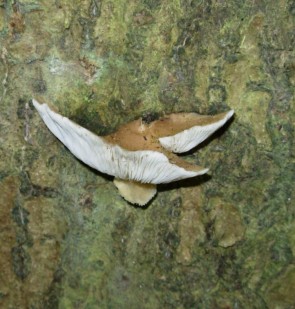 The occurrence of any of these symptoms in the absence of a discernable weather event or physical damage could indicate a pathogen.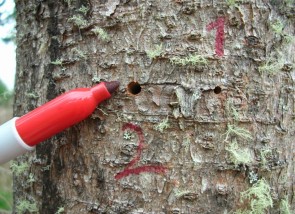 Fruiting bodies such as brackets and mushrooms appearing on stems, powdery spores or any 'eruptions' from the bark could all indicate that a fungal agent is at work.
Damage caused by insects
Insect damage is often cryptic on live trees. Dieback for instance can be the result of branch borers but they are not visible until the branch is sectioned. Look for obvious holes, frass (borer dust), resin spots or weeping which might indicate a defensive response by the tree to attack.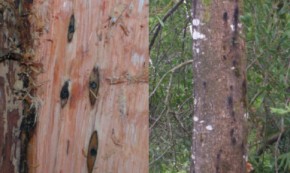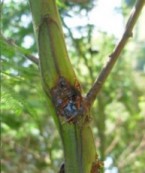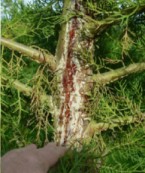 &nbsp
Sampling
Fully inspect the tree to investigate the source of any dieback, don't just concentrate on the dead or unthrifty area. Dieback can be related to physical damage, a fungal canker or even root disorder and in many cases could be some distance from the actual cause.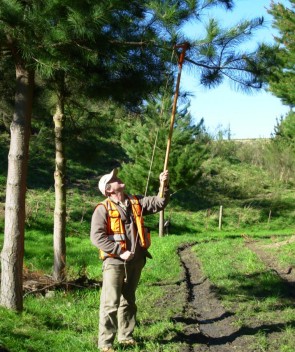 If no live/dead area can be found this may be an indication the problem is with the roots or environmental.
Depending on the diameter of the material to be sampled, usual pruning equipment will be adequate. Remove live and dead material with secateurs and place in a plastic bag.
For larger trees an axe, chisel or saw can remove good sized "sections" which have bark and wood to a depth of several centimetres. (Note: sampling of stems and large branches is generally very destructive; consequently for specimen trees you may wish to employ the services of an arborist).
Like any sampling, the quality of the material is more important than quantity.
For branch boring insects, often snapping the branch or careful dissection with a pocket knife will uncover a live insect. Recovering insects from larger diameter material usually involves a saw, axe and some deal of destructive sampling.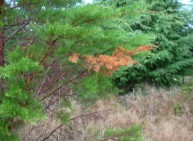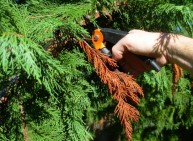 &nbsp
---