Scale insect on Kauri
Scion is the leading provider of forest-related knowledge in New Zealand
Formerly known as the Forest Research Institute, Scion has been a leader in research relating to forest health for over 50 years. The Rotorua-based Crown Research Institute continues to provide science that will protect all forests from damage caused by insect pests, pathogens and weeds. The information presented below arises from these research activities.
From Forest Health News 259, August 2015.
A suspected new to New Zealand scale insect on kauri (Agathis australis) was reported to the Ministry for Primary Industries (MPI) in July 2015. The scale insect was collected from street planted kauri in central Auckland city, and was identified by the collector as Leucaspis sp. (Hemiptera: Diaspididae). A check of the MPI Plant Pest Information Network database showed that a new host record of Leucaspis sp. on kauri from the same location had previously been reported by Scion in 2014. The 2014 collection was made by SPS Biosecurity as part of the MPI High Risk Site Surveillance programme.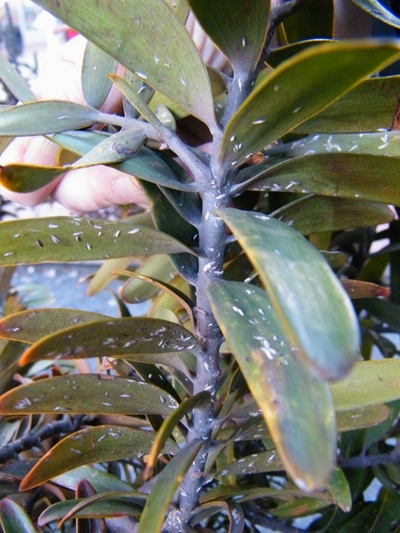 The scale insects collected in July 2015 have now been identified by the MPI Plant Health and Environment Laboratory (PHEL) as Leucaspis portaeaureae Ferris 1942. Identification was achieved by morphological comparison to identified specimens of L. portaeaureae held in the New Zealand Arthropod Collection at Landcare Research, and by molecular comparison to additional specimens of L. portaeaureae re-collected from other known hosts in New Zealand. During the MPI investigation into this case, specimens of L. portaeaureae were confirmed from kauri and other known native host species from multiple locations around the Auckland region. Reported hosts for this scale insect include Podocarpus acutifolia [sic.] (Ferris, 1942), and Podocarpus nivalis, Podocarpus totara, and Prumnopitys taxifolia referenced on Landcare's Plant-SyNZ™ database. Based on available evidence PHEL considers this scale insect most likely a New Zealand native species.
Levels of infestation of this scale insect on kauri ranged from heavy in central Auckland city (Figure 1) to low or apparently absent elsewhere in Auckland. Small chlorotic patches were seen around the scale insects on some infested leaves. A number of contributing factors, such as environmental conditions or nutritional deficiencies, may have led to the higher levels of infestation on trees growing on certain sites.
The New Zealand fauna of Leucaspis is currently in a confused state. It appears to be a particularly speciose genus in New Zealand, with Henderson (2011) suggesting as many as 50 species but with most undescribed. PHEL is currently working on publishing a summary of their results of this investigation and information about this scale insect species in New Zealand.
Ferris, G.F. 1942. Atlas of the scale insects of North America. Series 4. Stanford University Press, Palo Alto, California.
Henderson, R.C. 2011. Diaspididae (Insecta: Hemiptera: Coccoidea). Fauna of New Zealand 66, 275pp.
Shaun Bennett (MPI, PHEL) and Stephanie Sopow (Scion)
This information is intended for general interest only. It is not intended to be a substitute for specific specialist advice on any matter and should not be relied on for that purpose. Scion will not be liable for any direct, indirect, incidental, special, consequential or exemplary damages, loss of profits, or any other intangible losses that result from using the information provided on this site.
(Scion is the trading name of the New Zealand Forest Research Institute Limited.)