Eucalyptus variegated beetle (EVB) marches on
Scion is the leading provider of forest-related knowledge in New Zealand
Formerly known as the Forest Research Institute, Scion has been a leader in research relating to forest health for over 50 years. The Rotorua-based Crown Research Institute continues to provide science that will protect all forests from damage caused by insect pests, pathogens and weeds. The information presented below arises from these research activities.
From Forest health News 279, February 2018.
We last updated readers on the Paropsisterna variicollis (EVB) incursion in Hawke's Bay in September last year. At that time, the beetle had been observed infesting eucalyptus in Hawke's Bay from Te Pohue in the north (B. Rogan, FH News 269) to the Manawatu town of Woodville in the south. It has now hitchhiked across the Ruahine Ranges perhaps riding on trucks or trains to Taihape, and south to the Wairarapa. To track the spread of the pest, visit the NatureWatch website: http://naturewatch.org.nz/taxa/495700-Paropsisterna-variicollis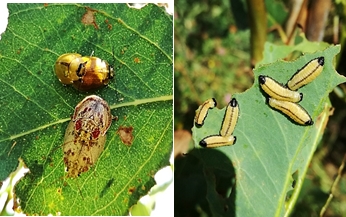 Enoggera nassaui, an egg parasitoid of the eucalyptus tortoise beetle (Paropsis charybdis), has been observed attacking the eggs of EVB. However, the presence of the parasitoid has not halted the observed rapid population growth of this pest. On some susceptible species of eucalyptus, such as E. bosistoana, groups of larvae have been seen marching together from leaf to leaf and stripping all leaves from entire branches.
Toni Withers is keen to hear from any companies or groups who might be interested in contributing to a research programme on this pest in the future.
Email: toni.withers@scionresearch.com
Angus Gordon (NZFFA) & Toni Withers (Scion)
This information is intended for general interest only. It is not intended to be a substitute for specific specialist advice on any matter and should not be relied on for that purpose. Scion will not be liable for any direct, indirect, incidental, special, consequential or exemplary damages, loss of profits, or any other intangible losses that result from using the information provided on this site.
(Scion is the trading name of the New Zealand Forest Research Institute Limited.)