Biosecurity Inspector reports Paropsisterna variicollis in Hawkes Bay
Scion is the leading provider of forest-related knowledge in New Zealand
Formerly known as the Forest Research Institute, Scion has been a leader in research relating to forest health for over 50 years. The Rotorua-based Crown Research Institute continues to provide science that will protect all forests from damage caused by insect pests, pathogens and weeds. The information presented below arises from these research activities.
From Forest Health News 269, August 2016.
Biosecurity inspector Brent Rogan from SPS Biosecurity carried out an inspection of a farm eucalypt shelterbelt running adjacent to Esk Forest in Hawke's Bay (while undertaking a NZ Forest Owners Association survey) on 8 March 2016. A number of insects were observed on the trees, including a beetle that looked very different to other paropsines established in New Zealand. Later the same day, more adults, an egg raft, and larvae were found in an adjacent stand (Photo 1). Stephanie Sopow (Scion) quickly identified the insect as belonging to genus Paropsisterna, tentatively P. variicollis (Photo 2). At this point, the Ministry for Primary Industries (MPI) was notified that it was a 'new to New Zealand' beetle. The next day, beetle taxonomist Chris Reid of the Australian Museum confirmed the new species as Paropsisterna variicollis, a Eucalyptus leaf beetle from Australia.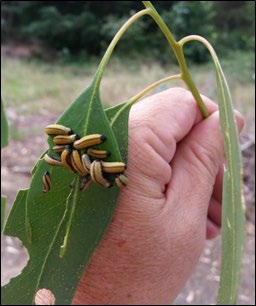 The site and other eucalypts in the area were investigated by Brent Rogan, Amin Pathan (MPI incursion investigator) and Dave Voice (MPI entomologist) on 11 March. They located two other sites within a relatively short distance of the initial find, but it is worth mentioning that other plantings between these appeared to be beetle free. The vast majority of eucalypts in the area are shelterbelts, regeneration or individual trees (including amenity plantings).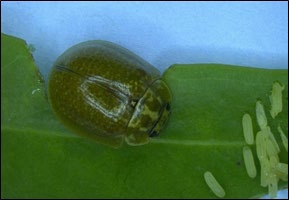 An SPS Biosecurity team carried out a delimitation survey over the next few weeks. Locations in some farm plantings were found where the population was much higher and corresponding damage was significantly worse than elsewhere in the area. SPS made contact with land owners during this process and some weeks later one grower reported an infestation at Te Mata Peak, 47 km away from the initial find. This was confirmed to be P. variicollis by SPS Biosecurity and MPI. Overall, surveys determined that the beetle appears to be confined to an area from
Te Pohue and Waiokau Village in the north through to Te Mata Peak, spilling over into a stand in the Tukituki valley, in the south.
Of concern to the surveyors was the fact that larvae (and to a lesser extent adults) were still being found and active in mid to late April when the other two established paropsines (Paropsis charybdis and Trachymela slonei) were mostly in diapause. Hawke's Bay was experiencing a particularly warm autumn.
Given the geography of the area around the current known locations, and the very strong northerly winds experienced in March and April, it seems plausible that adult beetles were being spread long distances by the wind. This is the first incursion being managed under the Government Industry Agreement between MPI and the NZ Forest Owners Association.
Based on an article by BJ Rogan (SPS Biosecurity)
This information is intended for general interest only. It is not intended to be a substitute for specific specialist advice on any matter and should not be relied on for that purpose. Scion will not be liable for any direct, indirect, incidental, special, consequential or exemplary damages, loss of profits, or any other intangible losses that result from using the information provided on this site.
(Scion is the trading name of the New Zealand Forest Research Institute Limited.)