Pine processionary moth and other European forest biosecurity threats
Scion is the leading provider of forest-related knowledge in New Zealand
Formerly known as the Forest Research Institute, Scion has been a leader in research relating to forest health for over 50 years. The Rotorua-based Crown Research Institute continues to provide science that will protect all forests from damage caused by insect pests, pathogens and weeds. The information presented below arises from these research activities.
From Forest Health News 151, May 2005.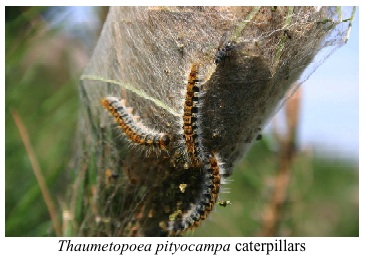 The New Zealand forestry industry is well aware of the biosecurity threats posed by insects and diseases from California and elsewhere in North America, where Pinus radiata and many other economically important tree species originate. However, it is not widely known that P. radiata planted in Europe are badly affected by European pests of pines. For example, there are reports of serious outbreaks of the pine processionary moth (Thaumetopoea pityocampa) in P. radiata plantations in southern Europe, particularly in Spain. There are about 300 000 ha of P. radiata in Spain, mainly in the northern Basque region. A few smaller plantations of this species are found in south-west France. These regions also have extensive forests of native pines — P. pinaster, P. nigra, P. sylvestris — in plantations and natural forests.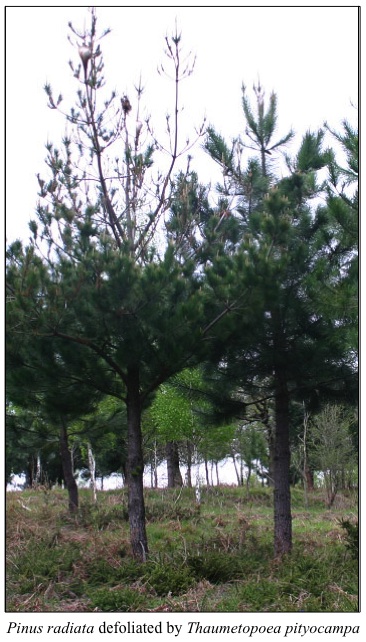 Currently there are outbreaks of several other important pests of pines such as the pine bark beetle (Ips sexdentatus) and the pine stem borer (Dioryctria sylvestrella) that are also capable of severely damaging or even killing trees. We have just returned from France and Spain and, in collaboration with local forest entomologists there, we used the opportunity to study these pests on P. radiata planted in those regions, to compare their impact on P. radiata and other pines (no rigorous comparison exists), and to assess the risk for forest biosecurity in New Zealand. Given the apparent susceptibility of P. radiata to these pests and the possibility of importing these into New Zealand by way of trade or tourism, there is a definite need for more information on the exact nature of this threat to our plantation forests.
We compared the incidence of pine processionary moth and the amount of defoliation on P. radiata and several European pines. In most plantations that we visited, P. radiata were badly damaged, especially younger trees, some having lost all their needles. Insecticide sprays are often used to prevent serious growth losses. Several mixed or adjacent stands of P. radiata and other pines were assessed, and the initial results demonstrate clearly that P.radiata is more susceptible than the native pines. A trial using billets of four native and four North American pines was set up to compare the incidence of bark beetles on P. radiata and other pines in choice and no-choice situations. Many bark beetles were found attacking the P. radiata billets, including Ips sexdentatus a potentially serious pest, but at this point it is not apparent if P. radiata is more susceptible than other pines used in the trial. An assessment of beetle breeding success on the different pines is in progress, and the results will be presented in a report to the NZ Forest Health Research Collaborative, which co-funds this work, and in a forthcoming publication in a New Zealand forestry journal.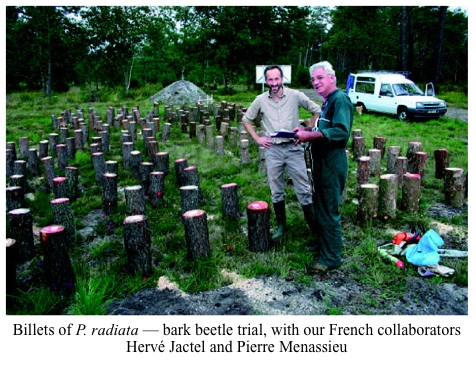 For more information on Thaumetopoea pityocampa and Ips sexdentatus see —
http://web.cortland.edu/fitzgerald/PineProcessionary.html and
http://www.eppo.org/QUARANTINE/insects/Ips-sexdentatus/IPSXSE-ds.pdf
Ecki Brockerhoff and Lisa Berndt (Ensis), in collaboration with Hervé Jactel, Pierre Menassieu (INRA, France), Arturo Goldarazena, Ander Isasmendi, and Patxi Saenz (NEIKER, Euskadi / Pais Vasco, Spain)
This information is intended for general interest only. It is not intended to be a substitute for specific specialist advice on any matter and should not be relied on for that purpose. Scion will not be liable for any direct, indirect, incidental, special, consequential or exemplary damages, loss of profits, or any other intangible losses that result from using the information provided on this site.
(Scion is the trading name of the New Zealand Forest Research Institute Limited.)