Tasmania trip for Uraba lugens biological control researcher
Scion is the leading provider of forest-related knowledge in New Zealand
Formerly known as the Forest Research Institute, Scion has been a leader in research relating to forest health for over 50 years. The Rotorua-based Crown Research Institute continues to provide science that will protect all forests from damage caused by insect pests, pathogens and weeds. The information presented below arises from these research activities.
From Forest Health News 190, December 2009.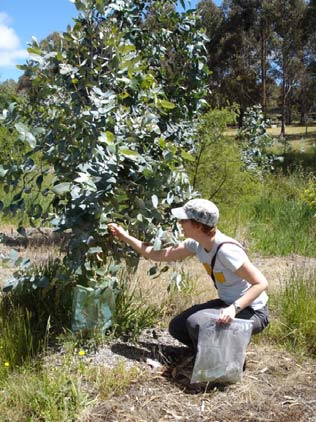 Dr Lisa Berndt was awarded Scion sabbatical funds for a trip to Tasmania to develop collaborations with Dr Geoff Allen at the University of Tasmania. For a number of years Dr Allen has been supplying Scion with shipments of the parasitoid Cotesia urabae (Braconidae), which Lisa is studying as a possible biological control agent for Uraba lugens (Nolidae) (gum leaf skeletoniser) in New Zealand. Uraba lugens, which has the potential to be a serious defoliator of eucalypts in New Zealand, is an Australian species that was first found in here in 1992 at Mt Maunganui in the Bay of Plenty. It is now widespread in Auckland and has been found in Waikato and Coromandel. Given time it will spread to all parts of New Zealand where eucalypts are grown.
The trip to Tasmania enabled Lisa to see the pest and parasitoid in their natural environment, and to work with Dr Allen and an Honours student to design experiments to explore host selection by the parasitoid. The experiments will be an extension of host range tests done under quarantine conditions in New Zealand that aim to test the risk that the parasitoid might pose to New Zealand moth species.
Although the parasitoid has never been found attacking anything other than the target pest U. lugens, related species in New Zealand are tested to assess possible risks. The New Zealand research has to be done under strict quarantine conditions making it difficult to properly assess natural behaviour of the parasitoid in the field. By running similar laboratory experiments in Tasmania, and then conducting field experiments there to compare laboratory and field behaviour, a more accurate estimation of risk can be made. The work in Tasmania will be done using the Australian magpie moth, Nyctemera amica. This species is very closely related to the New Zealand magpie moth, N. annulata, which is one of the species being tested in host range experiments.
During her time in Tasmania, Lisa helped set up laboratory colonies of the parasitoid and moth species needed for experiments. She was also able to bring back a shipment of the parasitoid to boost the laboratory colony in quarantine in Rotorua.
Lisa Berndt
&nbsp
This information is intended for general interest only. It is not intended to be a substitute for specific specialist advice on any matter and should not be relied on for that purpose. Scion will not be liable for any direct, indirect, incidental, special, consequential or exemplary damages, loss of profits, or any other intangible losses that result from using the information provided on this site.
(Scion is the trading name of the New Zealand Forest Research Institute Limited.)