Sex trap developed
From Biosecurity Issue 35, May 2001.
A team from HortResearch, led by Dr Max Suckling, has successfully developed a synthetic pheromone for use in the gum leaf skeletoniser (Uraba lugens) response at Tauranga.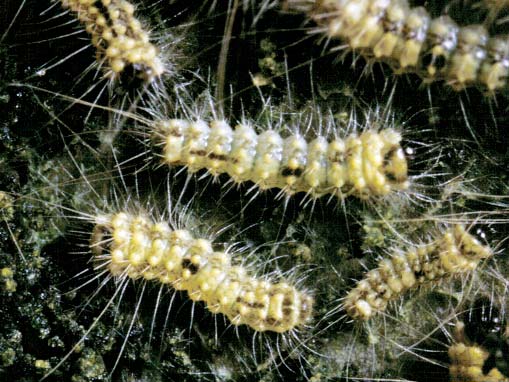 The pheromone development project was initiated in 2001 to provide MAF with an additional effective monitoring tool for detecting any residual population of the gum leaf skeletoniser which may remain in the previously infested areas. The project was supported by MAF Operational Research funds.
Gum leaf skeletoniser larvae were first discovered in June 1997 at the Mt Maunganui golf course, with a further find in Auckland in August 2001. A native to Australia, the caterpillar is a serious defoliator of eucalypts and capable of killing young trees. In New Zealand more than 50,000 hectares of plantation eucalypts and a large number of trees in urban forests and parks could be at risk.
Since the insect's discovery, MAF has carried out an intense eradication programme. Infested trees and surrounding hosts have been treated with insecticide or removed. Results are highly encouraging, with no activity in Gum leaf skeletoniser caterpillars. the Tauranga District since October 2000, or in Auckland from the time of the original find in August 2001.
Further work on the pheromone will be carried out over the next few months to fine-tune the blends, but results to date indicate that the pheromone can be used this summer. A planned trapping programme will run from early January 2003 through to April 2003.
If no moths are trapped, or insect life stage detected during the 2002/03 season, it is anticipated that MAF will be able to announce the successful eradication of the gum leaf skeletoniser from New Zealand.
Mark Ross, National Adviser Pest Surveillance and Response, Forest Biosecurity
&nbsp