Gum Leaf Skeletoniser biological control update
Scion is the leading provider of forest-related knowledge in New Zealand
Formerly known as the Forest Research Institute, Scion has been a leader in research relating to forest health for over 50 years. The Rotorua-based Crown Research Institute continues to provide science that will protect all forests from damage caused by insect pests, pathogens and weeds. The information presented below arises from these research activities.
From Forest Health news 235, April 2013.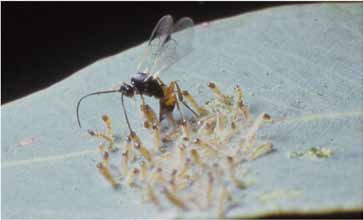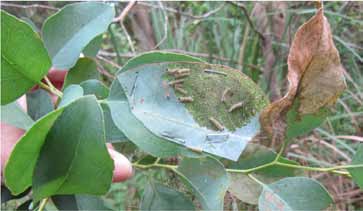 Gum leaf skeletoniser (Uraba lugens) is an Australian eucalypt pest that established in Auckland in 2001 and has spread to many parts of the upper North Island and Nelson. In New Zealand, hosts include the commercially grown Eucalyptus nitens and E. fastigata, and the valued amenity species Eucalyptus nicholii, E. cinerea (silver dollar gum) and Lophostemon confertus.
The parasitic wasp Cotesia urabae was introduced by Scion as a biological control agent for gum leaf skeletoniser. With the assistance of Auckland University student Gonzalo Avila Cotesia urabae was released in the Auckland Domain and the Manukau Memorial Gardens between January and June 2011. The sites were monitored closely following release. Establishment of Cotesia urabae has been confirmed at both these sites as well as successful self-dispersal to another site approximately 5 km away.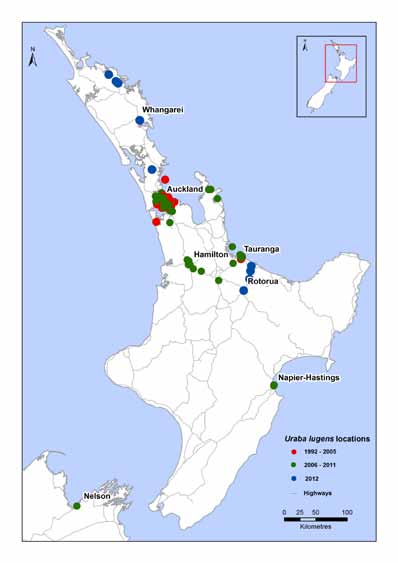 In addition to this Scion made two releases in Port Whangarei, Northland and Matapihi, Tauranga, Bay of Plenty in an effort to establish the parasitoid outside of Auckland. For these releases we piloted a novel method where host caterpillars which had been previously attacked by parasitoids were released. This is in contrast to traditional intensive methods which involve caging parasitoid cocoons or newly emerged parasitoid adults on infested foliage.
Recently the Northland Regional Council returned to the Eucalyptus bosistoana plantation near Port Whangarei and found new parasitoid cocoons, confirming that the parasitoid had established from the release of approximately 800 parasitoid attacked larvae made 14 months before.
Unfortunately at the Tauranga site the release tree had been pruned and we have failed to find any evidence of establishment.
Further releases of the wasp are planned for 2013/14. It is hoped that eventually Cotesia urabae will provide sustainable biological control of this serious pest of eucalyptus trees throughout New Zealand.
Belinda Gresham and Toni Withers
&nbsp
This information is intended for general interest only. It is not intended to be a substitute for specific specialist advice on any matter and should not be relied on for that purpose. Scion will not be liable for any direct, indirect, incidental, special, consequential or exemplary damages, loss of profits, or any other intangible losses that result from using the information provided on this site.
(Scion is the trading name of the New Zealand Forest Research Institute Limited.)