Eucalypt pest Gum Leaf Skeletoniser reaches the central North Island
Scion is the leading provider of forest-related knowledge in New Zealand
Formerly known as the Forest Research Institute, Scion has been a leader in research relating to forest health for over 50 years. The Rotorua-based Crown Research Institute continues to provide science that will protect all forests from damage caused by insect pests, pathogens and weeds. The information presented below arises from these research activities.
From Forest Health News 251, October 2014.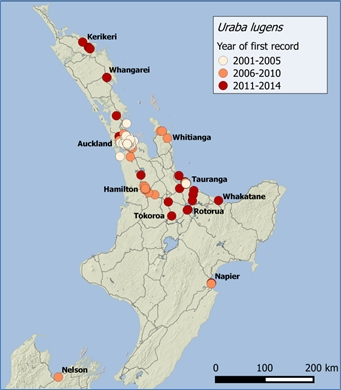 Evidence of the eucalypt pest gum leaf skeletoniser (Uraba lugens (Lepidoptera: Nolidae)), was recently found in a recreation reserve 5 km south of Tokoroa. Gum leaf skeletoniser established in Auckland in 2001 and is now distributed from Northland to the Bay of Plenty, with high populations also in Napier and Nelson. It was only a matter of time before gum leaf skeletoniser reached Tokoroa as it had been found in nearby Putaruru in 2012. The central North Island has an ideal climate for growing E. nitens, and along with E. fastigata there are a number of commercial plantations in the area. Although it is often difficult to predict how a pest will behave in a new environment, both of these eucalypt species are suitable for gum leaf skeletoniser larval development. So it is likely it will become a more visible presence in the area over the next three or more years. This will be discussed in the next FH issue.
Biocontrol is the deliberate use of natural enemies to reduce a pest population. To control the gum leaf skeletoniser, Scion assessed the potential of a tiny parasitoid wasp from Australia, Cotesia urabae (Diptera: Braconidae). First tests started in 2006 and permission to release C. urabae was gained in 2010. The first releases were made into the population hot spot of Auckland the following year. The parasitoid has been busy there ever since. Auckland University PhD student Gonzalo Avila collected nearly 500 caterpillars on Auckland eucalypts this winter (2014), and found 40% contain the C. urabae parasitoid, showing the wasps are well established there.

The success in Auckland is being replicated with additional releases and successful establishment into Whangarei and Tauranga. This coming summer will see evaluations for C. urabae establishment into Nelson (releases in 2013) and Napier (in 2014) as well as additional releases into areas where the gum leaf skeletoniser caterpillar is most abundant. This parasitoid C. urabae holds great promise for suppressing the gum leaf skeletoniser pest and is one more step towards ensuring that all New Zealand's valued forestry and amenity trees stay healthy in the years to come. Read more about Gonzalo's PhD research on C. urabae, and watch amazing videos of the parasitoids emerging from their hosts here! : www.cotesiaurabae.com
Toni Withers and Belinda Gresham (Forest Protection Scion), Gonzalo Avila (University of Auckland)
&nbsp
This information is intended for general interest only. It is not intended to be a substitute for specific specialist advice on any matter and should not be relied on for that purpose. Scion will not be liable for any direct, indirect, incidental, special, consequential or exemplary damages, loss of profits, or any other intangible losses that result from using the information provided on this site.
(Scion is the trading name of the New Zealand Forest Research Institute Limited.)