Biological control of Uraba lugens
Scion is the leading provider of forest-related knowledge in New Zealand
Formerly known as the Forest Research Institute, Scion has been a leader in research relating to forest health for over 50 years. The Rotorua-based Crown Research Institute continues to provide science that will protect all forests from damage caused by insect pests, pathogens and weeds. The information presented below arises from these research activities.
From Forest Health News No. 232, January 2013.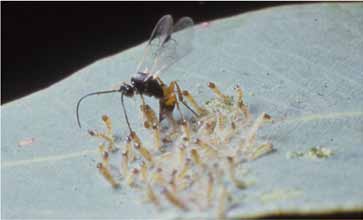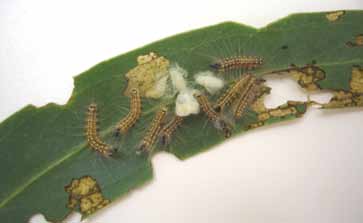 Toni Withers imported 240 pupae of Cotesia urabae, a parasitoid of the gum leaf skeletoniser (Uraba lugens), from Hobart in December. Cotesia urabae was released in Auckland in 2011 after being imported into containment several years earlier. It established there but more were required to restart a laboratory colony for mass rearing for further releases and for additional experimental work under the Better Border Biosecurity project on improving host specificity testing methods. This is a joint study involving Scion and University of Auckland PhD student Gonzalo Avila. Gonzalo worked in Rotorua over the Christmas break and assisted with the mass rearing of the imported material. This was successful and in late January the Ministry for Primary Industries issued approval for their release from containment. The releases were made in Auckland by Gonzalo.

Uraba lugens was first found in New Zealand in 1992 at Mount Maunganui. It has now been recorded from Northland, Auckland, Coromandel, Waikato, Bay of Plenty, Hawke's Bay and Nelson. It is particularly abundant in Auckland and at some sites its damage is very noticeable. This is why the releases of C. urabae were made in Auckland.
Toni Withers
&nbsp
This information is intended for general interest only. It is not intended to be a substitute for specific specialist advice on any matter and should not be relied on for that purpose. Scion will not be liable for any direct, indirect, incidental, special, consequential or exemplary damages, loss of profits, or any other intangible losses that result from using the information provided on this site.
(Scion is the trading name of the New Zealand Forest Research Institute Limited.)