Uraba extends its range
Scion is the leading provider of forest-related knowledge in New Zealand
Formerly known as the Forest Research Institute, Scion has been a leader in research relating to forest health for over 50 years. The Rotorua-based Crown Research Institute continues to provide science that will protect all forests from damage caused by insect pests, pathogens and weeds. The information presented below arises from these research activities.
From Forest Health News 110, August 2001.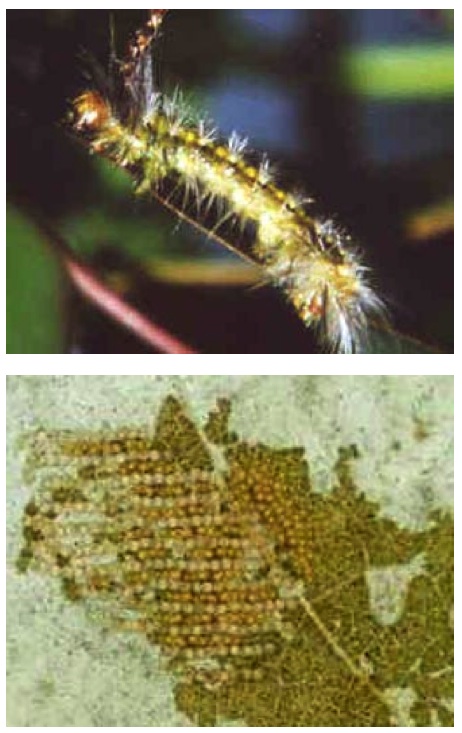 Another population of the gum leaf skeletoniser (Uraba lugens) has been found on eucalypts in New Zealand, this time in the Auckland region. The insect was detected in the Waikaraka Cemetery at Onehunga on 9 August 2001 by Les Renney (Vigil Forest Health Advisory Services) during a routine risk site survey for MAF Forest Biosecurity. Egg masses, larvae or evidence of damage, were present on four Eucalyptus cinerea trees about 15 m tall growing within about 30 m of each other. The identity of the insects was confirmed by the Forest Health Reference Laboratory (Forest Research). Uraba lugens is another Australian species that feeds on eucalypts, and was first found in New Zealand at the Mount Maunganui golf course in June 1997 (FHNews 65:2). Since its discovery it has been the subject of an eradication campaign, and although it has persisted at Mount Maunganui in very low numbers, indications are that the operation is succeeding.
It would be idle to speculate on the origin of the Onehunga population. The four infested trees and others nearby that are known hosts of Uraba lugens (species of Eucalyptus and Lophostemon ) were all sprayed with insecticide. Subsequent surveys conducted within a radius of 1.5 km have revealed no further evidence of the insect. However, surveys are continuing at Onehunga, so watch this space.
John Bain, Forest Health and Colin Barr, Vigil
This information is intended for general interest only. It is not intended to be a substitute for specific specialist advice on any matter and should not be relied on for that purpose. Scion will not be liable for any direct, indirect, incidental, special, consequential or exemplary damages, loss of profits, or any other intangible losses that result from using the information provided on this site.
(Scion is the trading name of the New Zealand Forest Research Institute Limited.)