Keeping an eye out for the pine sawyer beetle
From Biosecurity 92, June 2009.
MAF Biosecurity New Zealand (MAFBNZ) recently completed a two-year seasonal surveillance programme for the serious forestry pest Japanese pine sawyer beetle, Monochamus alternatus (longhorn beetle), following detection of a single live adult beetle. No pine sawyer beetles were detected by the programme.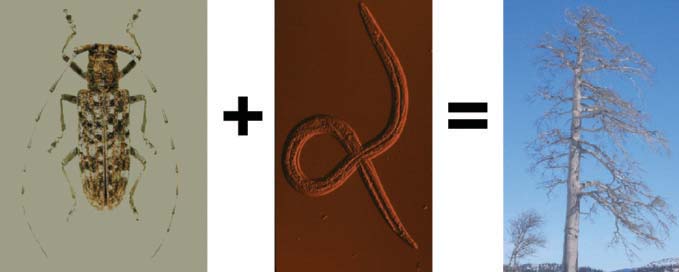 The Japanese pine sawyer beetle is a vector of the pinewood nematode (roundworm), Bursaphelenchus xylophilus, which causes pine wilt disease (PWD) (Figure 1).
This disease has destroyed large tracts of Asian pines and is recognised internationally as one of the most harmful forestry diseases in the world. In light of this significant threat to New Zealand forestry, the Japanese sawyer beetle is classified as a Notifiable Organism under the Biosecurity Act 1993.
A single live adult beetle was detected in a warehouse at Cambridge in December 2007. At the time of detection, eight wooden reels of wire rope had recently arrived from China and a further 60 wooden reels from previous consignments were also stored inside the warehouse.
Following detection, the warehouse and reels were inspected by a MAFBNZ officer. No evidence of sawyer beetle activity was found in any of the eight reels although one of them had several large holes and frass (insect debris) inside it. The eight reels were fumigated and incinerated. All reels had the International Standards for Phytosanitary Measures (ISPM) MB stamp, which showed they had been fumigated in China using methyl bromide.
To ensure no live beetles remained in the warehouse, it was fog treated with an insecticide. A residual insecticide spray was applied to the wall–floor junction as an additional precautionary measure. The beetle was later identified by the MAFBNZ Plant Health and Environment Laboratory (PHEL) Investigation and Diagnostic Centre (IDC) as Monochamus alternatus.
To determine whether any pine sawyer beetles had escaped from the warehouse or populations had established, MAFBNZ contracted AsureQuality to conduct lure-based surveillance. The surveillance was conducted within a 500 metre radius of the warehouse over the summer– autumn seasons in 2008 and 2009. (The adult beetles travel between 50 and 260 metres in their lifetime.)
Results
Tests carried out by PHEL on the solitary pine sawyer beetle showed it was not infected with the pinewood nematode.
No pine sawyer beetles were caught in either survey although other beetles known to occur in New Zealand were trapped, indicating the method was effective in attracting beetles.
The results from the lab testing, the treatments applied at the warehouse and the surveillance programme, provide confidence that neither the nematode nor the pine sawyer beetle is established. It is likely that the beetle detected was a solitary individual originating from one of the eight imported wooden reels.
MAFBNZ has informed key stakeholders of this detection, the actions undertaken and results of the surveillance. MAFBNZ Border Standards group has been informed of the risks associated with the pathway of entry, in particular the effectiveness of ISPM stamped wooden items.
Conclusions
PWD would pose a serious threat to New Zealand pine forests should it arrive here. Overseas records show that the pine wood nematode has not only been found in packaging wood imported from areas where it is known to occur (United States, Japan, Korea, Hong Kong, Taiwan and Portugal), but also from countries considered to be free of this pest (Brazil, Thailand, Belgium, Netherlands, Italy and Spain).
Global circulation of wooden packaging material among infested and non-infested countries is a major means by which the nematode is spread around the globe. Currently all wood packages coming into New Zealand are subjected to ISPM 15.
Considering that other longhorn beetles could act as potential vectors for the nematode, constant vigilance and quick responses are required to prevent this disease from establishing in New Zealand.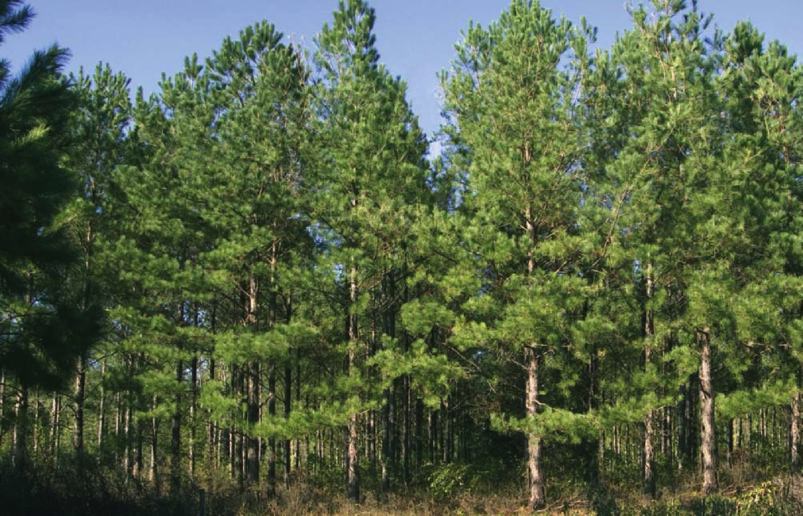 Emmanuel Yamoah, Plant Response, MAFBNZ, emmanuel.yamoah@maf.govt.nz
Travis Ashcroft, IDC, MAFBNZ, travis.ashcroft@maf.govt.nz
Diane Jones, IDC, MAFBNZ, diane.jones@maf.govt.nz
&nbsp