Pinewood nematode vector in Queensland
Scion is the leading provider of forest-related knowledge in New Zealand
Formerly known as the Forest Research Institute, Scion has been a leader in research relating to forest health for over 50 years. The Rotorua-based Crown Research Institute continues to provide science that will protect all forests from damage caused by insect pests, pathogens and weeds. The information presented below arises from these research activities.
From Forest Health news No. 108, June 2001.
According to the Australian Quarantine and Inspection Service (AQIS), larvae and adults of the Japanese pine sawyer beetle (Monochamus alternatus) were identified at the end of May in wooden packaging and pallet material in two containers at a break-bulk depot in Brisbane. The containers had arrived from China, and were carrying ammonium nitrate for use as an ingredient in explosives. Further specimens of the beetle were found during inspection of ten other containers from the same consignment at a mining site to which they had already been dispatched.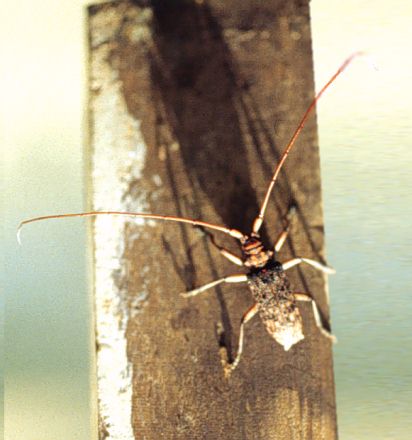 Monochamus alternatus is an important vector of the pinewood nematode (Bursaphelenchus xylophilus), which occurs in Japan, China, and other parts of the world (FHNews Special Issue, September 2000). The nematode is believed to be native to the United States where it is widespread but causes only sporadic damage. However, B. xylophilus is a serious forest pest in Japan, where it may have been introduced nearly a century ago, though its presence was only confirmed in 1969. More than eight million pine trees were killed in Japan in 1979 leading to losses amounting to 2.4 million cubic metres of timber production. Attempts to control the infestation in 1980 cost $35 million.
Infection and spread of B. xylophilus depend largely on the insect vector. Young adult beetles infested with the nematode inoculate healthy pine trees while feeding on younger tissues. The nematodes multiply rapidly within the stem and block the sapwood, causing the tree to wilt and die within two weeks. Dead or weakened nematode-infested trees attract female beetles, which lay their eggs beneath the bark. After over-wintering within the tree young adult beetles emerge in spring and carry the nematodes to new trees, perpetuating the life cycle. European and Asian pine species appear to be more susceptible to B. xylophilus than North American pines such as Pinus radiata, but the appearance of the vector in this part of the world is nevertheless cause for concern. All material associated with the containers in Brisbane was subjected to monitored fumigatation by AQIS, and Monochamus larvae subsequently prised from the wood were all dead. The pallet and crate material was then deep buried as an additional precaution. The beetle was not detected during surveys of vegetation near the containers at the mining site, undertaken by the forest health surveillance group of the Queensland Forestry Research Institute (QFRI). Even so, light and pheromone traps are being used in an attempt to see if any may still have escaped prior to fumigation. Samples are being examined to determine if pinewood nematodes were present in the consignment. AQIS is investigating the accompanying Chinese government certification.
Update: More recent information from entomologists and pathologists in Brisbane, communicated by Gavin Edwards, Agriculture, Fisheries and Forestry - Australia (AFFA), has confirmed that there have been no Monochamus detections in the deployed traps, and that no potential pine hosts occur within the surrounding area. Nematodes were extracted from the pine pallets and crates before deep burial. Preliminary identification indicates that they are of the Bursaphelenchus type, but are definitely not B. xylophilus or the related B. mucronatus . There was insufficient material available to attempt extraction from beetles.
Reference: Quarantine Leaflet No. 31, Pinewood Nematode (Commonwealth Department of Health, Australian Government Publishing Service, Canberra, 1982).
&nbsp
This information is intended for general interest only. It is not intended to be a substitute for specific specialist advice on any matter and should not be relied on for that purpose. Scion will not be liable for any direct, indirect, incidental, special, consequential or exemplary damages, loss of profits, or any other intangible losses that result from using the information provided on this site.
(Scion is the trading name of the New Zealand Forest Research Institute Limited.)