Tasmanian Parasitoid of Tortoise Beetle Holds Promise
Scion is the leading provider of forest-related knowledge in New Zealand
Formerly known as the Forest Research Institute, Scion has been a leader in research relating to forest health for over 50 years. The Rotorua-based Crown Research Institute continues to provide science that will protect all forests from damage caused by insect pests, pathogens and weeds. The information presented below arises from these research activities.
From Forest Health News 272, April 2017.
Scion entomologists and summer students have been working hard on the Paropsis biocontrol project this summer. The aim of this project, last featured in FH News 263, is to introduce the parasitic wasp Eadya paropsidis as a biological control agent against the larval life stage of the eucalyptus tortoise beetle Paropsis charybdis, New Zealand's most serious Eucalyptus pest. The project is supported by a Sustainable Farming Fund grant to the NZ Farm Forestry Association with co-funding from a number of industry partners, as well as Scion core funding.
Assessment of host specificity is a first and critical step in any biological control programme. This has now been completed for Eadya paropsidis for seven species of non- target beetles closely related to the target pest. The host specificity testing aims to establish the potential of Eadya to become an efficient natural enemy of the tortoise beetle, and allows us to estimate any detrimental effects its release might have on non-target beetles.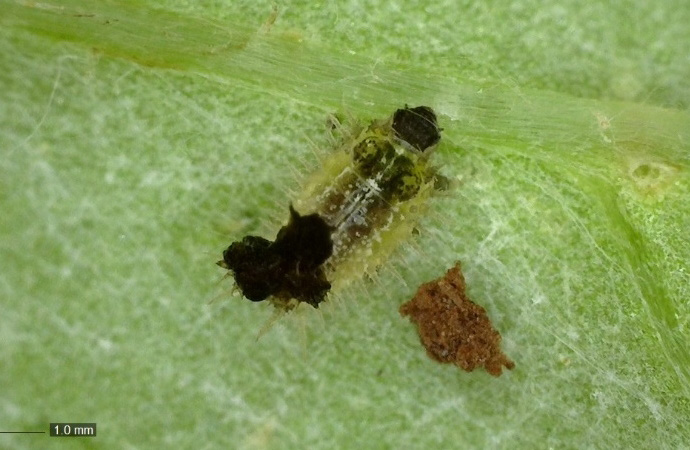 Eadya paropsidis females were consistently reluctant to attack any of the non-target species tested, especially when tortoise beetle larvae were nearby. Observational 10 minute, no choice tests, and 25 minute, two choice tests compared the parasitoid responses to the tortoise beetle alongside tutsan leaf beetle, broom leaf beetle, blackwood tortoise beetle (Chrysomelinae, all in the same subfamily as Paropsis charybdis), heather beetle, alligator weed leaf beetle (Galerucinae), green thistle beetle (Cassidinae) and tradescantia leaf beetle (Criocerinae).
The above beetles were introduced to New Zealand as beneficial weed biocontrol agents, with the exception of the blackwood tortoise beetle. They were a high priority for testing due to having a similar feeding habit to eucalyptus tortoise beetle larvae, with the larvae chewing on leaves of their host plants during December, the peak period of Eadya paropsidis activity.
Scion scientists now need to analyse the data and carefully dissect the tiny bodies of the larvae that died to establish if they contain any parasitoid larvae.
The project has another year to run. The next important stage is to learn more about New Zealand's uncommon native Chrysomelinae species. It is suspected that the larvae of some species, i.e. Chalcolampra sp and Allocharis sp, bore into the shoots of their host plants (e.g., Olearia colensoi and Celmisia prorepens) in subalpine forests of the South Island. If this is the case, they may never be at risk from Eadya paropsidis attack
Therefore learning more about these elusive beetles is vitally important. We hope to study them in the wild before attempting any laboratory work.
Toni Withers
&nbsp
This information is intended for general interest only. It is not intended to be a substitute for specific specialist advice on any matter and should not be relied on for that purpose. Scion will not be liable for any direct, indirect, incidental, special, consequential or exemplary damages, loss of profits, or any other intangible losses that result from using the information provided on this site.
(Scion is the trading name of the New Zealand Forest Research Institute Limited.)