Introducing Eadya daenerys "mother of dragons"
Scion is the leading provider of forest-related knowledge in New Zealand
Formerly known as the Forest Research Institute, Scion has been a leader in research relating to forest health for over 50 years. The Rotorua-based Crown Research Institute continues to provide science that will protect all forests from damage caused by insect pests, pathogens and weeds. The information presented below arises from these research activities.
From Forest Health News 282, July 2018.
The possibility of cryptic Eadya species (multiple species that look identical) spurred a collaborative project between biocontrol scientists at Scion, the University of Tasmania and evolutionary biologists at the University of Central Florida. The collaboration resulted in a four year molecular phylogenetic study (Peixoto et al. 2018)1.
This study revealed that Eadya paropsidis, our proposed biocontrol agent to manage eucalyptus tortoise beetle, is actually a different species! After careful examination, our actual species can now be separated by both physical characteristics, and genetic analysis (CO1, CytB, 28S) from E. paropsidis.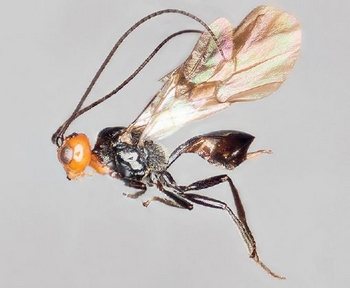 Our agent has now been described as Eadya daenerys (Ridenbaugh et al, 2018)2. Every adult female Eadya that has been collected and brought into containment in New Zealand so far has been examined and found to be Eadya daenerys. The New Zealand EPA has accepted this name change, so the introduction approval process should not be affected. The parasitoid is named from the Game of Thrones character "mother of dragons" Daenerys 'Stormborn' Targaryen. Hopefully E. daenerys will be just as effective at smiting its enemies!
Toni Withers (Scion)
1 Peixoto, L., Allen, G.R., Ridenbaugh, R.D., Quarrell, S.R., Withers, T.M., & Sharanowski, B.J. (2018). When taxonomy and biological control researchers unite: species delimitation of Eadya parasitoids (Braconidae) and consequences for biological control of invasive paropsine pests of Eucalyptus. PLoS One, Accepted.
2 Ridenbaugh, R.D., Barbeau, E., & Sharanowski, B.J. (2018). Description of four new species of Eadya (Hymenoptera: Braconidae), parasitoids of the eucalyptus tortoise beetle (Paropsis charybdis) and other Eucalyptus defoliating leaf beetles. Journal of Hymenopteran Research, 64: 141-175.
This information is intended for general interest only. It is not intended to be a substitute for specific specialist advice on any matter and should not be relied on for that purpose. Scion will not be liable for any direct, indirect, incidental, special, consequential or exemplary damages, loss of profits, or any other intangible losses that result from using the information provided on this site.
(Scion is the trading name of the New Zealand Forest Research Institute Limited.)