Ophelimus - a face only mother could love
Scion is the leading provider of forest-related knowledge in New Zealand
Formerly known as the Forest Research Institute, Scion has been a leader in research relating to forest health for over 50 years. The Rotorua-based Crown Research Institute continues to provide science that will protect all forests from damage caused by insect pests, pathogens and weeds. The information presented below arises from these research activities.
From Forest Health News No. 88, August 1999.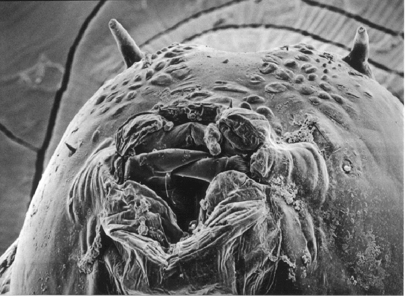 At last we have a view of the face of destruction (at least from the point of view of Eucalyptus saligna or E. botryoides). This scanning electron microscrope picture was taken recently by Toni Withers and Judy Gardner (with the assistance of Lloyd Donaldson) at Forest Research, of a mature larva of sp. b, the eulophid gall wasp which causes the dense protruding galls on the leaves of its host. This work was undertaken as part of the collaborative project with Dr A. Raman from the University of Sydney, to describe the process of gall induction by Ophelimus sp. b. Pictured is the 'head' of the larva, showing two sensory structures (rudimentary antennae), and the mouth. The mouth contains a pair of oppositely placed, sharply pointed mandibles, which are probably used to pierce the cells lining the gall. The roughly 'circular lips' probably assist in sucking up the 'juices' released from the damaged cells.
Toni Withers, Forest Research
This information is intended for general interest only. It is not intended to be a substitute for specific specialist advice on any matter and should not be relied on for that purpose. Scion will not be liable for any direct, indirect, incidental, special, consequential or exemplary damages, loss of profits, or any other intangible losses that result from using the information provided on this site.
(Scion is the trading name of the New Zealand Forest Research Institute Limited.)