Longnosed Kauri Weevil, Mitrastethus baridioides
Scion is the leading provider of forest-related knowledge in New Zealand
Formerly known as the Forest Research Institute, Scion has been a leader in research relating to forest health for over 50 years. The Rotorua-based Crown Research Institute continues to provide science that will protect all forests from damage caused by insect pests, pathogens and weeds. The information presented below arises from these research activities.
Forest and Timber Insects in New Zealand No. 34.
Longnosed kauri weevil.
Revised 2009
Based on G.P. Hosking (1978)

Insect: Mitrastethus baridioides Redtenbacher (Coleoptera: Curculionidae)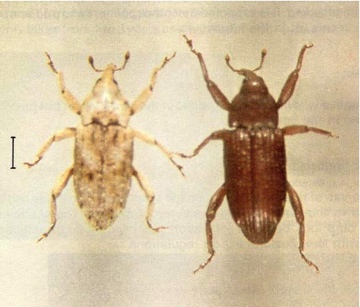 Fig. 1 - Longnosed kauri weevil - freshly emerged specimen at left, worn specimen at right.
The line shows natural length.
Type of injury
The larval tunnels of the longnosed kauri weevil are extremely irregular in size and shape, and create a honeycombed appearance in severely infested wood. They may penetrate deeply into the sapwood and are usually packed with clay-like frass. Exit holes are round and 2-3 mm in diameter. Only moist or wet wood is affected.
Hosts
First recorded attacking dead Agathis australis (kauri), this insect is often found infesting Pinus (pine) logs especially in the wetter parts of forests. Occasionally untreated Pinus radiata (radiata pine) timber is attacked but this is invariably associated with damp, poorly ventilated conditions.
Conifers are the main hosts and there are records from Cupressus spp., Dacrydium cupressinum (rimu), Juniperus chinensis, Pseudotsuga menziesii and Sequoia sempervirens. There are a few records from
hardwoods including Acacia, Eucalyptus and Pittosporum.
Distribution
This native weevil occurs throughout most of New Zealand.
Economic importance
The larvae of this insect may damage slow-seasoning poles and posts stockpiled in the forest during the summer months. The sheltering of adults in pine logs destined for export has necessitated fumigation to conform with New Zealand export regulations.
Description, life history, and habits
The adult (Fig.1) when freshly emerged is pale yellow to brown or grey because of the numerous scales covering it. These are of two types: short rounded scales which lie flat covering the whole body and legs, and elongated scales which are more upright dotted at regular intervals along the elytra (wing cases) and legs. These scales readily become rubbed off exposing the dark red elytra.
The snout, which curves downward, is about as long as the prothorax and bears a pair of distinctly elbowed antennae attached near its mid-point. The prothorax is finely punctured and constricted in front, widening out to the elytra. The elytra are wider than the prothorax and nearly parallel for about three-quarters of their length, then become rounded. There is a rounded protruberance on the rear slope of each elytron. Regular rows of punctures are evident on abraded specimens. The insect is 6 to 9 mm long and 2 to 3 mm wide.
The larva is a small, white, C-shaped grub with no legs and a yellowish brown head capsule (Fig. 2).
The eggs are usually laid singly in small pits cut in the bark by the female, or beneath the bark at the edges of damaged areas where the sapwood has been exposed. Attack is confined to very moist wood which appears essential to successful larval development. The larvae honeycomb the sapwood (Fig. 3) with a network of tunnels, often working backward and forward enlarging certain sections. Larval development probably takes from 1 to 3 years and reinfestation of suitable wood is likely.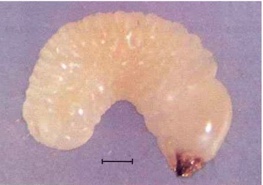 Fig. 2 - Larva of the long- nosed kauri weevil. the line shows natural length.



Fig. 3 - Workings of larvae of longnosed kauri weevil in kauri. (x1/2)
The adults, which are abundant between January and April, may be found in large numbers in localised areas beneath the bark of logs and stumps, and under logs. A period of aggregation occurs, probably associated with mating. On one occasion 300 to 500 beetles per stump were recorded. No subsequent larval infestations have been found in the material on which the large numbers of adults were noted.
Control
No control measures are used against this insect except for the fumigation of export logs when necessary.
References
Broun, T. 1876: On insects injurious to the kauri pine (Dammara australis). Transactions of the New Zealand Institute 9: 366-371.
Hosking, G.P. 1978: Mitrastethus baridioides Redtenbacher (Coleoptera: Curculionidae), longnosed kauri weevil. New Zealand Forest Service, Forest and Timber Insects in New Zealand No. 34.
Hudson, G.V. 1934: New Zealand Beetles and their Larvae. Ferguson and Osborn, Wellington. 236p.
This information is intended for general interest only. It is not intended to be a substitute for specific specialist advice on any matter and should not be relied on for that purpose. Scion will not be liable for any direct, indirect, incidental, special, consequential or exemplary damages, loss of profits, or any other intangible losses that result from using the information provided on this site.
(Scion is the trading name of the New Zealand Forest Research Institute Limited.)