Thrips outbreak on Eucalyptus fastigata
Scion is the leading provider of forest-related knowledge in New Zealand
Formerly known as the Forest Research Institute, Scion has been a leader in research relating to forest health for over 50 years. The Rotorua-based Crown Research Institute continues to provide science that will protect all forests from damage caused by insect pests, pathogens and weeds. The information presented below arises from these research activities.
From Forest Health News No. 107, May 2001.
Over the past two years scientists at Forest Research have systematically monitored the health and growth of Eucalyptus nitens and E. fastigata in selected locations in the Bay of Plenty. Because of the importance of these two plantation species, it was considered that more needs to be known about their pest and pathogen populations, and the damage that is caused under different climatic conditions. Records are being kept during routine visits to young stands monitored by personnel from the Alternative Species and Health and Biosecurity groups at Forest Research. These stands have been carefully chosen to minimise any variation that might be attributable to genetic origin rather than to local climate.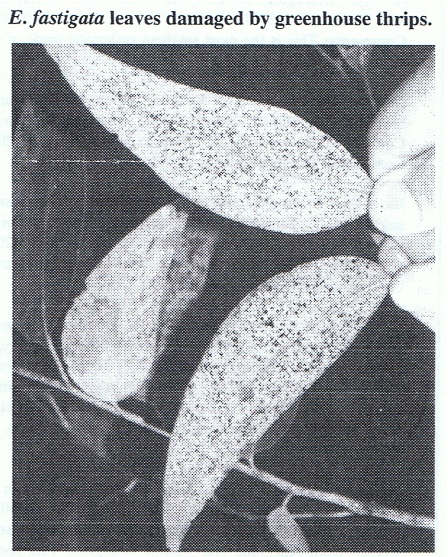 A variety of insect and fungal disorders have already been documented, especially at the lowland coastal site near Kawerau. Of particular note was extensive infection by the leaf pathogen Aulographina eucalypti in the lower crowns of young E. fastigata trees during the visit made at stand age 3.0 years. A subsequent visit at age 3.8 years found that by late summer the infected leaves had been shed. However, remaining foliage on the same trees had now become severely infested by an outbreak of greenhouse thrips ( Heliothrips haemorrhoidalis; identity confirmed by Karyn Proud, HortResearch). Greenhouse thrips attack a wide range of horticultural and tree crops, but serious thrip infestations are unusual in young plantation grown eucalypts, particularly in stands of E. fastigata , and the cause of this outbreak was unclear. It is possible that the trees were made more susceptible by the effects of the earlier Aulographina infection , or perhaps the unusually wet summer of 2000/2001 facilitated development of the thrips population. It is of interest that this outbreak roughly coincided with the first releases in New Zealand of a biological control organism specifically targeted against this insect pest. HortResearch holds great hopes that the control agent, a parasitoid wasp, Thripobius semiluteus (Eulophidae), will successfully establish itself in this country and prove effective in controlling greenhouse thrips. In the meantime, pest and pathogen monitoring of the eucalypt study stands will continue at a lower intensity over the next few years, and findings about the interaction between site, local climate, and tree condition will be reported for each tree species in due course.
(Toni Withers, Forest Research)
This information is intended for general interest only. It is not intended to be a substitute for specific specialist advice on any matter and should not be relied on for that purpose. Scion will not be liable for any direct, indirect, incidental, special, consequential or exemplary damages, loss of profits, or any other intangible losses that result from using the information provided on this site.
(Scion is the trading name of the New Zealand Forest Research Institute Limited.)