Fall Webworm (Hyphantria cunea)
From Biosecurity 43, May 2003.
An isolated find of a communal 'web' containing about 15 fall webworm caterpillars was made in the Auckland suburb of Mt Wellington after a public call to MAF in late March.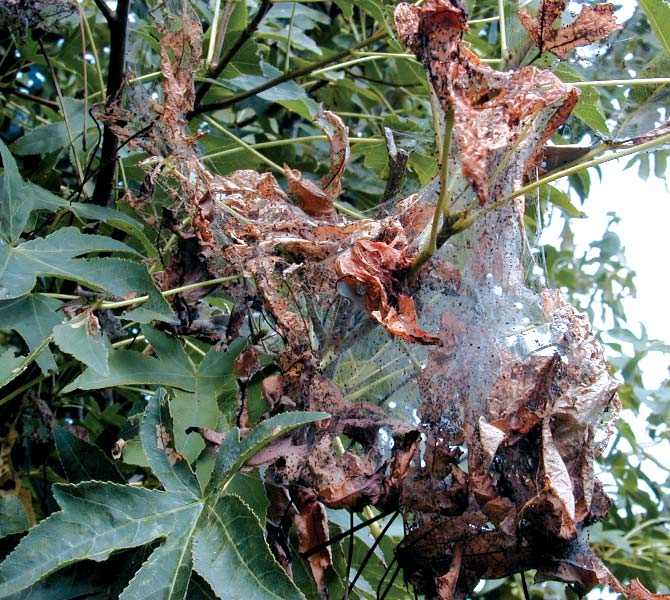 Aucklanders were asked to remain on the lookout for unusual caterpillars. A noticeable feature of fall webworm is that newly hatched larvae spin a silken web over the foliage on which they feed, resulting in large unsightly 'webs'.
The fall webworm belongs to the tiger moth family of which there are approximately 11,000 species worldwide. It is native to North America and Mexico and is known to feed on a large range of plant species.
All collected specimens were transferred to Forest Research's quarantine facility in an attempt to form a colony for native host species trials.
Due to this insect's seasonal breeding pattern, no developments on this are expected until later in the year, from the onset of spring.
MAF immediately undertook a delimiting survey for the distinctive 'webs' to a 400 m radius around the infestation and a further 1.5 km ground survey targeting industrial, devanning and imported car yard sites and surrounds, followed by a 5 km survey. In April up to 200 traps with pheromone lures sourced from Japan were positioned to confirm whether the moth had spread: 25 traps within a 100 m radius of the infested tree; 64 traps out to the next 2 km; 36 traps out to 5 km and 75 traps around this area out to 10 km. Traps were being checked twice a week.
A technical advisory group was scheduled to meet in Hamilton on 30 April and good support for MAF's response programme was being received from Auckland territorial local authorities and stakeholder groups.
Peter Thomson,
Director MAF Forest Biosecurity
Fall webworm
From Biosecurity 44 June 2003.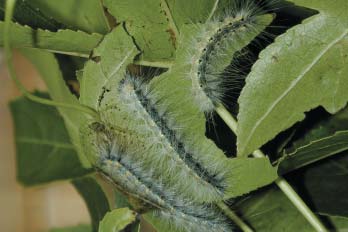 Initial response actions have been completed with no further finds of the fall webworm (Biosecurity 43:5). A trapping grid has been formed, with 658 traps deployed to 10 km radius. Traps are inspected twice weekly. No fall webworm males have been caught to date. Vegetation control zone and measures have been implemented within 200 metres of the find.
A combined Gypsy Moth and Fall Webworm TAG meeting took place on 30 April. Recommendations included repeated ground surveys after leaf-fall, continued trapping over winter, and actions for the following season to include intensified trapping in spring and preparation for treatment if any further fall webworm life stages are found.
Peter Thomson,
Director MAF Forest Biosecurity
&nbsp