Monterey pine aphid, Essigella californica
Scion is the leading provider of forest-related knowledge in New Zealand
Formerly known as the Forest Research Institute, Scion has been a leader in research relating to forest health for over 50 years. The Rotorua-based Crown Research Institute continues to provide science that will protect all forests from damage caused by insect pests, pathogens and weeds. The information presented below arises from these research activities.
Forest Pathology in New Zealand No. 65: Monterey Pine Aphid
M. Watson, C. Appleton (2007)
Insect: Essigella californica (Essig) (Hemiptera: Aphididae)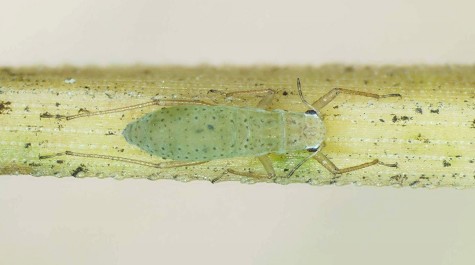 Fig.1 - Wingless adult Essigella californica on yellow P. radiata needle.
Photo by Eric Hines, CSIRO Entomology.

Type of injury
The aphid Essigella californica sucks sap from needles. This can cause atypical needle yellowing and premature shedding of needles. Although E. californica has been found at fairly high population levels in some Pinus radiata plantations in New Zealand, it has not been associated with any major damage. However in Australian P. radiata forests, it has been associated with severe upper crown yellowing and premature needle cast (Figure 2).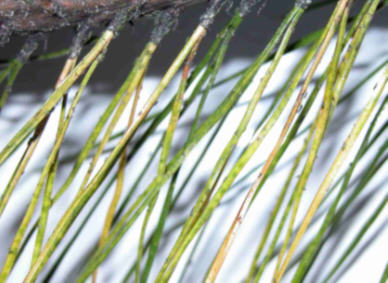 Fig. 2 - Heavy infestation of aphids on P. radiata needles in southern NSW, Australia.
Photo supplied by Ian Smith, School of Forestry and Ecosystem Science, University of Melbourne.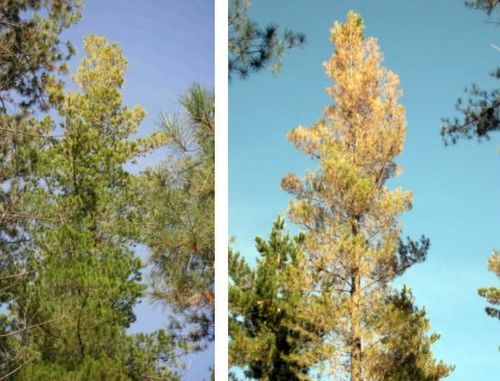 Figs. 3a and b -Yellowing foliage in the upper crown associated with high populations of Monterey pine aphid in southern NSW, Australia.
Photos supplied by Ian Smith, School of Forestry and Ecosystem Science, University of Melbourne.
Hosts
The Monterey pine aphid is polyphagous within Pinus, but not recorded on species in the Contortae or Cembroides groups. In New Zealand, the aphid has been found on Pinus devoniana, P. canariensis, P. coulteri, P. montezumae, P. muricata, P. patula, P. radiata, P. hartwegii, P. canariensis, P. elliottii, P. pinea, P. nigra, P. tabulaeformis, and Pseudotsuga menziesii. Worldwide it has been recorded on at least 34 species of Pinus.
Distribution
This western North American aphid was first recorded in New Zealand near Whangarei, Northland, in 1998. Since then, it has spread throughout most of the country. It has also become established in Europe, South America, and Australia.
Economic importance
At present the Monterey pine aphid is considered of little economic importance in New Zealand. Monitoring has been undertaken by Appleton and Gresham (2003) and Teulon et al (2003) and more recently Watson and Kriticos (2007) by taking beat samples of trees. The greatest numbers of aphids have been recorded in stands over 10 years old and in warmer and drier sites on the northerly side of trees. Aphid numbers were found to be highly variable between years, between sites and between trees within sites. Spring yellowing and needlecast attributed to Cyclaneusma infection accounts for the yellowing symptoms seen in New Zealand P. radiata forests, with no change in forest health associated with this aphid to date. However, severe upper crown yellowing and premature needle cast, and subsequent growth losses in P. radiata have been associated with the aphid in some pine plantations in Australia, particularly those in drought prone areas. Monterey pine aphid populations may be repressed by unfavourable rainfall, high humidity and low temperatures.
Description, life history, and habits
The aphids are slender and spindle-shaped and about 1.5 - 2.0 mm long. The thorax is grey-green and the abdomen lime green, with or without dorsal brown spots. (Figure 1 and 4). The legs vary in colour but are usually pale although the middle segments are sometimes darker. Like all aphids E. californica has stylet mouth parts which are inserted into plant tissues to suck out the sap. The adults can either be winged or wingless. This aphid can be easily mis-identified as Eulachnus brevipilosus (Forest and Timber Insects in New Zealand Leaflet No. 55).
The Monterey pine aphid is known to have a sexual reproductive stage but this has only been observed at high altitudes in North America. In Australia, the life cycle is without sexual reproduction (no males have been found) and totally parthenogenetic. Whether this is also the case in New Zealand, is unclear, as the aphids biology has not been studied in detail here. The Monterey pine aphid develops through three instars to adult, one less than most Aphidoidea. Populations in New Zealand are low in spring, building in summer to peak in autumn (March, April, May) after which numbers decline rapidly.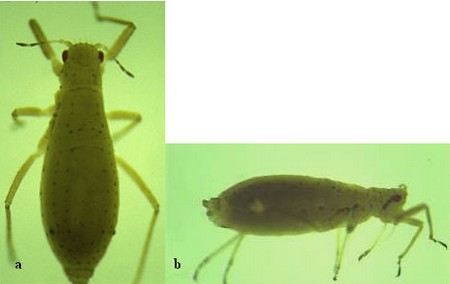 Fig. 5 - Essigella californica a) dorsal view and b) lateral view.
In New Zealand, both winged and wingless female adults may be present. There are several generations in a year, the number being temperature related, but how many has not been determined. The aphids feed singly on needles rather than in colonies, but occasionally may aggregate at the base of needles where they can be tended by ants. When disturbed, the aphid moves rapidly through the foliage before dropping.
Control
To date, chemical control has not been necessary. However, should there be a need for control, it is best to apply a systemic insecticide to control aphids. There are no known parasitoids of E. californica in New Zealand, but generalist predators such as coccinellids and Neuroptera have been seen attacking them. In Canterbury, aphids have been collected which appear to have been killed by a fungal disease.
Bibliography
Appleton, C. and Gresham. B. 2003: Monitoring Essigella californica populations in Bay of Plenty forests. New Zealand Plant Protection 65: 45-50.
Carver, M. and Kent, D. S. 2000: Essigella californica (Essig) and Eulachnus thunbergii Wilson (Hemiptera: Aphididae: Lachninae) on Pinus in south-eastern Australia. Australian Journal of Entomology 39: 62-69.
Teulon, D.A.J. Herman, T.J.B. and Davidson, M.M. 2003: Monitoring Monterey pine aphid in Hawkes Bay forests. New Zealand Plant Protection 65: 39-44.
Watson, M.C. and Kriticos, D.J. 2007: Determination of the potential impact of the Monterey pine aphid, Essigella californica, in New Zealand. Year 2 findings. Ensis, Internal report. New Zealand.

This information is intended for general interest only. It is not intended to be a substitute for specific specialist advice on any matter and should not be relied on for that purpose. Scion will not be liable for any direct, indirect, incidental, special, consequential or exemplary damages, loss of profits, or any other intangible losses that result from using the information provided on this site.
(Scion is the trading name of the New Zealand Forest Research Institute Limited.)